Jobsworth Vortex track pump review
We put the Jobsworth Vortex track pump through its paces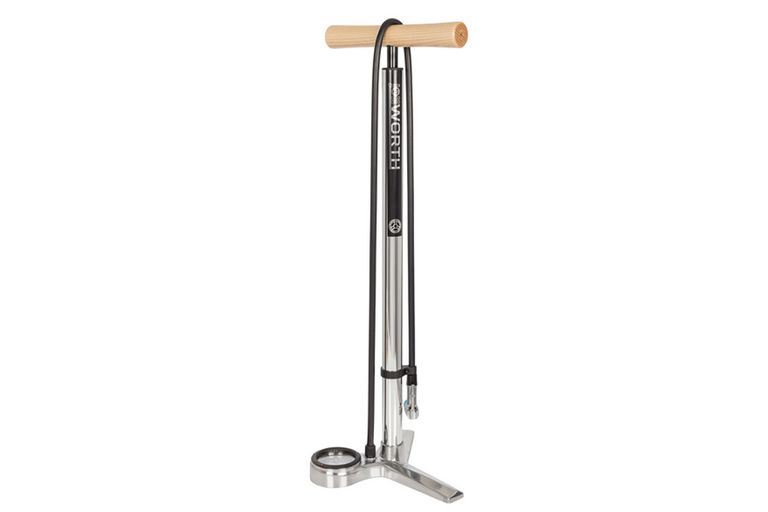 The Jobsworth Vortex track pump looks great and performs well, with an alumnium barrel and wooden handle to give it a classy appearance, while it'll get your tyres up to pressure quickly too.
For
+

Quality construction

+

Looks great

+

Accurate pressure gauge
It might seem extravagant to spend 50 quid on a track pump, but the Jobsworth Vortex track pump does a decent job of justifying the price.
Perhaps most importantly, it looks and feels great. The barrel is made from aluminium with a classy back logo extending down from the top. The footplate is also made from cast aluminium, and the handle from wood, to make a pump that not only looks amazing, but has the feeling of something that will keep going for years.
>>> The best track pumps: a buyer's guide
In use, the Jobsworth Vortex track pump is also pretty hard to fault. I found that the piston rattled around a bit in the barrel, and there could have been more soft material on the bottom of the footplate to stop it from sliding around and potentially damaging hard, smooth floors, but other that, there are no issues.
The clever valve head design on the Jobsworth Vortex track pump is compatible with either Presta or Schrader valves, and shares the same polished look as the rest of the pump. It is also very easy to attach and remove from the valve, and stays securely in place even at high pressures.
>>> Icons of cycling: Silca Pista pump
It takes roughly 20 strokes to get up to 100psi, which is pretty decent figure in the track pump market, and the gauge accurate and fairly easy to read. Apparently, the Jobsworth Vortex track pump will keep going all the way up to 240psi, which seems a little much, seeing as Rohan Dennis was only running 224 psi during his successful Hour Record attempt.
For more details visit the Planet X website.