Icons of cycling: Silca Pista pump
We celebrate a design classic that is still going strong nearly 100 years after its launch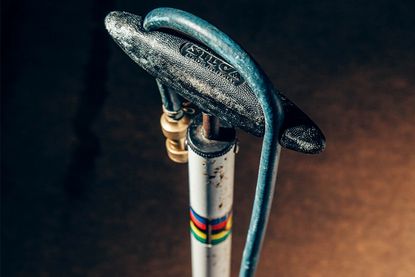 In a disposable, throwaway world where cycling components may or may not last until the next iteration Silca has been a constant.
For almost a century, the classic Pista floor pump the Italian firm first unveiled in 1917 has been the one favoured by mechanics, racers and indeed any cyclist who values efficiency, durability and rebuildability over cheapness.
>>> Icons of cycling: Reynolds 531 tubing
And you can bet your bottom lira that there are Silca pumps from the mid 20th century that are still in service thanks to the company staying faithful to its iconic design for decade after decade and making available replacement parts so that Silca owners — and their descendants — can enjoy the world's best bicycle pump for years to come.
Even the toughest tyres can't guarantee you won't puncture. A mini-pump can't either, but it can guarantee you're not left
A Slica Pista pump with the usual patina of age — rust spots, chipped base and peeling sticker but working as smoothly as ever of course — is a trophy, a statement that its owner is a real cyclist.
The Silca Pista was made from the finest materials. The steel tubing for the pump barrel was produced by fellow Italian icon Columbus. Inside the barrel, a plunger made from superior quality leather, rather than rubber, drove the air downwards.
>>> Icons of cycling: Campagnolo Super Record derailleur
The supplier of these leather washers — a company that makes designer briefcases — has worked with Silca since 1946.
The handle was originally wood, but the mid-century models have a solid, textured plastic handle reminiscent of the famous Cinelli Unicanitor saddle of that era.
>>> Icons of cycling: the first Shimano STI gear shift system
The gauge promised an unearthly 240psi — the sort of pressure that Eddy Merckx might have requested in his silk tubs for the Hour record on the Mexico City track in 1972.
Index your gears properly
Perfect Poertner-ship
Recently, Silca's fortunes have taken an interesting turn. In 2013 the ageing Claudio Sacchi, grandson of the founder, began to look for a successor in the cycle industry, having accepted that his own family would not take on the company.
By this point, Silca — although of course still revered by cycling's old hands — had become yesterday's floor pump manufacturer as younger cycling-boom brands, such as Lezyne, made the floor pump sexy and vital again.
Find out how to wrap your new bar tape
The saviour of Silca was Josh Poertner, the former technical director at Zipp.
Poertner, who had always loved his own Eighties-vintage Silca, bought the company and immediately set about redesigning the ultimate floor pump.
He was convinced he could create a better floor pump than anyone before, while remaining sympathetic to the traditional aesthetic of the original Pista.
>>> Icons of cycling: Look's revolutionary clipless pedals
In 2014 the new Silca SuperPista Ultimate won best in show at Interbike. Despite its £300 price tag, Poertner told Cycling Weekly that Silca, now relocated to Indianapolis, couldn't keep up with demand.
"I know that the price is high, but I am confident that there will always be a market for a finely handcrafted tool that is beautiful, functional and built to last forever."
In other words, nothing has really changed at Silca.
Thank you for reading 10 articles this month* Join now for unlimited access
Enjoy your first month for just £1 / $1 / €1
*Read 5 free articles per month without a subscription
Join now for unlimited access
Try first month for just £1 / $1 / €1
Simon Smythe is a hugely experienced cycling tech writer, who has been writing for Cycling Weekly since 2003. Until recently he was our senior tech writer. In his cycling career Simon has mostly focused on time trialling with a national medal, a few open wins and his club's 30-mile record in his palmares. These days he spends most of his time testing road bikes, or on a tandem doing the school run with his younger son.