Topeak JoeBlow Ace DX review
For high pressure, high volume and just sheer physical height, you can't go wrong with the huge Topeak JoeBlow Ace DX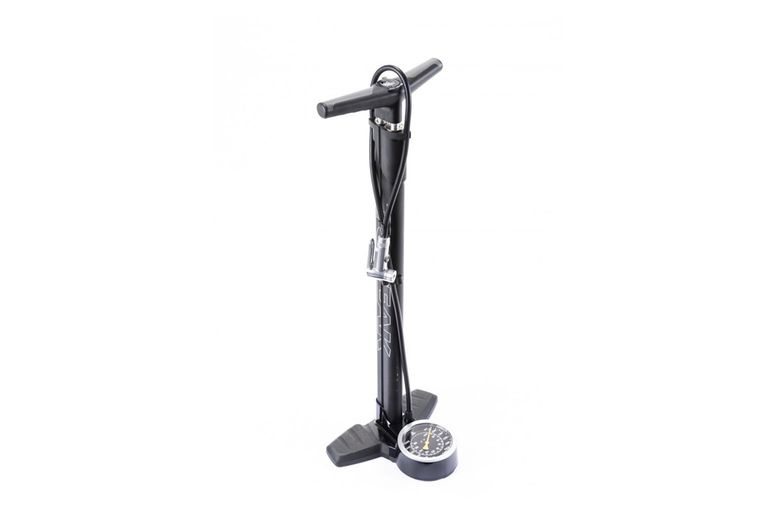 The Topeak JoeBlow Ace DX towers over other pumps not only in height but in capability too – but for road tyres you don't need all that size, weight and power and it's very expensive.
For
+

Enormous twin barrels are super powerful

+

Target pressure selector

+

Heavy-duty metal construction

+

Bleed button

+
The Topeak JoeBlow Ace DX was double the price of the next most expensive pump in the August 2 issue of Cycling Weekly magazine's track pump grouptest, the SKS Rennkompressor. Is it worth it?
Well, you get double the number of barrels to make pumping to various pressures as efficient as possible, it's almost double the weight and it stands 10cm taller than most others at 74cm. Its gauge is a positively Big Ben-like 11cm in diameter, over twice the size of the Rennkompresssor's.
What's more, the Topeak JoeBlow Ace DX has a dial on top of the handle to select your approximate target pressure, determining which combination of barrels is to be engaged – the equivalent of selecting an appropriate gear for the gradient.
In its '60' setting the Ace DX inflated our test 700x25c tubeless tyre to 100psi in a 11 monster strokes giving it both barrels – but as expected it took a lot of leaning on to get that much air in in one stroke once it got beyond 60psi.
The '120' setting got 100psi in 18 strokes using just the large barrel – more controlled, easier pumping than in '60' – while the small barrel takes it up to 260psi, which we didn't test since there's no road bike component that requires that much pressure – it's for shocks.
The pleasingly heavy all-metal SmartHead DX1 chuck fits Presta and Schrader valves without swapping parts and there's a bleed valve that lets air out of the tyre rather than just the hose, unlike the Lezyne Macro's – useful for getting pressure spot on.
The base, like the barrels, is made from aluminium and has rubber grips that hold the Topeak JoeBlow Ace DX solid when you're pumping. The handle, a heavyweight plastic, has plenty of heft even if it doesn't feel or look as nice as those of some considerably cheaper pumps that use wood. But it does match the Ace DX's workshop aesthetic.
This is an unashamedly massive pump with a massive performance and a correspondingly bigger price tag.
Thank you for reading 5 articles this month* Join now for unlimited access
Enjoy your first month for just £1 / $1 / €1
*Read 5 free articles per month without a subscription
Join now for unlimited access
Try first month for just £1 / $1 / €1
Simon Smythe is Cycling Weekly's senior tech writer and has been in various roles at CW since 2003. His first job was as a sub editor on the magazine following an MA in online journalism (yes, it was just after the dot-com bubble burst).
In his cycling career Simon has mostly focused on time trialling with a national medal, a few open wins and his club's 30-mile record in his palmares. These days he spends a bit more time testing road bikes, or on a tandem doing the school run with his younger son.
What's in the stable? There's a Colnago Master Olympic, a Hotta TT700, an ex-Castorama lo-pro that was ridden in the 1993 Tour de France, a Pinarello Montello, an Independent Fabrication Club Racer, a Shorter fixed winter bike and a renovated Roberts with a modern Campag groupset.
And the vital statistics:
Age: 53
Height: 178cm
Weight: 69kg