£1,000 British bikes: Forme Longcliffe 1.0 review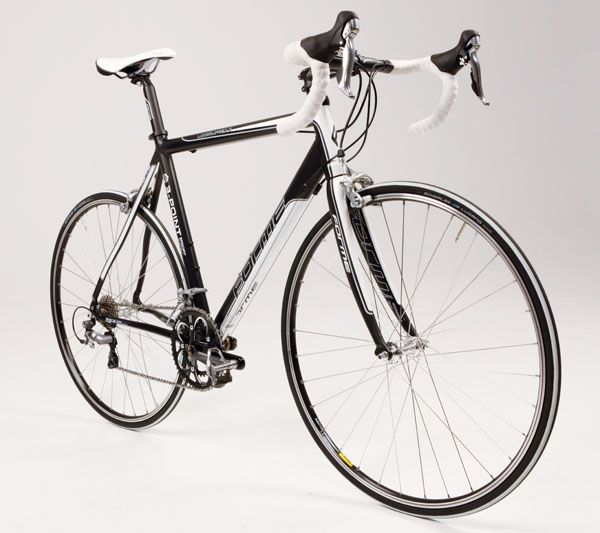 Words Simon Smythe
Forme is a relative newcomer, launching in 2010, but already has a good reputation for affordable, reliable, well-designed bikes with British roads, weather conditions and cycling habits in mind. No, unfortunately they're not submarines…
The Longcliffe 1.0 is the top model of four in Forme's entry-level aluminium road bike series. It has at its core a smooth-welded 7005-grade (pretty much the standard type of aluminium alloy used for bike frames due to its high strength-to-weight ratio) triple-butted aluminium frame.
The fork is carbon with an aluminium steerer. The groupset is mainly Shimano 105 but to keep costs down Forme has swapped the chainset for an FSA Gossamer compact and Shimano non-series long-drop (mudguard compatible) brake calipers. 105 doesn't come in long drop, so there's nothing wrong with that.
The bar, stem, seatpost and saddle are Forme own-branded items. The wheels are rather intriguing though: it's rare to see traditionally spoked wheels as standard on a lower-priced bike these days, and these are good-looking ones that give the Longcliffe the air of a connoisseur's bike. The gleaming polished hubs are sealed-bearing 28-spoke units from One23 — a brand I haven't come across before — and the rims are Mavic Open Sport, the French company's entry-level classic rim (about £15 cheaper per rim than Open Pros) which is the descendant of the MA2, MA3 and MA40 (for those of a certain age).
The Longcliffe is a handsome bike overall. The smoothed joins set it cosmetically apart from the many entry-level bikes that bear their tig welds like unsightly scars, and the matt paint scheme is smart and stylish — though I have to admit I don't think the cheesy '3-point Ergofit System' legend on the seat tube is in keeping with the rest of the bike. But I am a fool for a white saddle and white bar tape to finish off the pro look — gloriously impractical though that always is in this country!
Winter warrior
Forme says the Longcliffe's geometry is more relaxed but I don't see or feel that: it has a 73.5° seat tube angle (for the size 56cm) and a 73° head angle, which is racy to my mind, and a wheelbase of comfortably under 100cm. I say this is all a good thing because it strikes me that the Longcliffe with mudguards (it has mudguard eyes) would make an excellent winter bike, and it is vital to be able to set up summer and winter bikes so that your position stays exactly the same.
However, the Longcliffe's ride is not as sporty as its geometry might lead you to expect. It feels incredibly solid on the road — beyond its weight — and there is the sensation that it really could take any sort of hard knock and steamroller on — though perhaps with some fatter
25c tyres on (it comes with 23c Schwalbe Luganos).
It may not sound like it, but it impressed me. Forme has created what comes across as a real bike aimed at the sort of cycling people who spend just under £1,000 on a bike will do, rather than a budget racer that will never get used for racing. The sturdiness of the Longcliffe's frame means that heavier riders (again, people buying entry-level bikes won't be as birdlike as Bradley) and riders with rucksacks on their backs won't flex the frame unduly.
The Longcliffe isn't a major bargain and it's not the lightest and not the fastest, but there's a reassuring quality about it, as well as a pre-Libor-rigging, pre-phone-hacking, pre-MPs' expenses, British honesty. You feel as if you're buying into a genuine ethos — and it comes with a lifetime guarantee too.
Spec
Model: Longcliffe 1.0
Manufacturer: Forme
Price: £999.99
Frame: Triple-butted 7005 aluminium
Fork: Carbon with aluminium steerer
Chainset: FSA Gossamer 50/34t
Derailleurs: Shimano 105
Shifters: Shimano 105
Brake calipers: Shimano BR R650
Wheels: One26 hubs/Mavic Open Sport rims
Tyres: Schwalbe Lugano 23c
Weight: 9.43kg (20.7lb)
Sizes: 48-60cm
Size tested: 56cm
Contact: www.formebikes.co.uk
Ratings
Comfort 17/20
Value 17/20
Handling 19/20
Wow factor 19/20
Build quality 19/20
Overall rating 91%