Colnago V4Rs bike review - ultimate racing weapon that's not for the faint-legged
Pogačar's bike is designed specifically to win races - and you can tell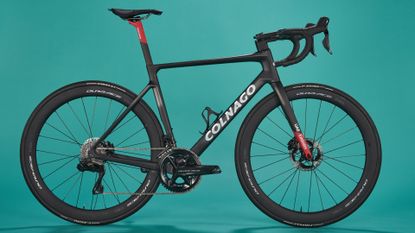 (Image credit: Future)
The V4Rs was designed to help Tadej Pogačar to win the Tour de France. It's a weapon, it looks like one and behaves like one. It's not for showing off at the cafe on a Sunday morning when the weather's nice. Sure the Colnago C68 has more kerb appeal - and I've witnessed this myself - and for non-racers it might have the smoother ride quality too, but if you want a Colnago to win on, the V4Rs is at least the equal of any pro bike out there.
Reasons to buy
+

Responsive ride

+

Classic geometry

+

Lighter frameset

+

Pogačar pedigree
Reasons to avoid
-

Angular looks won't please Colnago purists
As Oscar Wilde said, the only thing worse than being talked about is not being talked about. Which means that even though Tom Boonen and Dirk de Wolf suggested the Colnago V4Rs is 2kph slower than its peers, angering Ernesto Colnago himself, the public row it caused has leapfrogged it miles ahead of its more mainstream rivals in terms of exposure.
Additionally, Tadej Pogačar has been winning everything in sight on it, starting with victory on all three mountain stages at Paris-Nice and the overall victory; then the Tour of Flanders and most recently Amstel Gold and Flèche Wallonne. There will be many, many more (once his wrist fracture heals).
It could be the most talked about bike of 2023 so far - but what's it really like compared to the best road bikes?
Colnago V4Rs: construction
One of Boonen's remarks, translated from the Flemish, was that the V4Rs was "old school" and that Colnago "hadn't quite mastered that super-hyper aero stuff yet."
I wonder if this is a lazy assumption. To create the bike Colnago drafted in Norwegian industrial designer Torgny Fjeldskaar, who was design lead at BMC for five years and has the Roadmachine and the Teammachine in his portfolio.
The fact that Colnago very publicly hired a top foreign designer signals to me that the Italian brand accepts a pure race bike must be free of those traditional, strongly held but vague notions of passione.
Fans of classic Colnagos might find Fjeldskaar's signature angular design features a little alien. Silver shading deliberately accentuates the edges. The V4Rs is a weapon that was designed for Pogačar to use in his bid to win a third Tour and it looks like it.
The white paper supplies three different sets of data comparing the V4Rs with the outgoing V3Rs "in order to show the importance of a fully optimised platform" though not comparing like for like.
The best savings the optimised V4Rs posted over the V3Rs were 6 per cent or 27.7 watts with a pedalling rider at 50kph.
The unpainted V4Rs frame size 485 is actually 3g heavier than the outgoing equivalent V3Rs (798g compared to 795g) but Colnago has focused on the 'frame kit' weight, which includes frame, fork, headset and cockpit for both bikes, and in this scenario the new V4Rs is a claimed 57g lighter.
In this build it weighs 7.15kg (including the cute little multitool that secreted inside the steerer tube).
In Colnago's Real Dynamic Stiffness (RDS), testing, for which it created proprietary and apparently still secret methodologies, it says the V4Rs is 4 per cent stiffer in the sprinting position and 5 per cent stiffer in seated.
The V4Rs comes in the same seven sizes as the Colnago C68 and the geometry itself is also the same. The stack/reach ratio now progresses in a more linear way compared to the V3Rs, though the geometry is overall not radically different: the relatively relaxed head tube angle (71.8 degrees in the size on test here) and longish reach remains.
Along with the geometry the V4Rs and the C68 share the CeramicSpeed SLT 'lifetime' headset, the seatpost and the cute little multitool hidden in the fork steerer.
Colnago V4Rs: the ride
I first rode the V4Rs in La Nucia, Spain at the UAE Team Emirates camp in December, at the launch. Our group of journalists headed for the well known Coll de Rates climb, along with all the other pro teams training in the area.
Although the Colnago propelled me up there incredibly efficiently and on the descent it nailed the bends with supreme confidence and perfectly judged stability, even when I foolishly tried to chase a young pro (and soon got dropped) I concluded it didn't feel all that fast. I ventured this was because it was designed to resist the twisting forces of a 24-year-old Tour de France winner rather than providing an exciting ride for a 54-year-old cycling journalist… "We would never find the limits of its stiffness in our little sojourn," I wrote.
I said I would need to spend more time on it to reach a final verdict - so Colnago promptly sent one. And that was a good move because now I've changed my mind.
The roads in Surrey are in far worse condition than those in southern Spain - no surprise there. But the surprise was that the Colnago was so at home on them. Whereas on the smooth roads around La Nucia I detected a stiffness that I wasn't powerful enough to unlock, on rough surfaces the ride quality was much more tangible, the way the frame reacted to different inputs, and it felt as exciting as any pro bike I've ridden in the last three years - and that includes the Pinarello Dogma F, the Specialized S-Works Tarmac SL7 and the Cervelo R5. It's not just stiff but it's also responsive, nimble - it supplies exactly the right amount of feedback from the road without being harsh and it feels super light.
Hoping for a window in the freezing weather, again the opposite of La Nucia conditions, I headed out on my test loop and it absolutely blitzed the first hill (which is steeper than the Rates). Even though a blizzard swept in I still averaged 20mph for a relatively lower power average. For me it was at least 2kph faster.
As I'd noted after the first ride in Spain - and after reviewing the Colnago C68 - the geometry suits me. It's racy but traditional-feeling. Its handling is just beautiful.
I don't need to comment on the performance of the Dura-Ace 9200 groupset - exceptionally good - and I don't have a problem with a Shimano-equipped Colnago, either. Remember all those Mapei wins?
Value and conclusion
If you can afford a bike like this you might not worry about a few hundred quid either way, but for the record the V4Rs in this build at £12,599 is £500 'cheaper' than the C68 and priced £1,000 below the Dura-Ace S-Works Tarmac SL7 ($14,250 / £13,950). The equivalent Pinarello Dogma F is also $15,500 / £12,500.
But the thing that most people want to know is… V4Rs or C68?
If you want to buy the fastest Colnago it's the V4Rs no contest. But if you're a Colnago fan and you want to feel as though you're buying into the whole model-C, Italian-made heritage thing, the lugs, the pretty paint, it's the C68. Which has a sublime ride and is not quite as aggressive-feeling.
Specification
Frame Colnago V4Rs
Fork Colnago V4Rs
Groupset Shimano Dura-Ace 9200 Di2
Wheels Shimano Dura-Ace C50
Tyres Pirelli P Zero Race 700x28c
Bar Colnago HB R41
Stem Deda Superbox
Seatpost Colnago
Saddle Prologo Scratch M5 CPC
Weight 7.15kg
Size tested 510
Contact www.colnago.com
Thank you for reading 10 articles this month* Join now for unlimited access
Enjoy your first month for just £1 / $1 / €1
*Read 5 free articles per month without a subscription
Join now for unlimited access
Try first month for just £1 / $1 / €1
Simon Smythe is a hugely experienced cycling tech writer, who has been writing for Cycling Weekly since 2003. Until recently he was our senior tech writer. In his cycling career Simon has mostly focused on time trialling with a national medal, a few open wins and his club's 30-mile record in his palmares. These days he spends most of his time testing road bikes, or on a tandem doing the school run with his younger son.