Is the Pinarello Dogma X an all-road bike? Our thoughts after 50km of road and gravel riding
A softer Dogma F with space for 35mm tyres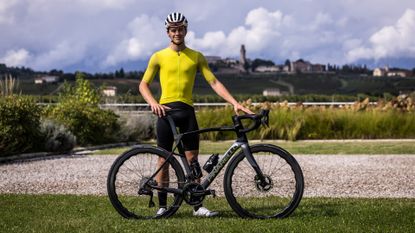 (Image credit: Pinarello)
The Pinarello Dogma X is really the Dogma that the majority of us should be riding. The geometry makes for a great handling bike that feels stable on descents, and the wide tyre clearance makes for a far more comfortable setup than the thoroughbred Dogma F. I'm not totally sold on the bar setup and stiffness/comfort trade-off of the 'X-Stays' technology, but there is no question, the Dogma X is a fast endurance bike.
Reasons to buy
+

Geometry excels on descents

+

Ample tyre clearance makes for a versatile bike

+

Very fast rolling, even on rougher road surfaces
Reasons to avoid
-

Head tube and bottom bracket stiffness are compromised by the frame design

-

Most Talon Ultralight cockpit is a little harsh for endurance riding
You can trust Cycling Weekly. Our team of experts put in hard miles testing cycling tech and will always share honest, unbiased advice to help you choose. Find out more about how we test.
The new Pinarello Dogma X brings the Italian brand's endurance lineup into the modern era. 35mm tyres and geometry derived from Team Ineos' race bike, the Dogma F, make for a great handling machine that provides ample comfort for long hours in the saddle.
The endurance road bike market is a crowded space, however - so how does the Dogma X stack up after our first shakedown ride on the new mile-munching machine?
Pinarello Dogma X: Construction
The most striking detail on the new Dogma X is without doubt the 'X-STAYS' seat stays. The new triple triangle design has allowed Pinarello to use ultra thin seat stays which are engineered to allow the rear triangle to flex somewhat.
Pinarello also says the additional lower brace to the seat tube allows for another avenue of vibration transfer which is said to relive pressure on the rider's back.
The X-shaped bridge itself is largely an aesthetic touch (which I love), but Pinarello says it does help to increase lateral stiffness in the rear triangle.
Tyre clearance has also been bumped to 35mm - 3mm more than the current X-series bikes on the market. This, we think, is a great move. Wider tyres are certainly here to stay and this keeps the Dogma X within a stone's throw of bikes such as the New Giant Defy (38mm clearance) or new Specialized Roubaix which have been released in the last month.
Pictured below are 32mm tyres, which we had on test and the clearance looks relatively tight - but we think there's a chance you could squeeze in a slightly larger tyre than 35mm.
Though Pinarello's Chief of Operations, Maurizio Bellin did let on that the new Dogma X could be considered an "all-road bike", Pinarello reassures us that the main focus of the new Dogma X is efficiency and comfort for all-day riding.
And that brings us to the 'new bike top trumps'. When compared to the Dogma F, the Dogma X only loses about 5% of aerodynamic efficiency, which is certainly competitive considering the tests were run with 35mm tyres equipped.
The new endurance machine is less stiff, as much as "5-10%" around the bottom bracket area according to Pinarello's Mechanical Engineer, Massimo Poloniato, but is still meant to retain the handling pedigree of the Dogma F.
The range-topping carbon construction does keep the weight low though, the Dogma X weighing a claimed 955 grams for a 53 frameset with no hardware, and tipping our scales at 7.57Kg for a size 56
For all the nitty gritty details on the new Dogma X, check out our launch story.
We were lucky enough to get our hands on the range-topping Shimano Dura-Ace Di2 build and it performed as expected.
A compact 50/34 chainset up front was paired to an 11-30 rear cassette which provided plenty of range for all day riding, even on the limited steep gradients on our test loop - which we'll come onto.
As far as wheels are concerned, our test bike was rolling on Princeton Carbonworks Grit 4540 which were laced up with Tune hubs. Tubeless ready and boasting a standout aerodynamic shark tooth profile, the Princeton wheels certainly rolled quickly on flat ground.
They were set up tubeless too - Continental taking care of rubber duties with the GP5000 tubeless tyres in a 32mm width - although on the wide Princeton rims (21mm internal, 29.9 widest external), they ballooned out 1mm or two wider.
In terms of finishing kit, the Dogma X bikes all come as standard with the Most Talon Ultralight cockpit. This is the same cockpit that is found on the Pinarello Dogma F race bike, and as we'll come on to, you certainly notice it on the rougher roads.
That said the integration is neat and tidy, and the bars are fast too, even if that isn't everyone's priority.
The Dogma X also shares the seat post from its racier Dogma F brother, though it uses the new seat clamp design found on the F series bikes, which is said to be a slightly lighter and more reliable design.
Pinarello Dogma X: The ride
Pinarello, it's fair to say isn't a name yet synonymous with gravel riding. You can imagine my surprise then when on the first lap of our 16km test loop, we were treated to a glorious white close-packed gravel road that you would expect to see in the Strade Bianche!
Alongside a 2.5km undulating gravel sector, our test loop featured twisty roads, a small steep kicker, as well as a pair of slightly longer, more steadily climbing uphills.
So how did the bike ride? Well, it's safe to say the new Dogma X is a tricky bike to pin down, so here are my thoughts on how the new bike rides.
The first sensations on the new Dogma X were great. The slightly longer chain stays than those found on the Dogma F make for a very easygoing ride feel, providing me with confidence from kilometer zero. For those more adept with race bikes, this might handle ever so slightly on the slow side, but I think for an endurance bike, Pinarello has struck a fantastic balance in the bikes handling.
On the first lap, I set myself the challenge of finding every pothole I could and proceeding to ride straight through it - a pretty fair test for a bike with 32mm tyres. I found the bike did do a great job of soaking up the bigger bumps, it did feel more from the tyres than the frameset, but a comfortable ride nonetheless.
The aforementioned gravel sector was where the bike really took me back. No, it was not by any means technical gravel, but the Dogma X did a great job soaking up the bigger bumps of the rough surfaces. I was a long way from feeling rattled on the bike, which I think cements its capabilities as an all-road bike. It is not by any means designed to ride gravel, but it does tolerate it.
The other side of the compliance story however, is a loss in stiffness - and for me, this is where the Dogma X became slightly unstuck. When really throwing the hammer down on steeper gradients, I did notice a definite loss of stiffness at the bottom bracket area.
Granted this was only noticeable at higher power outputs, but there's no getting away from the fact that the power transfer isn't close to the level of a race bike. This isn't a deal breaker for most customers, but the Dogma X is marketed as a comfortable performance bike, and to fit that brief, a bike needs to be stiff.
The head tube too suffered the same snag. I always test bikes for speed wobble - this consists of getting the bike to a speed of over 50kmh, and quickly shaking the handlebars back and fourth. Upon doing this, different bikes have different levels of oscillation, so it's a great test for head tube stiffness. Here, the Dogma X seemed to suffer, and it was more prevalent when upping my descending speed on laps two and three.
Though the geometry makes for a great handling bike, the Dogma X doesn't quite have the same reactivity when throwing it into tighter turns. By no means did the bike ever feel unwieldy - but a hint of fun factor is certainly lost in the head tube.
My other gripe came from the handlebar - I mentioned earlier that the frame and tyre combination does a great job of soaking up larger bumps, but smaller road buzz vibrations were far more identifiable.
I believe this mostly came down to the Most Talon Ultralight cockpit. It is a race handlebar, and as such is designed first and foremost to be aerodynamic and stiff. Though it does add a good level of purpose to the bike, both aesthetically and out on the road, I think it is just a little too much for most riders, especially those looking for a bike that they can ride for hours on end.
The caveat here though is that there was no hardware no hand to check tyre pressures. They felt somewhat harder than what I would usually expect on a 32mm tubeless setup, but nonetheless I feel at least some of the problem was in the cockpit setup.
Pinarello Dogma X: Value and conclusion
The Pinarello Dogma X is an incredibly tricky bike to pin down. The philosophy Pinarello has set out to conquer is great - a more comfortable, but still performance-oriented road bike for the masses, but I can't help but think the bike's personality is a little split.
While the frameset and wider tyres do a good job of soaking up vibrations, I felt that a little too much stiffness has been lost in the process. Couple this with a handlebar that was certainly on the harsh side, and it leaves me wondering if Pinarello has looked in the right places for compliance.
Seat post systems for example, like that found in the new Canyon Endurace, offer fore and aft flex without having to compromise frame carbon layup - and I wonder if an approach like this would have allowed Pinarello to keep more frameset stiffness.
The other Elephant in the room is price. With full builds coming in at $15,500/£13,200, the Dogma X is by no means cheap, but it is certainly rich in history.
Pinarello Dogma X: Specs
Swipe to scroll horizontally
| | | |
| --- | --- | --- |
| Price | $15,500/£13,200 | Row 0 - Cell 2 |
| Weight | 7.57Kg | Row 1 - Cell 2 |
| Sizes available | 43,46.5,50,51.5,53,54,55,56,57.5,59.5,62 | Row 2 - Cell 2 |
| Frameset | Pinarello TorayCa T1100 1K Dream Carbon with Nanoalloy Technology. Asymmetric design | Row 3 - Cell 2 |
| Fork | Pinarello Onda Fork Dogma X | Row 4 - Cell 2 |
| Groupset | Shimano Dura Ace Di2 R9270 | Row 5 - Cell 2 |
| Handlebar | Most Talon Ultralight | Row 6 - Cell 2 |
| Seatpost | Pinarello Dogma X, full carbon, aerodynamic design | Row 7 - Cell 2 |
| Bottom bracket | Italian threaded | Row 8 - Cell 2 |
| Mechanical compatible | No | Row 9 - Cell 2 |
| Wheelset | Princeton Carbonworks Grit 4540 | Row 10 - Cell 2 |
| Tyres | Continental GP5000 TLR 32mm | Row 11 - Cell 2 |
| Tyre clearance | 35mm | Row 12 - Cell 2 |
| Row 13 - Cell 0 | Row 13 - Cell 1 | Row 13 - Cell 2 |
Thank you for reading 20 articles this month* Join now for unlimited access
Enjoy your first month for just £1 / $1 / €1
*Read 5 free articles per month without a subscription
Join now for unlimited access
Try first month for just £1 / $1 / €1