Parlee Z-Zero Custom review
It's not too often that we feature custom-built bikes here at CW and there are lots of reasons, but when Parlee offered to make us a frame from the ground up it was frankly too good a feature to turn down.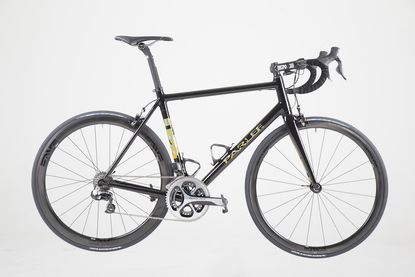 We know this bike is expensive, but it cannot be marked down in this regard as it is in a league of its own. Akin to a super car this is a super bike with a comparable purchase being a Savile Row suit. The lucky few who get to experience a Z-Zero will not be disappointed as it offers all the qualities you would expect, with a little something extra.
Reasons to buy
+

Beautiful ride

+

Custom Paint

+

Custom Geometry

+

Carbon layup tuned to the rider

+

High end spec

+
You can trust Cycling Weekly. Our team of experts put in hard miles testing cycling tech and will always share honest, unbiased advice to help you choose. Find out more about how we test.
Parlee is known for its highly desirable custom carbon frames and it was prepared to build a completely custom build to highlight just what it could do with our geometry, our choice of paint and even our ride tuning. Frankly Parlee offer mind-bending choice, even for us, and we see a lot of bikes.
Interestingly the first port of call with Parlee is nothing to do with the design of either the tube shapes or the lengths but simply to get your name on the build list. Yes really! At this end of Parlee's spectrum the frame will be hand-built in Boston, Massachusetts and they are so in demand that your build schedule is the first thing to confirm — normally, one would presume, with a reasonable deposit at your local stockist too.
>>> The best budget road bikes ridden and rated
As the build draws near, the next gate to negotiate is that of the tubes, designed to a completely customisable programme that means you can select the ride tuning of the frame as well as the lengths and angles of the tubes. When it comes to the geometry of the tubes, that's an easy one for us, thanks to the benefit of experience gained over many years. Unless you're an old hand you'll be relying on your bike fitter so it's worth figuring that into any equations.
>>> For a review of the Canyon Aeroad, click here
'Ride Tuning' is a little harder because one man's stiff sprint machine is another man's road drill. Given that this was to be the first Parlee I'd ridden I had no terms of reference so went with the standard Parlee ride tuning for my weight — UD. I also had an ulterior motive thanks to a little insider knowledge.
It turns out that the name behind the brand, Bob Parlee, rides the same size as me, so I figured that with all his access and years of experience building his own bikes he had probably worked out the best ride characteristics for this size of bike. In the real world a customer who isn't too sure of what they'd like can ask Parlee staff for advice and the correct Ride Tune can be ascertained.
Custom Paint Job
And so the process moved forward until six months had passed and an email arrived asking for my thoughts on the paintwork. That horrible sinking feeling ran through me, like the one where you got to school and realised that while you were out having fun you should have been doing your homework. Luckily we were the client (even if not a paying one) so if we held things up it was our problem. All the same it caused a flurry of activity, looking for inspiration in all sorts of places. We came up with a shortlist of different designs, two of which are pictured below.
Trouble was, nothing looked truly special and different. Once again it was back to Parlee's Instagram site to try and find inspiration. It was there that a very different, head-turning design was found; that of digital camouflage. Obviously no one wants to just copy a design, so we went back to Parlee's design team with a number of alterations to the digital camo design that would personalise the look.
>>> A complete buyers guide to groupsets
Preferring a more subtle style I wanted to see the camo reduced in scope and settled on a band around the seat tube, the main logo and on the inside of the fork with the rest of the frame in gloss black. As for the colours, for me that was another easy choice as I replicated my club kit with green, gold and black.
With a project like this it's easy to lose sight of reality in terms of costs, especially in the paint department. The Z-Zero starting price is £5,899 for a 'semi-custom' frame that uses predetermined geometries — that's pretty steep in most people's books. A 'full custom' geometry starts at £6,999. The paint scheme we selected is classed as a level 3, which costs £600, but they run from £300 to over a grand if you really want to go to town.
>>> The Merida Reacto DA
Ride Tuning options
With the introduction of the Z-Zero, Parlee moved away from Enve-manufactured tubes made to its own specification and it now prefers to make them in-house as they can be lighter and customisable for internal cable routing.
As a starting point there are three tubesets that Parlee uses: SL, UD and XL. Each is used throughout the bike for a given rider weight and is itself tuned for the length of the tube and therefore the size of the frame. Where it gets interesting is the ability to go up or down a tube range for a given part of the frame, such as the head tube or chain stays.
Alternatively and/ or additionally, a junction can be beefed up or slimmed down to further tune the ride. There is one final tubeset that can be used, the CL — a comfort option that allows a touch of controlled flex.
Equipment
With the frame sorted we move on to the not-so-small task of specifying it. When you're talking about a bike of this calibre you don't want to throw any old gear on it, it needs to be something appropriate to the machine, something that looks factory — after all you can't have it looking a lesser machine than something on the shop floor.
With historic ties between Parlee and Enve, and forks still made by Enve, I figured that would be a great starting point for the equipment too, it also helped that we'd just finished testing the Smart 3.4 wheelset so we were off to a flying start. Enve stem and seatpost were obvious choices but when it came to the bars there were three options we'd not used before, with the most exciting and newest being the SES Aero bar, so obviously we went with that one. Enve are available from Saddleback.
The Ride
When you think about the value of a bike like this it could be easy to get overawed, but it's still just a bike and needs to be hammered like any other. All the same it wasn't easy to roll it out into the rain for its very first outing — summer in Britain, what else would it be doing but chucking it down?
With all the contact points measured out to be identical to every other test bike, the Parlee immediately felt familiar, but climbing the first hill revealed it wasn't quite. Every bike at this end of the range is good these days; they're all fast, all light, all stiff. The Z-Zero had all that in spades but still there was a little something extra; it edged the bar a little higher compared to previous test bikes we've ridden.
On the descents we would rate it as being one of the more neutral-handling machines, similar to the new Trek Emonda SLR, quick to change direction, light and fleet of foot but with enough stability to give that ever-needed confidence when reaching over 40mph.
We would say there is plenty more to learn, especially about the playful nature of the bike, which seemed to encourage you to push yourself that little bit harder.
For more information, head over to www.parleecycles.com
The piece was originally written by Mike Hawkins for The Sept 4th issue of CW.
Thank you for reading 20 articles this month* Join now for unlimited access
Enjoy your first month for just £1 / $1 / €1
*Read 5 free articles per month without a subscription
Join now for unlimited access
Try first month for just £1 / $1 / €1