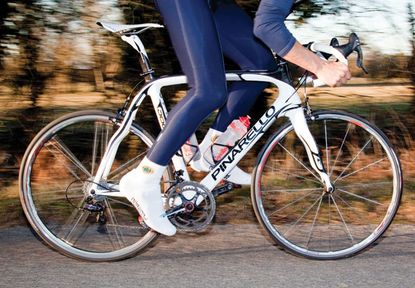 The Dogma 2 is not only great in a straight line, it's tidy around the corners too. With an oversized lower headset bearing - at 1 1/2in - it makes for a rigid front end that holds a line well, especially when really leaning on it. Combine this with the aerodynamics and stiffness and it makes for a truly inspiring first outing. As you can imagine, the pinnacle of the Pinarello range doesn't come cheap, starting at £3,950 for the frameset and rising to £4,200 for the black on black with internal electric cabling.
Reasons to buy
+

Truly great frame

+

Inspiring ride

+

Rigid

+

Handles like a dream
Why you can trust Cycling Weekly Our expert reviewers spend hours testing and comparing products and services so you can choose the best for you. Find out more about how we test.
When Pinarello released the Dogma 2 at the Tour de France last year, it could hardly have been a more understated way to put a new bike beneath two WorldTour teams. There were no flags and balloons, no PR people and certainly nothing to test ride. In fact it would have been amazingly easy to miss it.
Fast-forward to this year and getting our hands on a test bike certainly wasn't easy. When you look into it a bit further, you realise that Pinarello isn't the biggest company (it is still a family-run business) and it would seem that it is struggling to keep up with demand for these frames - but why is that?
All becomes clear as soon as you head out for the first time: this frame is a work of genius. Dogma 2 fits into a very small group of bikes that truly make you want to attack the road. Going fast isn't enough; you need - and, in fact, will positively want - to get out of the saddle and smash it down the road until the lactate in your legs makes you sit down again - it's that good.
What has Pinarello done to get this feel? Frankly, I think we'd all like to know, as would the company: it scores highly for stiffness, weight and even aerodynamics, yet there is something else too; an extra something.
Thank you for reading 10 articles this month* Join now for unlimited access
Enjoy your first month for just £1 / $1 / €1
*Read 5 free articles per month without a subscription
Join now for unlimited access
Try first month for just £1 / $1 / €1