Cadence DNC Merino Wool socks review
Here's what we make of US brand Cadence Collection's all-American merino socks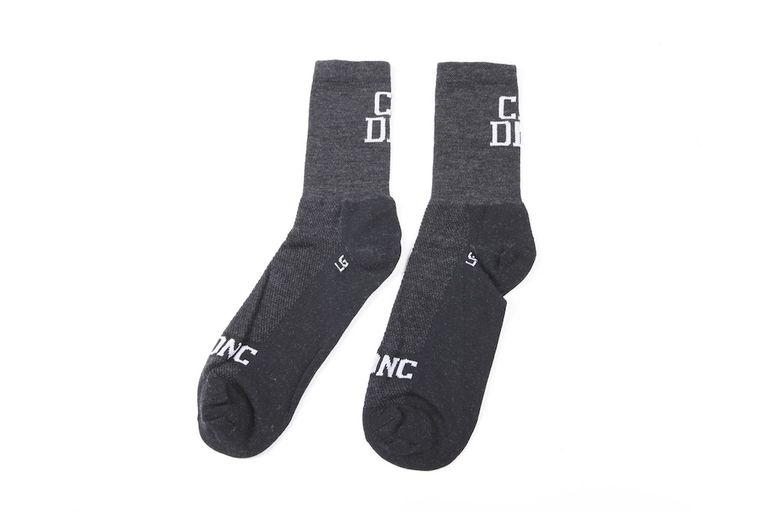 (Image credit: mike prior)
A good weight for cycling with a comfortable fit and enough warmth for cooler conditions.
Reasons to buy
+

Merino wool blend for warmth

+

Stretchy for a good fit

+

Light enough to fit in close-fitting shoes

+

Made in the USA from American wool

+
There are no prizes for guessing what Cadence Collection's DNC socks are made of. Merino wool provides warmth, moisture wicking and odour resistance – all useful properties in a pair of socks.
American merino wool is the headline textile, making up 59 per cent of the socks' composition, the balance being mostly nylon with a twist of Lycra. This should give them increased durability and ensure that their fit remains unaffected by repeated washing. They're also not much prone to pilling.
>>> Cadence Digits gloves review
The DNC socks are not super-thick, so they work well inside closer-fitting cycling shoes. The upper section of the foot in particular is quite an open weave. Nevertheless, I've found them plenty warm enough on chilly winter and early-spring rides, whether worn under overshoes or just inside cycling shoes on warmer, drier days. They stay warm even when they get damp too.
>>> Cadence Collection tackles winter with cold and wet weather clothing
The socks stay up well, assisted by their Lycra content and an elastic cuff. They also have enough thickness under the foot to keep your feet comfortable in your cycling shoes.
Watch: Unmissable cycling products of 2017
Cadence makes the DNC socks in four sizes, with the large fitting shoe sizes from 8.5 up to 10.5. At the bottom of this range, they're a good fit without excess material. Cadence also offers the Idiom design in US-made merino wool mix.
>>> Cadence Collection summer cycling socks review
At £22 a pair, Cadence's DNC socks are on the expensive side, probably due to their US manufacture. They should prove durable though, and are currently on offer at £17 on Cadence Collection UK's website, making them a less expensive proposition.