Ritchey WCS Carbon Streem II handlebars review
The Ritchey WCS Carbon Streem II handlebars are aerodynamically shaped carbon-fibre handlebars designed to reduce your drag and weight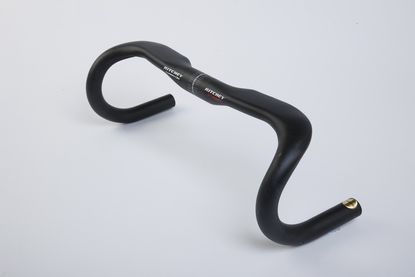 (Image credit: george eyres)
Expensive, but excellent quality carbon bars that are competitive on price and weight when stacked up against the competition. The shape is good and they are easy to install/live with. If you're after light, carbon aero bars then the Ritchey WCS Carbon Streem II are among the best options out there. Perhaps most importantly, they look seriously bling too.
Reasons to buy
+

Well made

+

Stiff for an aero bar

+

Competitively priced

+

Room for a Garmin mount

+

Easy to route internally

+
Aero handlebars are designed to decrease your frontal area and often have aerofoil-shaped tops to reduce drag. As a bike's leading edge, bars can make a significant reduction to your drag, typically in a region of ~3-5 watts at 45kph.
The Ritchey WCS Carbon Streem II aero bars have a very simple design with minimal logos/branding and a very smart unidirectional carbon-fibre finish.
>>> Would you benefit from narrower handlebars?
I have tested a wide variety of road handlebars and the Ritchey WCS Carbon Streem IIs have impressed in a number of key areas.
Installation of the bars was among the easiest I have encountered for an internally routed bar. I found routing the cables through the bars to be facile with good sized holes and no loose bits of carbon on the inside to catch or disrupt the cable. This was in stark contrast to the Enve SES bar which was much more of a faff.
http://www.instagram.com/p/BTmfyfGgCDj/?taken-by=dr_oliverb
Another key attribute, not to be taken for granted is the space adjacent to the stem.
The Ritchey bars score points for having adequate space for an out-front mount. Many aero bars, such as the Enve SES and Easton bar don't have sufficient space, meaning you are limited in stem options and may have to use a stem-plate mount. See the picture above. (I am aware I am not maximising the aero potential by having them wrapped all the way too!)
Compact bars are becoming increasingly popular, but the traditional deeper drop is still the favourite of the pros. It enables you to get lower for that crucial sprint and is a very welcome feature on this bar.
Bar geometry can be as personal as saddle choice, but I really love the shape of this one. Ritchey also produces a 'Blatte' version, which features an anatomic drop shape if you prefer that.
The weight of the bar was 235g on our scales, which is very competitive. The S-Works aero bars are typically 30g or so heavier and the Enve bars are about the same.
If you were to spend a similar amount of money on a round (non-aero) bar you would expect to save another 30g and perhaps start heading below 200g. It's up to you and where your priorities lie – the non-aero Fizik Cyrano 00 bars are an excellent alternative that hit the scales at 175g with a retail of £269.
When sprinting hard, I found the Ritcheys to be plenty stiff and they are pretty light too.
Although expensive, they are considerably cheaper than other premium options from Enve (by £100 more!) or 3T and that combined with their excellent performance, means they are easy to recommend.
It would be nice to see a 38cm option available though, as that is the size I normally ride. Instead I opted for 40cm.
Thank you for reading 10 articles this month* Join now for unlimited access
Enjoy your first month for just £1 / $1 / €1
*Read 5 free articles per month without a subscription
Join now for unlimited access
Try first month for just £1 / $1 / €1
Oliver Bridgewood - no, Doctor Oliver Bridgewood - is a PhD Chemist who discovered a love of cycling. He enjoys racing time trials, hill climbs, road races and criteriums. During his time at Cycling Weekly, he worked predominantly within the tech team, also utilising his science background to produce insightful fitness articles, before moving to an entirely video-focused role heading up the Cycling Weekly YouTube channel, where his feature-length documentary 'Project 49' was his crowning glory.