Chapeau Repel bib tights review
British company Chapeau! look to provide a quality pair of winter bib-tights that are both water and wind resistant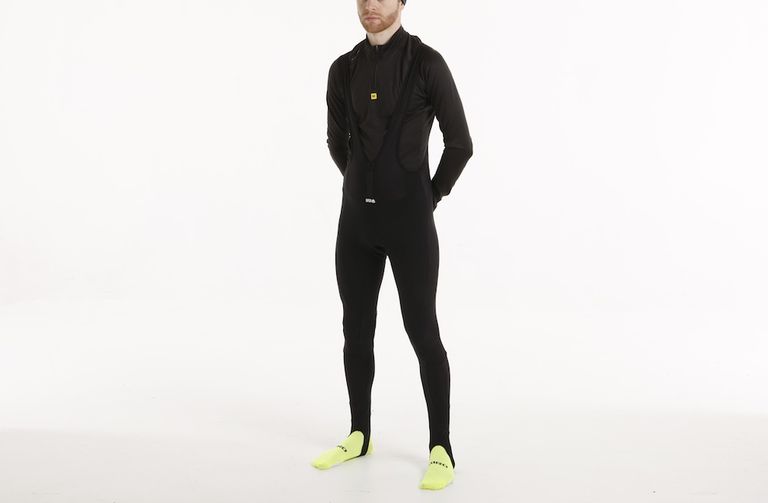 The Chapeau Repel bibtights are innovative and have several great features, we feel that the lack of stretch in the windstopper fabric hinders comfort. We understand why the fabric has been chosen, but for £160, we'd expect perfection form out bibtights.
For
+

Nice Pad

+

Good Foot Loops

+
Against
-

Wind Stopper fabric is neither stretchy nor comfortable

-

Not very water resistant

-

Cost
The Chapeau Repel bib tights sit at the top of Devon brand's range, and come with an option of two pads. The narrower red "racer" pad suited to more aggressive positions and the wider, green "rider" pad aimed at sportive riders. Our test pair featured the Chapeau's red pad which we really liked: it remained comfortable after several hours in the saddle.
The tights have a panelled construction, consisting of a high tech c_change membrane fabric developed by Schoeller. This is complemented by Super Roubaix fabric panels for comfort. The c_change panels are effective at blocking the wind, but we found the water repellency quickly succumbed to driving rain.
We also weren't convinced by the c_change fabric that makes up about half of the Chapeau Repel bibtights. Noticeably denser and less stretchy than lycra or Roubaix fabric, we found the fit to be overly constrained to the point of being uncomfortable. We have noticed an increasing number of winter tights adopting this kind of approach and although the clever panel approach creates an outwardly appearing good fit, they are not very comfortable. Our 6'1" and 70kg tester was charged with testing a pair of mediums, which gave no loose material around the back of the knees, but suffered from tight shoulder straps. If you are over 6' you may want to consider a larger size.
A great feature is the ergonomic foot loops, which are amongst the best design we have seen on a pair of bibs. They are very effective at preventing the calves bunching and barely noticeable underfoot. In addition, the front zip is useful for comfort breaks.
For more information head over to the Chapeau! website (opens in new tab).
Thank you for reading 5 articles this month* Join now for unlimited access
Enjoy your first month for just £1 / $1 / €1
*Read 5 free articles per month without a subscription
Join now for unlimited access
Try first month for just £1 / $1 / €1
Oliver Bridgewood - no, Doctor Oliver Bridgewood - is a PhD Chemist who discovered a love of cycling. He enjoys racing time trials, hill climbs, road races and criteriums. During his time at Cycling Weekly, he worked predominantly within the tech team, also utilising his science background to produce insightful fitness articles, before moving to an entirely video-focused role heading up the Cycling Weekly YouTube channel, where his feature-length documentary 'Project 49' was his crowning glory.