Unbound bike test: we pitted the Classified hub against some of the toughest conditions out there, and this is what happened
The build included a last-minute tire swap, the Classified Powershift system, a dampening seatpost and gravel specific tape.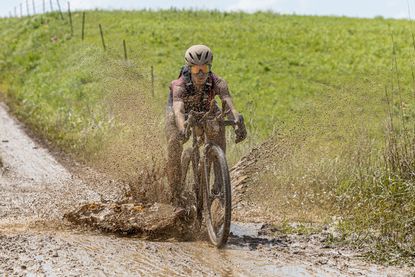 (Image credit: Snowy Mountain Photography)
When I was given the opportunity to report on the world's premier gravel race, Unbound Gravel, I was keen to figure out a way in which I could also experience some of the famous Flint Hills riding myself.
For those not familiar with Unbound or why there is such a buzz around it, in the 15 years it's been held, Unbound Gravel has grown to be the biggest and most competitive mass-start gravel event in the world.
It takes place in and around Emporia, Kansas, in the middle of the United States. And with 4,000 registered riders from 44 countries competing in six race distances —including past and current WorldTour roadies like Peter Sagan and Laurens ten Dam, professional triathletes, mountain bike Olympians such as Lea Davison, gravel privateers, and even elite rowers— Unbound draws a uniquely diverse and world-class field of professional athletes.
Whether you're partaking in the 50-miler or the 350-miler, Unbound is a test of endurance, self-sufficiency and equipment. All race distances require the riders to be completely self-sufficient and riders might be out on course for as long as 35 hours in one go.
In addition to needing to fuel oneself for some very long hours in the saddle, you're on your own when it comes to repairing mechanicals or fixing flat tires. The latter is a big part of the race as the sharp flint rocks are notorious for slicing tires and dashing podium, or even finishing, aspirations. Along the way, riders also need to contend with the undulating terrain, exposed roads, headwinds and, if at all wet, tire- and soul-sucking mud.
Being on deck to interview the race winners of the marquee 200-mile race, I decided to jump into the 100-mile event myself. The 200-miler started an hour ahead of the 100-mile race, and I figured that even if I took some photos and did some interviewing along the way, I would have enough time to make it to the finish, clean up and be ready to get to work.
But weather had been a big concern in the lead-up to race day with a fair bit of rain in the days prior as well as thunderstorms and downpours predicted on race day itself. Tire choice, tire clearance and tire pressure seemed to be all people were talking about. Additionally, the mud can destroy groupsets and grind you to a halt. It became such a buzz that paint sticks were being handed out to help clear the mud off the bikes.
I'll admit that I did get a tad nervous hearing several horror stories about folks getting stuck on course for hours on end with flat tires or other mechanicals — I was on a timeline after all. And so, naturally, I started tinkering with my bike setup.
Image 1 of 10