Bikes of Unbound Gravel: what racers are riding for 8+ hours on rough gravel
Feast your eyes on these; the winner could be among them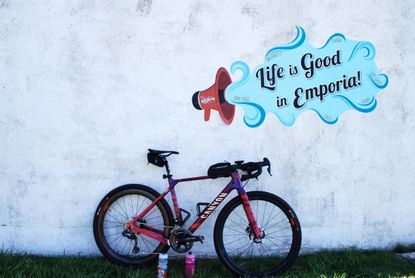 (Image credit: Anne-Marije Rook // Future)
The two days leading up to the world's premier gravel race, Unbound Gravel, are filled with shakedown rides, a trade show and community events. It's a good opportunity for riders to test their gear setup and brands to showcase the latest and greatest.
When it comes to the bikes and gear setups, Unbound is an interesting event because riders might ride as little as 25 miles all the way up to 350 miles. All race distances require the riders to be completely self-sufficient and riders might be out on course for as long as 35 hours in one go.
It's true test of endurance, self-reliance and equipment. In addition to needing to fuel oneself for the many hours of riding, the sharp flint rocks are notorious for slicing tires and dashing podium aspirations. Along the way, riders also need to content with the undulating terrain, exposed roads, headwinds and, if at all wet, tire-sucking mud.
Weather has been a big concern in the lead-up to this year's Unbound with a fair bit of rain in the days prior to the race start and more rain as well as thunderstorms predicted on race day. Tire choice, tire clearance and tire pressure seemed to be all people were talking about. On a wet course, the mud will destroy groupsets and grind you to a halt. It became such a buzz that paint sticks were being handed out to help clear the mud off the bikes should it come to that.
With some 4,000 professional and amateur riders descending upon the small town of Emporia, Kansas, we saw the following trends:
Common tire choices:
Kenda FlintRidge
Most tires were run in size 38mm to 44mm at PSIs ranging between 28 to 40
Common bikes:
Gear Trends:
Bento boxes on the top tube
Small seatpacks
Skinny frame bags that leave space for two tall bottles
Hydration vests
Integrated tubeless plug tools, either in the bar ends, attached on the water bottle cage or even in the crankset or stem cap
The addition of chain catchers in case of mud
Bottles, stickers or ribbons as a tribute to Mo Wilson
Here's a tiny sample of the bikes that will be making their way to the finish line this weekend; some might even end up on the podium.
Pete Stetina's Canyon Grizl
Image 1 of 9