Lightweight Autobahn disc review
A time trial wheel so good that professional athletes will buy it and snub their free sponsored equipment. Here is our review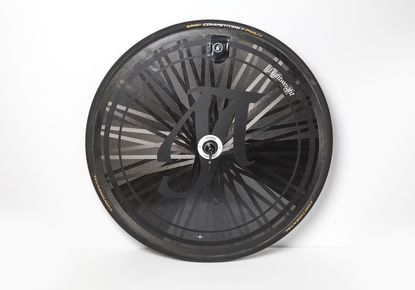 A very beautifully made wheel, that is ridiculously light and of exceptional quality. With wider tyres offering superior rolling resistance, the narrow design, which suits 19-21mm tyres is now a little antiquated.
Reasons to buy
+

Ridiculously light

+

Excellent Lateral stiffness

+

Ceramic bearings

+

DT Swiss 240 hubs are class leading
Reasons to avoid
-

Too narrow

-

Antiquated because of width

-

Only available as a tubular

-

Expensive
Why you can trust Cycling Weekly Our expert reviewers spend hours testing and comparing products and services so you can choose the best for you. Find out more about how we test.
Is this the ultimate disc wheel? Considering the whopping price and the fact that professional teams (including BMC and Tinkoff) insist on purchasing it and using it even when not sponsored, it might be.
At a svelte 780g the advantage offered by the Lightweight Autobahn over other disc wheels is apparent whenever you need to accelerate, or the road heads uphill. I used the Lightweight Autobahn in a number of time trials and achieved a few personal bests.
Buy now: Lightweight Autobahn Tubular 700C Rear Disc Wheel at Sigma Sport for £3,049
Read more: Buyer's guide to road bike wheels
While I wouldn't attribute these good results solely to the Lightweight Autobahn, it certainly didn't hurt and if nothing else the wheel is a great motivator. You can't rock up to a time trial HQ with a wheel as bling as this adorning your bike and post a crap time. Unless you want to become the subject of an anecdote that is.
>>> How much difference do TT wheels make? (video)
The DT-Swiss 240 hub is great, coming with DT-Swiss ceramic bearings installed as stock. It is a class leading, robust hub, that offers really easy maintenance, not that you will need too. I can't imagine many riders taking their prized Lightweight Autobahn Discs into the rain on a regular basis.
>>> New DT-Swiss wheels tick all the boxes
Unlike most carbon fibre products, which are made in Asia, the Lightweight Autobahn is manufactured in Germany. Having visited the Lightweight factory I can tell you first hand that this offers a significant advantage. Air pressure and humidity dramatically effect carbon fibre production and this is especially hard to keep constant in huge Asian factories in tropical climes.
In contrast, Lightweights small German plant has a sophisticated climate control system and innovative carbon processing techniques. This allows Lightweight to optimise the layup with a higher proportion of carbon to resin and less water vapour ingress.
Video - How much faster are aero wheels? (**including the Lightweight Autobahn Disc**)
All this contributes to the low weight and high performance. The carbon, spoked construction not only looks stunning but also offers excellent lateral stiffness which you can feel when pushing through technical corners. Other disc wheels I have used, such as the Vision Metron feel comparatively flexy, which is both disconcerting and confidence sapping when you bank hard in technical corners.
Put into context, it feels like you are losing a second or two at the turn in a typical time trial with a disc not a stiff as the Lightweight Autobahn. Overall, the quality of engineering and build is truly stunning.
>>> How much speed can you buy in a time tiral (video)?
Also included is a quality wheel bag, titanium skewers, and lots of quality accessories, such as valve stickers. The quality of engineering and build is truly stunning.
The low inertia and low friction bearings create a tangible advantage that you can feel when riding with the Lightweight Autobahn. However, once you've got going, aerodynamics become more important. On a flat out and back course, the fastest disc wheel will be the most aerodynamic, not necessarily just the lightest.
I experimented on a velodrome, in attempt the measure the drag from different disc wheels. The data was inconsistent, and suggested that the difference was very small and within the realms of experimental error for my protocol.
Are there any downsides? Well, yes and for that reason this can't be the perfect wheel. There's certainly no escaping the price, which most of us will equate to robbery. Owing to the exquisite build quality, the price could be forgiven if the Lightweight Autobahn was perfect, but sadly it's too narrow.
The rim width is only 20mm and we now know that wider tyres offer optimal aerodynamics. Even mounting a 23mm tubular tyre is not suitable, as the tyre bulges and doesn't sit flush with the rim - something widely considered to be sub-optimal for aerodynamics.
Furthermore, the disc is only available as a tubular. Owing to the removal of the glue interface, clinchers offer lower rolling resistance than tubulars and the fastest tubeless tyres are faster still.
To summarise, what we want is a Lightweight Autobahn Disc that is wider, optimised for 25mm tyres and is at the very least a clincher, but preferably tubeless. In the words of Patrick Stewart "make it so", Lightweight.
That said, because the Lightweight Autobahn has such low inertia and lateral stiffness, if I had a lumpy, technical timetrial tomorrow, this is the rear wheel I would want, beyond any shadow of a doubt.
For more informaton head over to www.lightweight.info
Thank you for reading 5 articles this month* Join now for unlimited access
Enjoy your first month for just £1 / $1 / €1
*Read 5 free articles per month without a subscription
Join now for unlimited access
Try first month for just £1 / $1 / €1