New DT-Swiss wheels tick all the performance boxes
DT-Swiss has just launched its new ERC 1100 DICUT disc specific aero wheels. Here is everything you need to know and our first impressions riding them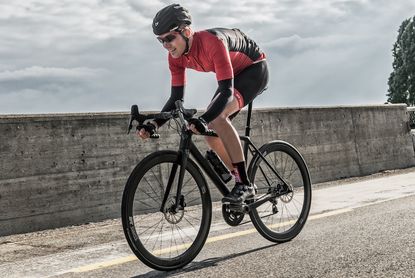 (Image credit: DT SWISS)
The new DT-Swiss ERC 1100 DICUT wheels are disc brake specific, tubeless ready out the box with wide, 47mm deep carbon rims.
The intention is that they will be equally adept on tarmac, as they are off road in cyclocross or gravel riding.
>>> Buyer's guide to road bike wheels
DT-Swiss has engineered the new wheels around what it calls the "Aero + concept."
According to DT-Swiss Aero + is based upon three pillars: drag, handling and efficiency, which all combine to make a wheel faster.
DT-Swiss regards itself as an engineering and manufacturing company, so to optimise the new wheels in these three areas it has partnered with aerodynamics experts Swiss Side, which was able to share its 50+ years of Formula One engineering and aerodynamic expertise.
Drag
Computational Fluid Dynamics (CFD) simulations were first run to determine which rim profiles might offer the best aerodynamic benefit.
Following CFD, prototypes were made and these profiles were taken into the in the GST wind tunnel in Immenstaad, Germany.
>>> Click here for the latest wheel bargain deals
On a side note, the wind tunnel development of this wheel was done on Continental GP4000 tyres, which owing to the tread pattern is the most aerodynamic tyre according to Swiss Side.
According to DT-Swiss, the new wheel is comparable in drag to a Zipp 303 Firecrest, with the results displayed in the graph below.
A key difference however, is that the DT-Swiss ERC 1100 DICUT is designed to work aerodynamically with both 25mm and 28mm tyres.
>>> Are wider tyres really faster?
It can do this thanks to a with 19mm internal rim width and this means a 28mm tyre fits flush with the rim.
DT-Swiss explained that you could run a 28mm tyre in a Zipp 303, but it would massively disrupt the aerodynamic efficiency of the rim.
>>> Disc brakes: what do the pros think? (video)
Note that the higher drag on the left side of the graph is down to drive train bike asymmetry.
Looking at this graph it is apparent that the new DT-Swiss ERC 1100 DICUTs create slightly more drag than a Zipp 303, so what is all the fuss about?
>>> Zipps new £3500 wheels inspired by whales
According to JP Ballard the technical director at Swiss Side: "This wheel was developed with a Formula 1 approach. The only thing that matters is what delivers the fastest complete system. The differences between the top level competitor wheels are within 1 watt.
"So this is not where the big improvements can be made. So we set a strong focus on handling and aerodynamic stability."
Handling
On to the next pillar of the Aero + concept - Handling. DT-Swiss believes this is an area that many riders under estimate and according to Ballard, "when riders feel a wheel stall or twitch they ease off the power."
Ballard analysed real world ride data and discovered that these small events happened so frequently that they cost riders significant time, even in a 25 mile time trial.
The ideal wheel will react more predictably as yaw angles change, allowing the rider to maintain an aero position and stay on the power for longer.
According to Swiss Side, the new ERC 1100 DICUT is more predictable in crosswinds than a Zipp 303 or Reynolds Aero 46.
Graphically this is represented by the smoother curve, indicating no sudden stalling. The theory is a more aerodynamically stable wheel is faster overall, it is not just about having the lowest drag head on.
Efficiency
DT-Swiss has achieved greater efficiency by opting for a wider internal rim width and making the wheels tubeless ready.
Wider tyres offer lower rolling resistance, but there is an aerodynamic trade off, while wider tyres are less aero, especially at low yaw angles.
Swiss Side has done lots of maths and worked out if your average speed is over 35kph, aerodynamics becomes more significant than rolling resistance, meaning that you should opt for a 25mm tyre on the new wheel.
Conversely if your speed is below 35kph, the wider 28mm tyre will offer superior performance, rolling, grip and comfort.
The other crucial detail, as previously mentioned, is that the new DT-Swiss ERC 1100 DICUT is still said to be aerodynamically efficient with a 28mm tyre.
Video - can a tubeless tyre survive a nail?
Tubeless tyres have the potential to offer faster performance too. By eradicating the friction of an inner tube, or glue layer in the case of a tub, tubeless tyres can exhibit lower rolling resistance.
Further to this, the ability to seal punctures as you ride means that you don't potentially waste 10 minutes at the side of the road.
Other cool details
DT-Swiss 240 hubs. Lightweight puts DT-Swiss 240 hubs on its wheels, need we say more? In addition to rolling beautifully DT-Swiss 240 hubs are incredibly practical and easy to service. Servicing doesn't even require tools.
Furthermore the new 240 hubs on the new ERC 1100 Dicut wheel have been given a smaller diameter spindle, resulting in slightly lower drag (0.5 watts).
The wheels also make use of DT-Swiss's new leverless thru-axle, which according to Ballard saves 1 Watt. Every little helps! And they certainly create a very neat look.
For more information on the wheels head over to DT-Swiss
First Ride
One of the nicest things about the DT-Swiss ERC 1100 DICUT is the homogeneous nature of the wheel.
DT-Swiss hasn't always made rims and most wheel brands buy parts and components from other manufacturers to put in their wheels.
DT-Swiss now does it all, resulting in a build where all the components are designed to work harmoniously.
I took the new wheels for a couple of rides around Biel, Switzerland where DT-Swiss is based. This riding involved both tarmac and gravel roads to showcase the wheels' versatility.
My overriding impression within about 5 minutes of riding the new wheels, was that I want a pair.
Despite the claimed overall 1500g weight, the rims have low inertia, the hubs roll beautifully and they are plentifully stiff.
Aerodynamically they felt great and despite the winds of winter, I felt no twitch from cross winds. I even managed to bag a few KOMs while blasting around on them, something that perhaps gives credence to the performance claims.
First impressions are hugely positive.
I want a wide disc specific rim that is tubeless ready, aero, stiff, easily serviceable and looks slick. I can now say 'tick' to all those.
Availability is set for March with UK pricing will be £1999, while the Euro price is €2418. The premium price is reflected in the product, but we understand DT-Swiss will also be launching more affordable, lower spec variants in due course.
Thank you for reading 20 articles this month* Join now for unlimited access
Enjoy your first month for just £1 / $1 / €1
*Read 5 free articles per month without a subscription
Join now for unlimited access
Try first month for just £1 / $1 / €1