Parcours Chrono wheelset review - fast rolling and aero optimized
Front and rear deep section rims are designed individually to improve stability and reduce rider fatigue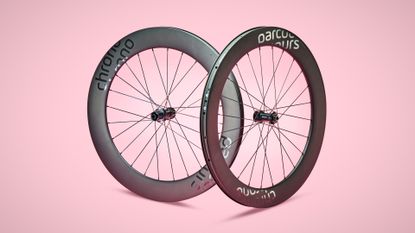 (Image credit: Future)
The Parcours Chrono wheelset is the perfect wheelset for anyone who wants to make the average speed of their rides faster or compete in road bike time trials. They aren't the lightest or fastest at accelerating, but they are great value, handle brilliantly for such a deep rim, and feel genuinely fast.
Reasons to buy
+

Fast on the flats

+

Stable in crosswinds

+

Good value

+

Optimized for 28mm tires

+

Stiff
Reasons to avoid
-

Feels heavy on the climbs

-

Not the fastest accelerating
You can trust Cycling Weekly. Our team of experts put in hard miles testing cycling tech and will always share honest, unbiased advice to help you choose. Find out more about how we test.
The Parcours Chrono wheelset is a deep section option, with the front and rear wheels designed specifically to take into account the different yaw angle (the angle at which the air impacts the wheel) at which the wind hits them - something we're seeing increasingly often in many of the best road bike wheels.
As a result, the front has a wider and more U-shaped profile (as the yaw angles are higher) and the rear wheel keeps a more traditional narrower V-shape. According to Parcours the result is that the wheels are more aerodynamic than similarly deep wheels, whilst also being more stable in the wind. This promises to be both faster and also reduce the onset of fatigue, as the upper body isn't having to utilise so much energy to stabilise the wheels.
Parcours Chrono: construction
Let's first take a look at the numbers. The Parcours Chrono wheelset consists of a front wheel that is 68.6mm deep and 32mm wide, while the rear is 75.7mm deep and 30.5mm wide. Both have an internal width of 22.5mm which is designed to be fastest when paired with a 28mm tire.
The front wheel tips the scales at 754g, while the rear is 875g, which puts the total weight of the wheelset at 1620g.
Sapim CX-ray spokes are laced in a two cross pattern on both and front and rear wheels with 24 spokes total on each.
The hub is Parcours' own Centrelock disc hub. It uses an externally splined lockring as the bearings used are too large for an internally splined one. The reason behind the larger bearings is to improve rolling resistance while also increasing ruggedness and durability. The bearings are EZO stainless steel, but Parcours gives the option for a Kogal Ceramic upgrade.
The freehub body is designed to be harder wearing so as to stop the cassette from biting into it, whilst the ratchet uses a 44t engagement system, with three pairs of pawls for optimal longevity and performance. Should you be interested, there is also the option to have the wheels built with Classified's Powershift hub.
As mentioned, each rim has been designed independently. As part of the brand's research, it says it found that the yaw angle was different at the front wheel compared to the rear.
With these results in mind, Parcours has designed the front wheel with a U-profiled rim shape which is also wider than the rear, as through its testing Parcours found the air hit the front wheel at a higher yaw angle. The rear has a more traditional V shape, with a narrower rim as the yaw angle was found to be lower at the rear wheel.
Then there is the rim depth with the front being shallower at 68.6mm, as the front wheel has the capacity to pivot through the fork, whereas the rear is fixed and cannot move, hence the deeper 75.7mm rims. Parcours reckons this rear depth is still stable enough even for lighter riders.
Essentially, the wheelset is designed to perform better aerodynamically than deeper wheelsets while also being as stable as shallower ones in windy conditions. Let's take a look at how the wheels feel in practice…
Parcours Chrono: the ride
Putting the wheels side by side straight out the box, it was very noticeable how very different they are to each other. The front is fairly shallow looking for such an aero wheel, and along with that it also has a wider U-shaped profile. The rear however is significantly deeper but also has a much more V shaped rim like aero wheels of old. The reason being that each wheel experiences air at a different yaw angles and so the profiles have been optimised for each wheel individually to produce the fast wheelset.
Fitting the tires wasn't too difficult, as the tires had previously been used so had some stretch. I went for Continental GP5000s in a 25mm width, although Parcours does recommend using 28mm on these rims, as they have found that to be the most aero and lowest rolling resistance combination.
Tires on, it was time to get rolling. On the various test loops I did, I was consistently around 3kph quicker over a 30mm rim for around the same power and heart rate, with similar weather conditions. The surprising thing about this is that every test loop was pretty lumpy, with an average of 500m climbing per 30km.
At slow speed these wheels do admittedly feel a bit sluggish, as they take a while to get up to speed. The weight did feel noticeable on longer steeper drags, and also going from a standing start. But everywhere else, these wheels feel rapid and for a diesel rider like me who likes to churn for hours, they are a dream. As long as the gradient is below two per cent, these wheels just roll and roll.
On top of this, I was shocked by how little they are affected by crosswinds. There is the initial gust of wind that catches the Chrono wheels, but it doesn't buffer them at all and you always feel in control. Another benefit was being able to use 25mm tubeless tires, with the wheels feeling supple while rolled wonderfully. Looking at the rim there was room for more tire bulge, and 28mm would certainly be ideal and likely even faster.
The wide tires will also help with the great cornering. I will admit that I find shallower wheels the best for sharp cornering especially when the road twists and turns a lot, but the Chronos perform well round tighter corners and especially well on long fast ones.
I also noticed after longer rides that I didn't feel achy afterwards, even when I'd be riding on potholed and rutted roads. This may be a combination of running softer tubeless tires, as well as less energy required to keep the front wheel stable, an area Parcours has focussed on.
In general the wheels are good at holding speed but not accelerating. If you like doing hilly rides, where you bounce out of the saddle pretending to be Contador, these wheels likely won't be for you.
However for time trials, fast paced rides, and flatter routes the Parcours Chrono wheels are close to perfection. If the race has significant hills and sharper gradients, I may be inclined to go for some shallower wheels but for everything else, you'll find me rolling around on these with a grin on my face as they are genuinely usable as an everyday wheelset - especially as they come with a lifetime warranty.
Parcours Chrono: value and conclusion
The price of the Parcours Chrono wheels is in line with similar lower budget high- performance wheels such as the Prime Primavera 85mm wheelset (£1,099.98), which we reviewed recently in the 44mm depth, the Scribe Elan 60-D (£1,190.00) , the Hunt 60 Limitless Aero Disc Wheelset (£1,199.00) and the Elitewheels 50D ($1,200 / £990) It does however significantly undercut more premium brands deep section offerings with Zipp 808 Firecrests coming in at £2,590.00, and these are in fact a heavier option!
Weight wise, the 1620g light Chronos' are slightly lighter than Hunt's shallower 60 Limitless wheels which are reported to weigh 1,669g. The Scribe 60-Ds do come in even lighter at 1,518g but are shallower. Likewise the Elitewheels 50D only weigh 1,310g but again are shallower.
With the incredible aero performance and reasonable weight for similar price, Parcours' Chrono wheels are exceptional value.
Thank you for reading 20 articles this month* Join now for unlimited access
Enjoy your first month for just £1 / $1 / €1
*Read 5 free articles per month without a subscription
Join now for unlimited access
Try first month for just £1 / $1 / €1