Prime Peloton Road wheelset review
Chain Reaction Cycles launched its own in house wheel brand last year and has all carbon and alloy rimmed options covered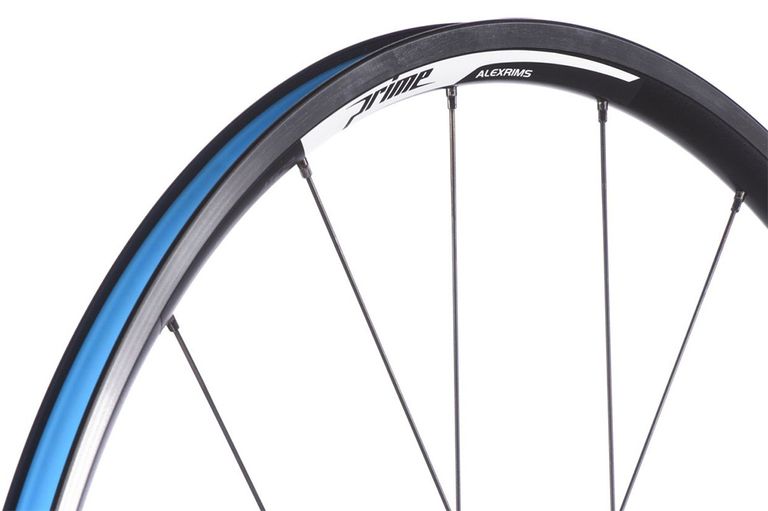 Prime has done a great job at supplying a simple, robust yet performing set of alloy road hoops. I've been impressed at how robust they are and haven't felt like I've been held back in any way on my rides - something that 'cheaper' wheelsets can make you feel.
For
+

Relatively lightweight

+

Strong

+

Well priced
Against
-

Cartridge bearings can work loose
Prime wheels launched its new wheel range in 2016 releasing a full range of carbon (tubeless ready and tubular) and alloy rimmed wheelsets, which include disc brake options too.
Buy now: Prime Peloton Road Wheelset from Chain Reaction Cycles for £122.49
Read more: Will wider rims make you faster?
These in particular, the Prime Peloton Road wheelset, are Prime's entry level options that sit (currently discounted on Chain Reaction Cycles) at £139.99 a pair. Basically they are an alloy rim brake training wheelset that are tubeless ready (both tubeless valves and tubeless tape supplied) and include three spare front spokes and two rear.
Video - wheels buyer's guide
The front has a spoke count of 20 and the rear 24, which traditionally means they won't be that strong and should be susceptible to buckles and breakages. However, with these hoops from Prime, even after a decent winter so far, on typical broken lanes and farm track I haven't noticed a buckle as yet.
What I've noticed on sub-£200 wheelsets in the past is that they usually rattle and work loose over time, quicker if used on harsh terrain, but the Prime Pelotons remain robust and the quality seems high as these have continued to impress.
Typically the industry has seen internal rim widths grow from 15/16mm up 20mm to help tyres sit wider (as tyres get wider too) and to aid comfort out on typical UK roads. Prime's Peloton sits 17mm internal which is still considered to be on the narrow side and for a winter wheel I think this could do with an increase in width to help those of us who'd like to use a wider tyre. Increasing that comfort and contact patch on the road to drive effective road resistance and grip levels can only be a good thing.
The only real bad point, which is common amongst wheels of this type is that the rear cartridge bearing can work loose. This'll mean that the wheel will start to rattle, water and grit is more likely to get into the bearings themselves and will pull the wheel across when under loads.
The simple fix is to stick an Allen key either side to tighten back up again - make sure you don't over tighten them! Certainly something to keep an eye on if you're doing lots of miles during the winter, it is the difference between replacing the bearings sooner rather than later.
All in all though the wheels hit far higher than their price tag suggests, I've been very impressed. Braking is good, weight isn't such an issue on wheels like these and they've stood up to the miles during the winter. You can't get much better really.