Zipp 302 Carbon Clincher review
Zipp's new budget wheelset doesn't have dimples or whale humps but it's tough, mean looking and most definitely fast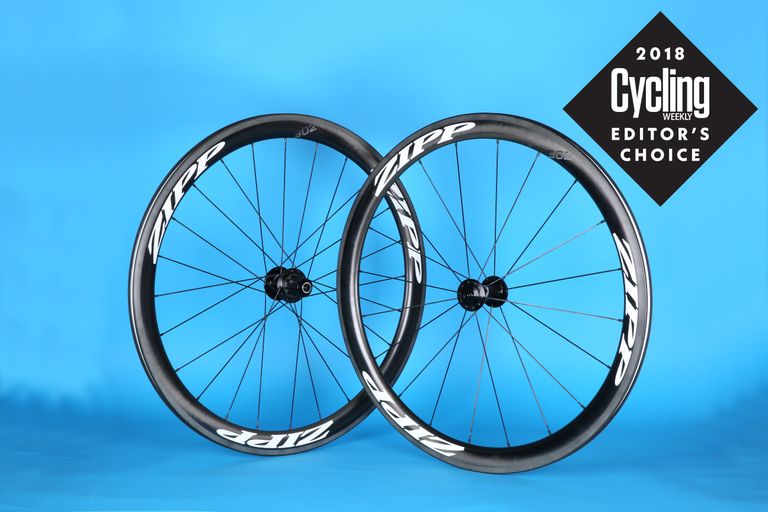 A perfect 10 for these truly excellent wheels. They're cheaper than the range-toppers but they still have the look and feel of a very fast pair of Zipps.
Reasons to buy
+

Very stiff

+

45mm aero rim depth

+

Easy to service and maintain

+

Competitive price

+
Zipp is renowned for producing super-expensive pro-level wheels with groundbreaking technology but its first foray into this competitive price point is a major success.
The 302s contain Zipp's vast knowledge and experience within a no-nonsense, stripped-back build that is brutally stiff and devastatingly fast.
The 302s won a sub-£2K carbon wheels test in Cycling Weekly in the March 29 issue and there were never any doubting their inclusion in Editor's Choice 2018.
Buy now: Zipp 302 wheels at Evans Cycles for £999
It's rare to find a set of carbon Zipp wheels for under £2,000 but with the Zipp 302 the US firm is applying the principle of trickle-down to create what it calls 'achievable speed'.
The 302 – available as a rim or disc-brake wheelset, clincher only – is built in Indianapolis just like the expensive ones but it's a no-frills version that lacks dimples or humpback whale profiles. It goes for simple, smooth UD carbon and reliable and replaceable parts such as Sapim CX-Sprint J-bend aero spokes with brass nipples laced to hubs with very everyday-looking flanges.
The hubs are in fact pretty on-trend, with no-tool removable end caps so that the hub can be easily maintained or converted to thru-axle for its disc version. Because the diameter of the end cap is just slightly bigger than the standard road threaded equivalent your old lockring tool might not fit over it. If you're not careful you can pull the whole freehub off, scattering bearing races and pawls all over the floor when all you were doing was trying to change a cassette. Yes, we did that so you don't have to. We found the Park Tool Shimano lockring tool was machined out enough to fit around the end cap but a Cyclus one wasn't.
The brake track is derived from Firecrest and Zipp points out in its PR that it has never had a heat-related failure of its carbon clincher rims.
The Zipp 302's rim depth is 45mm but looks shallower because of the sheer width. However, when Zipp says the rim is optimized for low aerodynamic drag you can probably take its word for it bearing in mind its long history with aero carbon wheels.
>>> How much faster are aero wheels?
The 302s are not feathery light – 898g for the rear and 745g for the front on our scales, which is 2g lighter than the quoted weight of 1,645g – kudos for that.
Riding the Zipp 302
In use the 302s are just fast. They have a relatively high spoke count (20 radial front and 24 two-cross rear, flat spokes) and this combined with the wide rim makes them very stiff out of the saddle. Even if they give away 200g to some wheels at a similar price point, such as the Miche SWR 50/50, the sheer rigidity makes up for it. Over 40kph they hold onto their speed like only a high-quality aero carbon wheel can.
Buy now: Zipp 302 wheels at Evans Cycles for £999
Although the internal rim diameter is narrower at 16.25mm than say the Miche SWRs, which are 17mm, the very wide 25.6mm brake track width (compared to the Miches' 24mm) means you have to open the calipers considerably meaning that especially with direct mount brakes the rim brake system loses some of its mechanical advantage.
These are super fast wheels at an amazing price from arguably the leader in aero wheels.