Watch: How to use oil, grease and lubricants (video)
The dark art of lubrication explained: we run through the different types of oils, grease and lubricants and how they should be used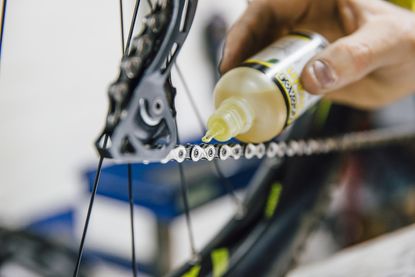 (Image credit: chris catchpole)
Do you know your lube from your anti-seize, or your Loctite from your GT85?
If not, don't worry, we've put together this handy video with all the most important oils, greases and lubricants in the cycling world, as well a how to apply them.
Lube
Probably one of the most important products you'll buy for your bike, Lube will keep things ticking over for longer.
There are a couple of things to know in the world of lube. Most commonly, you get wet and dry lubes, and as you might expect, use wet lube for winter and dry lube for summer.
>>> 11 bike maintenance mistakes, and how to avoid them
Wet lube will last longer but attract all types of crud, whereas dry lube is thinner, washing off more easily but doesn't pick up as much dirt or debris.
There are also some golden rules when it comes to lube application. Firstly, never apply lube to a dirty chain, or a chain with lube already on it. Instead, give it a degrease first then re-apply.
Secondly, don't over apply your lube – you're more likely to attract dirt and debris than resist it. Be sure to run through the gears to let it sink in and then wipe off the excess.
GT85
GT85 is somewhat shrouded in mystery. Some mechanics won't use it, others swear by it. In reality, it's a great tool for getting rid of excess water before it can rust.
Pivot points on derailleurs are a great place for this. Definitely don't spray this on bearings, though, as it'll strip the grease right out of them.
Grease
In the world of home mechanics, good grease is a must have, as is a grease gun, which makes the application process so much more precise.
Primarily, grease is used for bearings to keep them turning smoothly, but it could be used for its anti-seize properties if you're desperate, but there are other products that do a better job.
Anti-seize
This is the business if you don't want your threads to seize to each other. There's nothing more infuriating than stuck pedals, so clean the threads and dollop a bit of it on them before you tighten them on the bike.
Threadlocker
Loctite 243 is also geat if you want to preserve the life of your thread. The best thing about it is that it's suitable for safety critical components, such as disc brakes – it can be used on the bolts and caliper mounts to make sure they don't come unstuck when riding.
It can also be used on bolts you don't want to over torque. For example, if you have a band on front mech and don't want to damage your frame.
Make sure you clean the thread before applying it.
Carbon Fibre assembly paste
It's vital that you don't grease carbon fibre components, as they absorb it and swell, meaning components can actually get stuck. A carbon fibre seat post is a great example of somewhere that carbon paste should be used rather than grease.
It's also great if you have issues with your seat post slipping, or if you've found the anti-seize product you've used hasn't quite done the trick.
Thank you for reading 20 articles this month* Join now for unlimited access
Enjoy your first month for just £1 / $1 / €1
*Read 5 free articles per month without a subscription
Join now for unlimited access
Try first month for just £1 / $1 / €1