Could you pass the UCI's Pro Cycling Test? (video)
Cycling Weekly travelled to the UCI World Cycling Centre in Aigle, Switzerland to see if they have the talent to make it as a pro cyclist.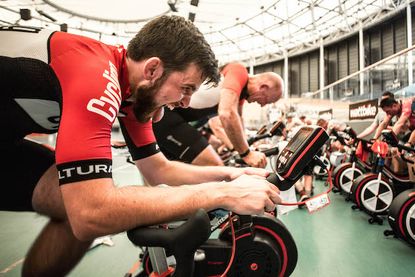 Using talent ID to discover riders from around the world is an enviable challenge. Race results can tell a lot about a rider's potential to certain extent, but attempting to source talent from far-flung corners of the globe on results alone can be tricky despite modern methods of recruitment.
Therefore the UCI World Cycling Centre (UCI-WCC) have created a test with the help of Wattbike to help identify raw potential across the world, which is used at the UCI-WCC itself and at its Satellite Test Centres around the world to identify talent for all cycling disciplines.
The protocol focuses on testing riders maximal and average power outputs across two six-second efforts, one 30-second effort and one four-minute effort.
>>> Is this the hardest test you can do on the bike? (video)
The entire testing protocol consists of a 17-minute standardised warm up, followed by the repeated efforts which are spread out over a further 18 minutes.
One of the main factors that can sometimes separate the amateurs from the pros in this test, is ensuring fatigue doesn't play a part in the final four minute effort where the efforts from the sprints may still be lingering.
You can try the test out for yourself if you have access to a Wattbike, as the exact protocol is loaded onto the latest update of any Wattbike around the world.
Thank you for reading 10 articles this month* Join now for unlimited access
Enjoy your first month for just £1 / $1 / €1
*Read 5 free articles per month without a subscription
Join now for unlimited access
Try first month for just £1 / $1 / €1
Paul Knott is a fitness and features writer, who has also presented Cycling Weekly videos as well as contributing to the print magazine as well as online articles. In 2020 he published his first book, The Official Tour de France Road Cycling Training Guide (Welbeck), a guide designed to help readers improve their cycling performance via cherrypicking from the strategies adopted by the pros.