How to ride hairpins (video)
Common place on a multitude of climbs, hairpin bends are the perfect opportunity to break an ascent up both psychologically or physically. But how do you ride them to perfection?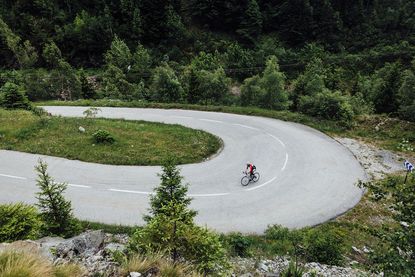 (Image credit: chris catchpole)
The hairpin bend or a switchback, are 180-degree corners, which are usually a feature of long climbs in mainland Europe and perhaps most famous for being scattered up the 21 bends of Alpe d'Huez.
Riding them can tricky due to the natural elevation changes that can come from riding the different lines around the bend.
Approach them right and they can give you the perfect opportunity to make up time on a climb, or catch your breath from the harsh gradient. Whereas attacking them when you don't have the legs can really disrupt your climbing momentum.
>>> Handling technique: How to corner on your road bike
Hairpin bends also allow you to break up the climb psychologically, as you can chunk up each part of the ascent using the switchback as a landmark you can check off as you ride past.
It is common for hairpin bends to have a steep inside line and a far more gradual rise on the outside of the bend or in some cases can be completely flat.
Whilst taking the wider line around the hairpin does make the turn longer, it can give the perfect opportunity to reassess your breathing and take a moment to find your rhythm again before attacking the next part of the climb.
Whereas the inside line is obviously the shortest route, it will mean fighting a sharper gradient which could disrupt your climbing rhythm. But can provide the ideal opportunity to stand up in the pedals and stretch your legs.
In terms of efficiency taking the middle of the road combines both the shorter route and steadier gradient that can be attacked without too much change to effort or rhythm. It also means you can benefit from the slingshot effect when exiting the corner.
Despite these tips, you may not be always be able to take your preferred line around every hairpin unless you are riding a closed road sportive or race. So you may have to adjust your line according to the laws of the road.
Thank you for reading 20 articles this month* Join now for unlimited access
Enjoy your first month for just £1 / $1 / €1
*Read 5 free articles per month without a subscription
Join now for unlimited access
Try first month for just £1 / $1 / €1