Post-training meals: Chicken, chorizo and root vegetable broth (video)
With winter setting in, this tasty broth is the perfect tonic to sit down with after a cold weekend ride.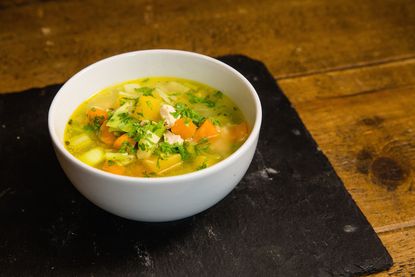 (Image credit: daniel gould)
It's a common theme that hits cyclists across the country. You get back from a chilly morning ride, and immediately you look for something to warm you up.
A cup of tea may do the trick from a reheating perspective, but in terms of nutrition it'll do little to nothing.
However Performance Chef Alan Murchinson explains how this recipe is far more than just a winter warmer,
"This nutrient packed broth is perfect for lighter training days or when you want a simple, healthy lunch without taking on too many calories."
>>> Chicken and chickpea Moroccan-style tagine (video)
One of the best things about this recipe is that it can be cooked in advance and reheated, ideal if you are on the ball when it comes to meal planning. So no need to turn to a Pot Noodle!
"The key part is the pre-cooking of the vegetables before adding them to the pot, which gives them a lovely flavour." Murchinson reveals,
"You can cook in a slow cooker on medium setting for 90-120 minutes. Just bear in mind you need fairly robust grains, as they will break down during cooking — brown rice, quinoa or pearl barley work really well."
"This is a simple dish with easy to-source ingredients all cooked in one pot. Adding chorizo gives this otherwise-humble soup an indulgent, flavoursome twist."
Ingredients
Serves 6-8
■ 2-3 tbsp olive oil
■ 1 onion
■ 1 red pepper
■ 1 parsnip
■ 1 leek
■ 2 carrots
■ ½ turnip
■ 500g diced chicken
■ 150g chorizo, sliced
■ 150g brown rice, quinoa or pearl barley
■ 2L chicken stock
■ Handful fresh parsley
Method
1. Dice the onion, red pepper, carrots, parsnip, turnip and leek, and cook in the olive oil on the hob over a medium heat for two to three minutes.
2. Add the chicken and sliced chorizo, and cook for a further three minutes.
3. Add 150g brown rice, quinoa or pearl barley and the chicken stock, bring to the boil and simmer for 30-40 minutes.
4. Season and add chopped fresh parsley or fresh pesto.
Thank you for reading 10 articles this month* Join now for unlimited access
Enjoy your first month for just £1 / $1 / €1
*Read 5 free articles per month without a subscription
Join now for unlimited access
Try first month for just £1 / $1 / €1
Paul Knott is a fitness and features writer, who has also presented Cycling Weekly videos as well as contributing to the print magazine as well as online articles. In 2020 he published his first book, The Official Tour de France Road Cycling Training Guide (Welbeck), a guide designed to help readers improve their cycling performance via cherrypicking from the strategies adopted by the pros.