Watch: Could this rear-wheel steering singlespeed bike be the next big thing? (video)
French cyclists develop a singlespeed bike that pivots in the middle, allowing the rider to steer by moving their hips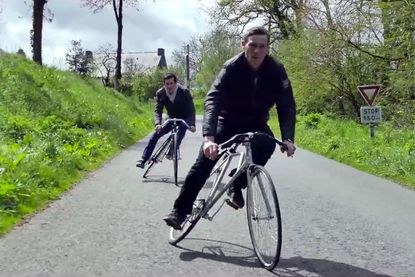 Between races, FDJ professional rider Johan Le Bon has been busy helping to create a very usual bike: a singlespeed that pivots in the middle of the frame.
Le Bon and two fellow cyclists from Brittany, France - Alban Haloche and Alexis Honoré - developed the machine to have a bit of fun.
The three riders have named the machine the 'Trocadero' and have produced a video showing off the bike's ability to speed around town. A pivot is positioned on the downtube, around a third of the way back from the headtube.
>>> Tech of the Week: secret Garmin tricks, clever new computers, the crowdfunded smart bike and more
The articulation allows the rider to steer with their hips, providing a very small turning circle and apparently it is able to slalom through street obstacles easily.
According to its inventors, the Trocadero takes around 10 minutes to master - and it can also be locked out using a simple pin to make it into a conventional bike, if desired.
There will be a limited run of 30 bikes produced, and the trio are hoping that their new bike will catch on.You can find out more via the Trocadero Twitter page.
We're not entirely sure that it will take the world by storm - but it does look like fun to ride one.
Thank you for reading 20 articles this month* Join now for unlimited access
Enjoy your first month for just £1 / $1 / €1
*Read 5 free articles per month without a subscription
Join now for unlimited access
Try first month for just £1 / $1 / €1