Concept Tacx Neo Smart Bike to electromagnetically simulate cobbles
Dutch indoor trainer specialist Tacx has unveiled a concept exercise bike that it hopes to release next year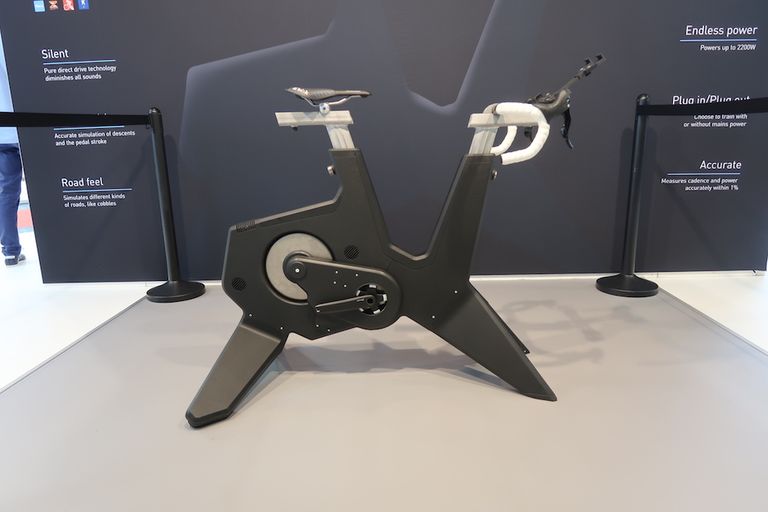 Tacx has displayed a concept exercise bike called the the Neo Smart Bike, which aims to combine the Tacx Neo Smart turbo trainer with a spinning gym bike.
>>> Click here for a buyer's guide to turbo trainers
It is intended that the Tacx Neo Smart Bike will feature a virtual flywheel that can adjust to the riders body weight to give more accurate ride feel, acceleration and deceleration. Tacx also wants to create a bike that can recreate the sensation of riding on cobbles.
Tacx explained that "it is possible to simlulate cobble stones by manipulating the magnetic field on the fly wheel," adding "the magnets can perform 1000 adjustments a second on the flywheel."
This is undoubtably an intriguing proposition, so we hope it comes to fruition. In addition to simulating different road surfaces, Tacx is intending to create a bike that can run extremely quietly, be fully interactive with 3rd party training apps like Zwift.
The design specification also includes an inbuilt power meter and the option to run with or without mains power. You can watch the embedded video below to get a better look at the concept.
http://www.instagram.com/p/BYbAnx9A-9R/?hl=en&taken-by=cyclingweeklymagazine
As a concept, there is not pricing, however Tacx informed us that it was aiming towards a price point of £2000 - £2500, which is similar to other premium exercise bikes, such as the Watt Bike.
In other news, Tacx has also launched a new Ciro bottle cage weighing just 30g.