Kinesis Tripster AT gravel bike review
The Kinesis Tripster AT takes the proven geometry of the Tripster ATR and migrates it to a brand new alloy frame designed for off-road adventures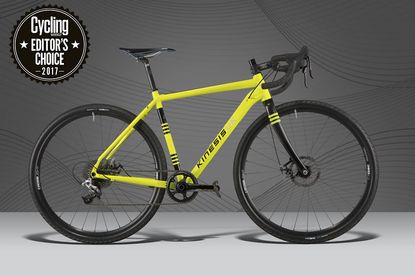 Migrating to an aluminium platform, the longstanding titanium favourite Tripster ATR has become more affordable in its new material. Our model impressed us no end, with bang up to date new features that increase the versatility it offers and earn it a home in the Editor's Choice collection of 2017.
Kinesis's new Tripster AT is the UK brand's latest frameset designed for the developing gravel bike market, with the AT standing for All Terrain. It builds on Kinesis's off-road experience with its titanium Tripster ATR2, a £1850 adventure frame, offering the same geometry but in a less expensive alloy frame, with the frame and fork priced at £699.99.
This isn't a pure copy, however, as Kinesis has made some subtle changes in the Tripster AT. Its down tube and top tube have more angular cross-sections, designed to better support frame bags, while there's a kink to the down tube to add front end clearance and provide a wide weld area to the head tube for added stiffness.
Clearance behind the bottom bracket can be difficult on road bikes designed to take wider tyres. But Kinesis has shifted the weld between the drive side chainstay and the bottom bracket rearwards by incorporating a yoke behind the bottom bracket shell.
This makes the drive side chainstay narrower, allowing room for the chainring and providing extra tyre clearance. Kinesis says that the Tripster AT will take 700c tyres up to 45mm wide or 650b tyres up to 52mm. You can also fit mudguards for an all-weather build.
A bike with modern off-road features
Kinesis supplies the Tripster AT frameset with a matching purpose-built all-carbon tapered fork. There are thru-axles on the fork and frame and both accept flat mount disc brakes. The bottom bracket is BSA threaded.
Cables are routed internally through the down tube, although they run externally from underneath the bottom bracket. Kinesis has included lots of mounting points, including for mudguards, rack and a third bottle cage under the down tube.
Frame welds are chunky looking and are partly smoothed down. Kinesis worked with the late Mike Hall on the frame detailing. This includes the banding and the Arran Blue or Seeon Yellow colour options. There's a small panel on the left seatstay acknowledging Hall's contribution.
Kinesis sells the Tripster AT as a frameset only, but our test bike was built up with Upgrade Bikes's £999.99 Tripster AT build kit. This includes a SRAM Rival 1 groupset, TRP Spyre mechanical discs with 160mm rotors. plus Kinesis Crosslight CX Disc wheels with Vee tyres.
The cockpit consists of Zipp Service Course alloy bars on an FSA 9cm stem. The supplied Kinesis 4 Seasons bar tape is nicely padded and grippy. There's an FSA seatpost too, with a Kinesis Elite saddle with a cut-out.
Versatility built in
Inflating the tyres to 40-45 psi, the Kinesis Tripster AT rides well on road. With its long wheelbase and slack head tube, it's stable and the big tyres mean that you can roll over road imperfections.
On longer road rides, we found we could keep up similar speeds on the Tripster AT to a slick tyred road bike. There's more rolling resistance from the wide tyres, so it's a bit more effort to keep up speed – but that's no bad thing if you want to keep fit.
You can also feel the bike's 9.8kg weight going up hills, although the Tripster AT makes up for this in fast, stable descending - thought the lower gearing required for off-roading means it is quite easy to spin out with the lowish gear ratios we had.
But the real fun of the Kinesis Tripster AT is the chance to break up your road rides with off-road sections. Using disused railway tracks, we found there was plenty of grip to deal with damp sections and the high volume Vee Rail tyres smoothed out bumps well.
This bike laps up rougher, steeper bridlepaths too, with the stability for confidence on steep descents and sinuous tracks, and the manoeuvrability to skirt or hop over obstacles. There's just about enough gear range for off road climbs, although a 1:1 or lower ratio would help on damp, loose ground and if you plan to load up the bike for bikepacking.
What we enjoyed most about this bike was was the way it allowed us to easily come up with new routes on the fly, linking together familiar road sections with everything in between. This is exactly the type of versatility the Tripster AT is designed to allow.
It's comfortable to ride on road, but its real forte is the ability to head onto bridleways and trails where you can tackle tricky terrain with confidence.
At £1700 as built, the Kinesis Tripster AT looks like a good deal for a bike with so much versatility, although you do need to factor in the time it takes to build it up and you need to be a competent mechanic too, or employ a bike shop to do the job.
Thank you for reading 20 articles this month* Join now for unlimited access
Enjoy your first month for just £1 / $1 / €1
*Read 5 free articles per month without a subscription
Join now for unlimited access
Try first month for just £1 / $1 / €1