KTM Revelator Alto 4000 review
The KTM Revelator Alto 4000 is a performance carbon frame with geometry that'll have you gobbling up the miles in pure comfort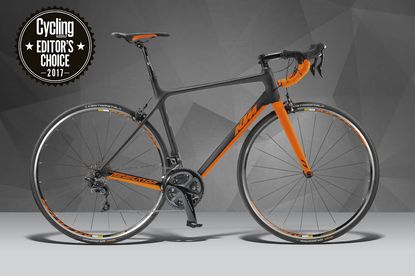 A performance carbon frame with geometry that'll have you gobbling up the miles in comfort.
It's equipped with a superb compliment of components, meaning no early upgrades or frustrating limiting components. This superb package lands itself a spot on our Editor's Choice list for 2017.
Since its inception KTM's Bike Industries division has been responsible for a number of well-received models, with the Revelator road models having been raced up to the highest level.
Interestingly, KTM uses the Revelator name for all of its carbon-framed road bikes despite producing bikes with completely differing frames. The suffix, e.g. 4000, aids the identification of the style and hierarchical position of each bike.
For 2018 KTM has also divided the Revelators according to style of frame; aero frames are prefixed 'Lisse', the more normal style road frames are now divided into the 'Sky' and 'Alto' ranges. Alto being the more sportive styled frames. This does help fathom the range which, in the past, was a little tricky. The Alto 4000 is positioned neatly in the middle of the numerically labeled TK-Performance carbon range.
Performance and comfort combined
The Alto 4000 makes use of KTM's proprietary TK-UD Performance carbon fibre to create a frame that blends both performance and comfort features. The oversized bottom bracket, large diameter chainstays and short wheelbase all scream race ready. KTM has combined these with curved and compliant seatstays, a tall head tube and relatively slack head angle to bring a bit of everyday practicality to the frame. The extended seat tube is a neat touch, enabling the Revelator to run smaller front and rear triangles to increase lateral stiffness.
Cabling is all internally routed with entry via the head tube to reduce cable rub. The dropout for the rear derailleur incorporates the cable stop to keep things neat. Di2 compatibility is also built in, as you would expect on a frame at this level. The striking paint job shares KTM's distinctive tangerine-based livery, but for 2018 the 'shouty', multiple logo placements have been toned down.
A full complement of quality parts
KTM have furnished the Alto 4000 with a full complement of quality parts, making sure that immediate upgrading is not warranted. Shimano provide the groupset, with the superlative Shimano Ultegra 8000 providing smooth and precise gear changes. In a move that seems to push the bikes more in an endurance/sportive direction, the whole Alto Revelator range comes with a compact 50-34 chainset.
It is also specced with an 11-32 cassette so the gear ratios are certainly on the low side – great for the hills. The dependable Mavic Aksium wheels add year-round reliability and KTM has chosen to opt for a grippy Continental Grand Prix as the tyre of choice. Ritchey provides finishing kit, with their entry-level Comp bars, stem and seatpost. Saddle is a very comfy Selle Italia SL Flow, great for all day rides.
Literally steamrollers over broken ground
The Revelator is a bike that seems to split the difference between being a nose-down racer and long-distance endurance bike. In this current guise it seems to sway more towards comfort and smoothness than stiffness and speed. Don't get me wrong, the Revelator was happy to be kicked hard and with its short wheelbase and long top tube it would make a good crit racer (it would need a change of gearing to realise this potential though).
But where the Revelator really excels is in providing a ride that seems to iron out any road-surface imperfections, it literally steamrollers over broken ground. The comfort and smoothness was exceptionally good. It felt most at home exploring tiny country lanes, with the slacker head angle and taller head tube providing steadier handling it was confidence inspiring on virgin descents.
The choice of gearing means the Revelator is certainly a bike we would choose for the hills, and it's a brilliantly comfortable ride allowing you to push it harder and further.
Thank you for reading 10 articles this month* Join now for unlimited access
Enjoy your first month for just £1 / $1 / €1
*Read 5 free articles per month without a subscription
Join now for unlimited access
Try first month for just £1 / $1 / €1