Storck Aerfast Pro G2 road bike review
Luxurious comfort meets super fast in this mile eating machine - performance has never felt so good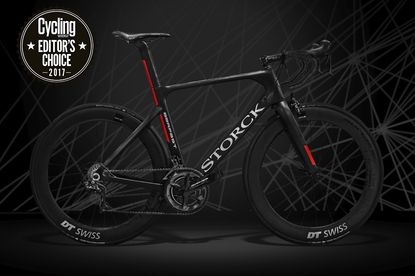 Luxury builds are what Storck does best, and the Storck Aerfast Pro G2 road bike sits in the brand's aero range. Its luxurious carbon frame gives a sublime ride quality that you'd expect from a moneys-no-problem bike.
In fact, it's probably the most indulgent, comfortable and down-right deluxe bike in the Cycling Weekly 2017 Editors Choice, but it is a thoroughbred top performer.
Storck is a brand known for its premium carbon builds, and fast bikes and the Aerfast Pro is a machine that definitely continues that trend.
Storck's 'Sectional Aerodynamic Shaping', gives the frame its slippery aerodynamic shape speed, with the bike's frame being narrower at the middle than at the ends, which Storck promises will reduce drag when riding.
There's an aero seat clamp with the bolt flush to the frame and the rear brake is hidden down by the bottom bracket snug out of the wind.
Plenty of zip to the ride
As you might expect, there is a beefy head tube and an oversized bottom bracket that definitely adds some zip to the ride and the high modular carbon looks, and rides, fast. Loads of tyre clearance gives you plenty of space to fit a 25mm tyre or even possibly 28mm rubber.
The bike is almost breathtakingly fast and every pedal stroke is rewarded with a direct forwards propulsion, a real sense of urgency that refuses to slow down afterwards. The bike holds its speed brilliantly, mostly down to the frame but no doubt the deep section Edco Albis wheels helped here.
Also helping is the fact the Aerfast Pro comes in with a weight of 7.47kg for the full build – that's seriously skimpy for an aero bike.
Partner this and the bike's seriously stiff ride and it flies up the hills, far faster than any aero bike has right too.
But for all that speed and efficiency, there's no compromise in comfort and despite its performance orientated frame it irons out the roughs and bumps of the road, with next to no buzz coming through the carbon.
Ultimately, it's an absolute thrill to ride, and will have you grinning ear-to-ear on how quickly it gets up to speed and how fast you can push that carbon frame.
Fast spinning hoops provided
The cost of the bike -£5,199 - no doubt comes down to the quality of the carbon build as well as the Edco Albis wheels – an option you can choose for a bit of extra spend. They feel stiff and as a result, fast. They get up to speed and just stay there.
Powering those wheels is a full, mechanical Ultegra groupset, a perfect performer if, at this price point, a touch under specced. Happily, Storck's site does offer a bike building option, where you can upgrade the kit if you wish.
Selle Italia provided its SL5 saddle, while Storck specced its own bars and stem finishing kit. All three were well matched to the bike – the saddle's flat profile lets you snake down into the most aero position possible and there was no flex through the front end.
Tyre-wise, our model came with Continental's GP 4000 II tyres, a top quality option that rolled as well as the Edco wheels they were sat on.
Thank you for reading 20 articles this month* Join now for unlimited access
Enjoy your first month for just £1 / $1 / €1
*Read 5 free articles per month without a subscription
Join now for unlimited access
Try first month for just £1 / $1 / €1