What three things do you wish you'd known when you first started cycling?
We were all beginners once! Our editors reflect on the lessons they learned as newbies.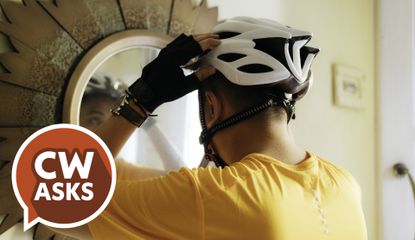 (Image credit: Getty Images)
"CW asks" is a feature series where our seasoned staff answers a range of questions. The series isn't just about delivering knowledge; it's a chance for us to share a bit of our personality and our passion with you. As we dive into some questions, please feel free to send in some questions of your own to anne.rook@futurenet.com.
---
Question 3: What are three things you wish you'd known when you first started cycling?
We may be considered experts now but we were all beginners once! Our editors come from a diverse background within cycling. Some raced at the top level, others are avid weekend warriors or opt for off-road adventures over the speed of tarmac. No matter what space within cycling we occupy, we all had to learn the basics one way or another. Here, our staff reflects on the lessons they learned as beginning cyclists.
Michelle Arthurs-Brennan, Digital Editor
1. Real training gains come from the rides that push you further than you can go alone. So, join that overnight adventure that feels intimidatingly long. Hang on to the chaingang that burns your legs. Get on the track and push the pedals until your eyeballs feel like they're aiming to make a rapid exit from your skull. Training with other people, and with purpose, is way more fun and ultimately more productive than anything you can do on your own.
I spent years riding time trials up and down the most decorated dual carriageways in the UK in an attempt to shave off seconds here and there. In the end, it wasn't until I took up road racing that I actually saw those times budge. Motivation is personal, but for me, competition - right there in the moment - is key.
2. Train up in basic mechanics. Punctures, brake pads, gear indexing. I know, it's all simple. But, I didn't come from a cycling family so it wasn't obvious to 20-year-old me (you'll be pleased to hear I've made significant progress in the last 14-years). I got lucky in the event of my first flat, when a friend with a spare patch happened to ride by. I had on my person a small backpack, containing a bag of trail mix and a jacket of some description. I'm forever grateful to triathlete Lizzy for the roadside course in puncture repair.
3. Don't lock your bike to a 100-year-old railing outside a university townhouse. The lock itself might be a quality construction but the railing will transpire to be awfully easy to remove in full (and might make the thieves some extra cash in scrap metal).
Anne-Marije Rook, North American Editor
1. Take care of your body.
Being young and feeling invincible is wonderful; nursing old injuries for decades after your 'glory days' is not. I often look back longingly at all the stuff I got away with while riding and racing in my early twenties. Crashes, poor nutrition, insanely high mileage 'just for fun', racing hungover, skipping rest days, pushing through injuries, too little sleep, and only stretching if I was told to do so. My body put up with it all and somehow was still able to perform. Fast forward a decade or so, and I'm paying for my negligence. If I could go back to my younger self, I'd tell her to do more mobility and stability training, to properly recover after hard efforts and to heed the doctors' advice.
2. Go your own pace.
This was an important lesson for me to learn as an amateur bike racer. Yes, it's good to push yourself and find your 'blow-up' limit, but after a while, you'll get to know your body pretty well, and you'll feel where that line is. If you cross that line, your race is over —which is fine if you're riding in service of your teammates, but not if you're meant to place well. If you stay at or just below that line, it's uncomfortable, but you may be able to recover once you crest that climb or the pace levels out.
I learned this in the middle of a stage race. I was my team's General Classification leader and was about to get dropped on a climb. I had made the front-of-the-race selection, yet this last attack was too much for me. I was turning myself inside out to try and stay with the pack, yet losing ground all the same.
"Hey, just go your pace. You got this," a fellow racer behind me advised. She, too, was red in the face and breathing heavily but appeared far more calm than I was feeling.
"But they're getting away!" I exclaimed.
"Nah, you'll get them back through the valley."
And she was right. Riding within my limits, I eventually caught up to the front group. What's more, I ended up winning the overall.
3. Learn how to do a track stand.
I was car-free for quite a few years and cruised around the city on single-speed, so I learned how to do a track stand early on while waiting at stop lights. However, it's a skill that has paid dividends over the years in all sorts of cycling scenarios.
Whether you're a road cyclist, bike commuter, mountain biker or gravel adventurer, a track stand will come in handy for stopping at traffic lights without having to unclip, keeping your balance across uneven terrain with a loaded bike, doing party tricks or playing 'foot down', learning how to lift your front wheel over roots or peaking down a trail feature before dropping in, and, most importantly, avoiding crashing. Track standing will teach you how to balance your bike and stay upright when you come to a sudden halt on the road, on the trail or in the pack.
Sam Gupta, Video Manager
1. How much better it is to run wider road tyres and nailing the pressure. When I first started riding, 23mm and 25mm tyres were the go-to choice. When pairing those tyres with the assumption that a higher pressure is better, it made for a pretty jarring ride and a set-up which clearly lacked grip. Had I utilised 26mm and 28mm tyres back in the day (since that the widest you could fit on a rim brake bike) I think my riding experience would have been so much better. More grip, more comfort, more speed. All the things we now know today.
2. The availability of free training plans online. Here in the UK, British Cycling has published a range of training sessions and plans on its website, all free to access. As a young, budding racer, had I found these much sooner than I did, I believe my riding would have been a lot more effective rather than racking up lots of 'junk miles'. That's not to say I didn't enjoy my early years of serious riding but I always felt like I lacked a little direction.
3. How much of a difference having a coach has on your performance. Much like my previous point, after I employed the services of a coach, I noticed a tremendous increase in my performance. It wasn't just the guidance and carefully curated training blocks that made life so simple for me, but, the accountability of having to answer to someone played a huge part in my consistency. I still look back at the period of time I spent with my coach as being some of my best cycling years and also. The fittest I have ever been.
Stefan Abram, Tech Features Editor
1. Good cycling clothing is worth investing in. I wasted so much money buying too cheap and then subsequently upgrading — it was more expensive than if I had just taken the plunge with sufficiently good gear, and it wasn't pleasant riding in the substandard kit anyway!
That's not to say you should buy range-topping cycle clothing, far from it. But there is a level which is very much worth attaining — and fortunately there are quite a few brands which do sell high quality kit for a reasonable price. dhb and Endura are some of my favorites (not the entry level of those brands, though, a little higher). Rapha has been continuing to impress me with the affordability of (some) of its lines as well.
2. Do the right mix of training. When I first started, like so many people, I labored under the misapprehension that piling on more and more high intensity training was the route to getting fitter. I also spent far too long with my fitness plateaued and just building up ever more fatigue.
There is a little bit of variation between everyone, but for me, I've found the following to be the best balance for getting progressively fitter without overloading. 2 high intensity sessions a week i.e. extended periods at threshold / anaerobic efforts. 2 tempo sessions a week, solidly in zone 3. 1 long, zone 2 endurance ride. And two days completely off any kind of strenuous activity.
3. The right times, places and situations for baggies. I first got into cycling through mountain biking, and with that the kit I started with was heavy, baggy shorts and flappy jerseys. My first switch to Lycra was revolutionary - so much more breathable, lighter, and with useful pockets you can put extra layers and other things in. Amazing!
But then I became almost too attached to the roadie kit, wearing it for bikepacking and sightseeing trips which would have made more sense to be wearing more causal baggies for. Of course, you can walk around a museum in Lycra or go for an evening meal or drinks, but often it's nicer not to draw so much attention. Thankfully now, after well over a decade, I've finally found (what I think!) is a reasonable equilibrium.
Adam Becket, Senior News and Features Writer
1. That you can go really far and explore places with really not that much effort. I think when I first started cycling I was terrified of going too far, but if you just eat a lot and drink and keep going, then so much is possible. If I could just take 24-year-old Adam, when I lived in London, and shake him by his lapels and tell him to just get on his bike, maybe he would?
2. A little bit of bike maintenance knowledge goes a long way. Punctures should not be that hard to fix, and you can change a chain yourself. The amount of money I could have saved over the years by simply doing things myself is a terrifying thought.
3. Join a club! Simply, join a club. It will never be as terrifying as you think it might be, and you might just meet some amazing people. Some of my best friends have been from cycling clubs.
Thank you for reading 20 articles this month* Join now for unlimited access
Enjoy your first month for just £1 / $1 / €1
*Read 5 free articles per month without a subscription
Join now for unlimited access
Try first month for just £1 / $1 / €1