'Cycling's been a life-saver': The record-breaking 87-year-old who still rides 150 miles a week
Downing his gardening tools, pensioner Martin Harvey got on his bike and set about writing his name into the long-distance record books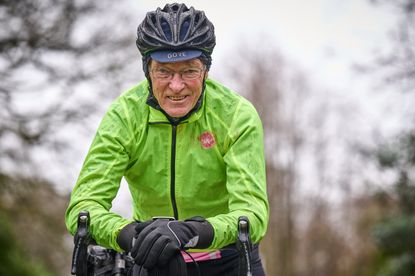 (Image credit: Richard Butcher)
This article was originally published in Cycling Weekly's print edition as part of the long-running MY FITNESS CHALLENGE series.
"We married in '62, but I'd taken a break from riding – my wife didn't know me as a cyclist." Martin Harvey is telling me about his late wife Jackie, who died in 2010, two years short of their golden wedding anniversary. It was a good job he had stopped riding, I joke, else it might have put her off. Harvey lets out a big laugh. "You're right, it doesn't mix with family life. I was busy with other things, keeping fit by digging the garden."
Harvey is speaking to me by video call from his home in the West Midlands, and I've asked him to start at the beginning. He explains how his interest in cycling dates back to starting work as a 16-year-old in 1952. "It was 10 miles there and 10 miles back," he remembers, "and the bus fare was going to add up to as much as a bike, so I bought a Claude Butler." Twenty miles a day soon got him fit enough to compete, and so he did just that, joining his local club Walsall Roads. "I did a couple of 25-mile time trials just on commuting fitness, a 1.05 and then a 1.04," he leafs through the mental results sheets.
Next came his first extended break from cycling: in early 1954 he was called up for National Service and posted to the Far East for two years. When he got back, although he'd lost some cycling fitness, he dusted off the Claude Butler and slotted straight back into the local racing scene. "We didn't know how to train in those days," he reflects. "We just did long miles, 100 on a Sunday, and sprinted for every town sign or lamppost." Despite the unscientific methods, Harvey tore through the ranks from fourth-cat to first-cat in just two and a half years.
He was now at the sharp end of amateur racing, but a bad crash in 1959 landed him in hospital and granted time to think: did he want to strive for the next level in cycling or let it go and focus on his nascent career in banking? "There was no money in cycling in those days. Even at the top level, there was no money in any sport." The decision was made. "It was time for me to settle down – it gave me time to meet my wife," he smiles.
After getting married, Harvey didn't return to cycling for 30 years. Instead he played badminton, immersed himself in family life, and lavished attention on his garden, which he and his wife Jackie proudly opened to the public, raising tens of thousands for charity via the National Garden Scheme. What spurred him to swap pruning shears for padded shorts at the age of 62? "I'd always wanted to get back into cycling," he says. "My children had left home, and whereas I'd retired, my wife had been promoted at work. So I joined a local club, CC Giro, rode with them on a Wednesday, and every Monday did 50 miles on my own to try to get fit enough to keep up!"
As his cycling renaissance unfolded, Harvey enjoyed club training camps in mainland Spain and Majorca, as well as sportive trips to France, picking up gold medals into his 70s. After his wife died from cancer aged just 69, cycling helped Harvey cope with the loneliness and grief. "That's when I started riding four times a week," he says. "Cycling was more than just cycling then: it was social contact and got me out of the house. A bit of a life-saver."
As a result of the extra riding, his fitness improved from excellent to extraordinary. Aged 75, he returned to northern France and rode a 118-mile event in just over six hours, averaging 19.5mph. "At that age, you can do it," he beams, "as long as you've been lucky." There was now no stopping him: Harvey went on overseas cycling tours including to Vietnam and even the Himalayas. "At 76, I rode the highest motorable pass in the world – you climb up to 16,000ft [4,900m]," he grins at my astonished reaction, admitting: "I did struggle on the dirt roads above 4,500m."
Five years later, in 2017, he cycled from Land's End to John o' Groats (LEJOG). Only afterwards did he realise that, at nearly 82, he had been slightly older than the reigning Guinness World Record holder Tony Rathbone. The realisation planted a seed in Harvey's mind. While the pandemic lockdown brought a halt to his overseas jaunts, he carried on riding 150 miles a week.
How has he remained so strong and resilient into his mid-80s? "You do lose muscle mass at my age," he accepts. "I have a personal trainer – which might sound grand but it's only because I wouldn't do it without him – and we do a session each Thursday morning on FaceTime. He talks me through a weights routine, which I repeat every Tuesday. It has definitely helped." Harvey believes that this rigorous muscle maintenance has minimised the decline in performance. "By lifting weights, you can make best use of what you've got," he says. "My biggest limiting factor is oxygen – I can't get enough in!"
The LEJOG record was broken again in 2019, when Alex Menarry completed the end-to-end in 17 days at age 85. In early 2022, having turned 86 the previous September, Harvey regarded Menarry's record as ripe for the taking. Eight months later, approaching his 87th birthday, he set out to smash it. When I ask how he fared, his response is borderline nonchalant. "It was 1,020 miles and I did it in 14 days," he says matter-of-factly. "My two daughters rode it with me – they're in their 50s – and we had to average 72 miles a day." OK, so the end-to-end itself was straightforward, but what about the training beforehand? "Having been riding four times a week anyway, I was OK. To be honest, I didn't have to do any specific training for it – I just carried on doing what I was doing."
This is getting silly – he's making it sound almost easy. "Don't get me wrong," Harvey chuckles, "it wasn't a walk in the park, and there were some hard days. The wind turned against us in Scotland, and it rained most days. Riding over the Lecht ski station, the wind was so strong I had to walk the 20% gradient sections." His message to other older riders considering LEJOG is simple: "Pace yourself. Don't push too hard in the first few days."
His place in the Guinness World Records is now ratified – Harvey is officially the oldest person to have cycled from Land's End to John o' Groats, at 86 years 355 days – and in the process he has raised nearly £8,000 for St Giles Hospice in memory of his late wife. He shows no sign of deviating from his 150-mile weekly routine. Does he have another big adventure lined up? "That's a quandary," he says. "After turning 85, my travel insurance shot up from £300 to over £800, so I'm not sure, but I'll think of something." In the meantime, he might have been tempted to dig out the gardening gloves, except he's already decided to let it grow wild. "If my wife came back and saw it, she'd have a fit," he laughs, "but I did gardens for 48 years. Now it's time to ride my bike."
Daughter's view: 'I was starting from scratch – and I'm so glad I did'
Martin Harvey rode the record-breaking end-to-end with his two daughters Michaela Casey and Julie Grigg, both in their 50s. Casey told us how much it meant to support their dad while riding in memory of their late mum
"My dad became very health-conscious when his own father died aged just 63 – we noticed as young children, suddenly everything got really healthy, from fresh orange juice to brown bread to low-fat spreads all of that. It's cycling, though, that has really kept him going.
"When I decided to do LEJOG with him, I was starting from scratch, following a 20-week training programme from zero to 300 miles a week. Dad came out with me for most of my longer rides and got me up to speed, slowing down so that I could keep up.
"During the event, the three of us stuck together and rode at a steady pace, averaging 12-13mph. I felt I got stronger and stronger, whereas for Dad, being older, it was the opposite: he was getting more tired as the days passed. But he just kept on going, even when he got an infection in his foot. We had to get antibiotics and change the dressings every day but he didn't complain once – he was just amazing.
"I'm so glad I put in the training and got fit enough to do it. The memories will last forever, and I've developed a really lovely relationship with my dad from all the time spent together. I want to keep it going – I'll try to ride at least twice a week. I now go out with Dad on his weekly 'easy' ride with his mates in their 60s and 70s, their 'Friday social'."
The full version of this article was published in the 27 April 2023 print edition of Cycling Weekly magazine. Subscribe online and get the magazine delivered to your door every week.
Thank you for reading 20 articles this month* Join now for unlimited access
Enjoy your first month for just £1 / $1 / €1
*Read 5 free articles per month without a subscription
Join now for unlimited access
Try first month for just £1 / $1 / €1