'Do cyclists live longer?' - you asked Google, and we've got the answer
The fountain of eternal youth hasn't been located yet, but the bike in your garage is a good place to start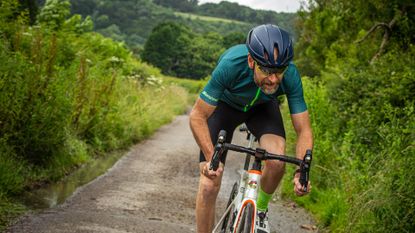 (Image credit: Future)
The average human brain allows hundreds of questions to float around its expanse on a daily basis - but some of them are more common than others.
Google's Autocomplete tool is particularly useful for helping to determine which of those questions are shared by a large proportion of the population - and 'do cyclists live longer' is apparently up there with wonderings over our insurance status, use of bells, and - it would seem - where we draw the line when it comes to hair removal.
It's a reasonable question - cycling carries multiple benefits - but intense exercises can actually suppress the immune system, so does it really add years to our lives?
Exercise and longevity of life
There's a number of studies which suggest that gentle exercise prolongs life - and cycling is a particularly good option as the lack of weight bearing means we can continue into old age.
Getting your active time in via bike commutes is also handy, because it's a time efficient choice (especially considered alongside the oft incompetency of public transport and the tailbacks on offer elsewhere).
Scientists at the University of Glasgow wanted to investigate the link between methods of commuting and incidents of cardiovascular disease (CVD), cancer, and all causes of mortality.
They studied 263,450 participants, with a mean age of 52; 52 per cent of whom were female. The participants used a variety of methods to commute - walking, cycling, and 'non-active' (car or public transport).
By the end of the study, 2430 participants had died - and the breakdown showed that cyclists were the least likely to have deceased.
"Cycle commuting was associated with a lower risk of CVD, cancer, and all causes of mortality," researchers said, whilst walking was associated with a lower risk of CVD.
The scientists concluded "initiatives to encourage and support active commuting could reduce risk of death and the burden of important chronic conditions."
A further study by a group of epidemiologists looked at the sporting background and lifespan of 80,306 British adults.
They found that cyclists were 15 per cent less likely to die from any cause - and those who spent time on two wheels came off best, alongside swimmers, those who took part in racquet sports, and aerobics.
No significant reduction of risk was found amongst those who participated in running or football.
In addition, a Danish study published in the journal Circulation, in 2016, looked at 45,000 adults and found that riding a bike regularly for commuting or recreation lowered the risk of heart attack by between 11 and 18 per cent, compared to non-cyclists.
The scientists collected their data over a 20-year period.
"Many people think that being physically active means doing regular structured exercise, which can be a huge barrier to an active lifestyle" senior author and researcher at the University of Southern Denmark, Anders Grontved told Reuters.
"Our study shows that biking either for recreation or as a way to commute is also great for heart health," he added.
One possible counter-argument could be an assertion that riding on the road could be considered 'dangerous' .
However, statistics published by the Department for Transport show that in 2015 car occupants accounted for 44 per cent of road deaths, pedestrians 24 per cent, motorcyclists 21 per cent and pedal cyclists six per cent.
When comparing mile-for-mile deaths, vulnerable road users - cyclists, walkers and motorcyclists - had a higher fatality rate.
However, cycling is still statistically safer than walking - for every billion miles cycled in 2015, 30.9 cyclists were killed, versus 35.8 pedestrians. Though neither is a 'good number', we rarely consider walking into town a dangerous endeavour.
Intense cycling and longevity of life
It's often considered that 'gentle exercise' is good for health, whilst the high heart rates and accompanying fatigue associated with high level training is less beneficial for overall health.
It's true that those who push themselves on a regular basis are more likely to pick up sniffles and virus'.
However, a study which looked into the lifespan of Tour de France riders showed that serious medical conditions were kept at bay.
Scientists from the Department of Physiology at the University of Valencia, Spain looked at 834 cyclists who rode the Tour de France between 1930 and 1964 - the riders came from France, Italy and Belgium.
In 2007, the researchers compared the percentage of survivors at each age, compared to that of the general population in the country the cyclists came from. They found that on average, the Tour de France riders lived to 81.5 years, as opposed to 73.5 year in the general population.
The scientists concluded: "The Tour de France is among the most gruelling sport events in the world, during which highly trained professional cyclists undertake high intensity exercise for a full three weeks. Consequently we set out to determine the longevity of the participants in the Tour de France, compared with that of the general population.
"Our major finding is that repeated very intense exercise prolongs life span in well trained practitioners. Our findings underpin the importance of exercising without the fear that becoming exhausted might be bad for one's health."
Thank you for reading 20 articles this month* Join now for unlimited access
Enjoy your first month for just £1 / $1 / €1
*Read 5 free articles per month without a subscription
Join now for unlimited access
Try first month for just £1 / $1 / €1