'Why do cyclists shave their legs?' - you asked Google and we've got the answer
Many people - male and female - shave their legs for aesthetic reasons. But what are the cycling related arguments for hair removal?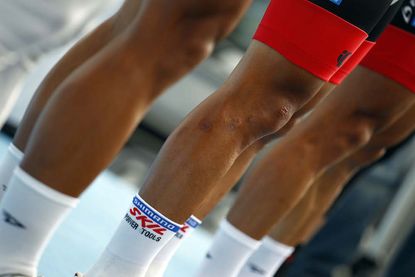 (Image credit: Yuzuru SUNADA)
According to Google, there's a number of questions people have around cyclists - 'why do they wear gloves' and 'why do they jump red lights' both feature - but most importantly it seems people want to ask 'why do cyclists shave their legs'?
We'll admit that we don't 100 per cent trust Google. Perhaps its autocorrect is influenced by the amount of money shaving foam and razor brands spend on their Adwords features - but if you are looking for the answer to the question 'why do cyclists shave their legs?' then we've got it right here.
Many people - men and women - choose to remove hair for aesthetic reasons. But aside from the pursuit of beauty, what are the key cycling related reasons for leg shaving?
Road rash
Road rash - grazed skin caused by crashing ones bicycle - is an unfortunate occasional side effect of being a cyclist. The best treatment for road rash is to clean it thoroughly and pick out any large pieces of grit or dirt before applying a mild antiseptic cream and keeping it dry and covered.
Picking out little bits of grit and scrubbing road rash is painful enough as it is - having to search for the gravel through a forest of hair would make it even worse.
You can pick up road rash on any part of your body - even your face, but it's most likely to be experienced on your lower body and the hair on your legs is much thicker and thus more likely to cause a problem.
Of course, no one likes to plan for a crash, but it is better to be safe than sorry.
Massage
This is an argument more likely to be used to pro cyclists, lucky enough to get regular massages - but it's a lot easier to massage shaved legs than it is to rub down prickly porcupines.
Massage can really help to relieve tightness and muscle tension associated with logging the miles - and if restricted areas can be loosened off with regular massage you're less likely to suffer full blown injuries. You might find your partner is more willing to give your legs a rub down if they don't have a similar effect to sandpaper (there's exfoliating and then there's wood stripping...) but if a regular massage is not an option, check out some of the foam roller exercises than can have a similar effect.
Aerodynamics
Since most roadies don't receive weekly massages and aren't riding with the intention of crashing, the most common argument is that leg shaving has been shown to dramatically increase aerodynamics*.
http://www.youtube.com/watch?v=DZnrE17Jg3I
Specialized is famous for having tested a range of hairy questions in its "win tunnel" (including best hairstyle for long hair - it's the plait/braid). It tested a number of athletes, pre shave and post shave - and found leg shaving saved on average 70 seconds, with individual time gains varying from a still impressive 50 seconds to 82.
Chris Yu, from the Specialized R&D team commented: "To put it in perspective, that difference is basically like going from a traditional round tube frame all the way to something like a Venge."
The Venge being the aero road bike from Specialized which costs £3,250 for a frameset only, the fact that Specialized is happy to point out that a £3 razor could provide the same results is quite convincing (just imagine what could happen if you shaved and bought the Venge).
* There are some arguments to the contrary, though - Edmund Bradbury of NFTO argued against being clean shaven here - but it's fair to say he's in the minority
Because fashion
Finally, for the same reason some like to wear our socks over our leg warmers, for the same reason it's not ok to wear black shoes and white socks, and for the same reason the saddle must be the same colour as the bar tape or black: it's a social convention that marks us out as being a cyclist.
Where should you stop shaving?
Oh, the age old question. Where the leg grippers stop? All the way up the thighs? Further?
The aero gains will stop when you get to the leg gripper, there's no benefit to removing hair under your skinsuit. The massage and road rash issues are illuminated, probably, at the top of the thigh.
Fashion? It's really up to you.
How to remove hair for cyclists*
Women (and some men) all over the world will no doubt be rolling their eyes at this question - but it's a debate we've heard newer converts to cycling related de-fuzzing discussing at length.
Here are your options:
Shaving
Lather up with shaving foam, and using a sharp razor strip hair starting at the ankle and gliding towards the knee.
Shaving usually lasts anywhere between one and three days before re-growth appears. It's completely painless, only costs as much as a razor and some shaving foam but can result in ingrown hairs which can become infected if you're not careful - regular exfoliation can help reduce the likelihood of this.
Those with thicker hair might find they have to shave a few times to get it all off. If you've not shaved your legs before and are pretty hairy, using hair removal cream the first time is a good idea.
Hair removal cream
Hair removal creams - or depilatory creams - work by dissolving the hair. The cream is applied by hand or with a spatula, and the market leading brand is Veet. There's even a 'Veet for men' version if you feel it's necessary. The process is totally painless - though the stuff smells pretty whiffy.
Hair removal cream removes the hair just below the surface of the skin, so it can last a bit longer - some brands claim up to four weeks but we'd suggest a week. As the hair isn't chopped at the root, it does grow back a bit smoother and less stubbly.
Waxing
This involves applying hot wax to the skin, before adding strips which are pulled off quickly to remove the hair. The hair is yanked out at the root and the results can last anywhere between three and six weeks, depending upon your body type.
Waxing can be a bit painful, and does require you to leave some regrowth before repeating - so if you're going for the aero edge you might need to plan your approach as meticulously as you plan your taper week.
Epilating
Epilators can be used at home and are effectively handheld tweezing machines that pull hair out from the follicles - you can pick one up from about £30. They're mess free and like waxing the results usually last for three to six weeks.
A bit like tweezing - as you can see in the faces of those who plucked their eyebrows into a permanent state of surprise through their teens - epilating does reduce re-growth and hair will grow back sparser over time. The real con is that it can be a little bit painful.
*It's the same as for everyone else
Thank you for reading 20 articles this month* Join now for unlimited access
Enjoy your first month for just £1 / $1 / €1
*Read 5 free articles per month without a subscription
Join now for unlimited access
Try first month for just £1 / $1 / €1