fitness: Silver cyclists - it's never too late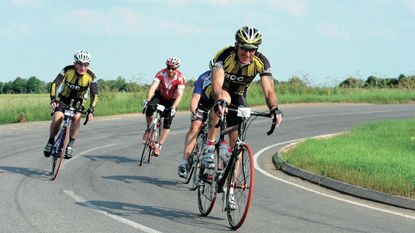 6th November 2010 Words: Matt Lamy Photos: Phil O'Connor
Want to go cycling but think it's only a sport for whippersnappers? Here's some inspiration from two people who started riding in later life and they love it.
Cycling is a perfect sport for all ages: it's non-weight bearing, very low-impact, and it gives your cardiovascular system a jolly good seeing to. It might sound like a cliché, but it also keeps you young — we know of countless people in their 70s and 80s who are still happily pedalling away.
Of course there are right and wrong ways to go about starting. A great story we heard recently stars one chap in his late 70s who turned up at a small independent cycle shop wanting to buy a new bike. The shop assistant showed him a range of different machines and they gradually whittled it down to a couple of models.
It was all going swimmingly until the fellow asked to go for a test ride, whereupon he reached into his carrier bag for his cycling gear and retrieved a horse riding hat and a pair of welder's gauntlets.
Hopefully if you're reading this you'll be a little more clued up. But frankly, if a pair of gauntlets is what it takes to get someone on a bike, then who are we to scoff? Our simple message to any rider of any age is just get out there and enjoy it.
Here are a couple of people who have started cycling relatively late, but who have found the simple act of pedalling has changed each of their lives for the better. If you've ever wanted to get on your bike, but think cycling is only for youngsters, then read on… and think again.
Ken Swain, 63, only really started becoming a committed cyclist a couple of years ago. Ken has always been involved with one sport or another and for more than 20 years he was a runner. However, with two decades' worth of battering tarmac in his legs, Ken thought it was time to turn to a lower-impact sport, starting off with mountain biking and now progressing to road riding.
"There came a time when my old limbs couldn't take the pain of bashing those roads any more. I don't care what people say, at some point you have to say, that's enough. I don't think my hips or knees could have taken too much more; something would have given in," Ken says.
"Then I thought about sitting down, but I thought that would just wear out my bum. So gradually I went out more and more on the mountain bike, on the North Downs with my son-in-law, and then I fancied doing a bit of road cycling, and now I do both. And I'm enjoying it too. I don't do any running at all any more.
Broader horizons
"The great thing about cycling is that you can get about. With running you are limited to how far you can go and what you can see. Even though I did a fair few miles of training when I was a runner I was always doing little set courses, I wasn't seeing new bits of the country. On a bike, though, there's no distance you can't cover, or place you can't get to.
"Because I was already quite active I didn't find my body had to adapt too much to the physical exertion that comes with cycling. My legs were fine, the only thing I do find on my road bike is that it plays up my back a bit more. As soon as I cross the 40-mile mark the old back starts whinging. You can set your watch by it: on the 39th mile I feel it coming and on the 40th it's there.
"Injuries aren't anything to be scared of, though. Any active sport, no matter what it is, is going to give you muscle ache. You're going to wake up in the morning after a hard ride and realise that something hurts — even down to your thumb having been on the handlebars all day. And the more you put into the sport, the more aches and pains you're going to feel. But you get over them and your body gets used to it all.
"Last September's Circuit of Kent was the first sportive I did, and I was really taken in by that — it really started me thinking about doing more, and I have done five sportives in the last 12 months. I think over the year I have become a stronger rider — I have my own little course, with a little hill, round where I live, and I know exactly what I have to do to improve my time. That helps me with my training, because it lets me know what I can achieve.
"There are many great things about cycling, and obviously fitness is top of the list. You use quite a few parts of your body on the bike, you get active, and you're in the fresh air. Cycling makes you do a lot of things that, as you get older, you might naturally stop doing. I am a big believer in either using it or losing it — it doesn't matter what you're talking about, and that doesn't just apply to old age either. There are quite a lot of younger people than me that have lost it already.
"But I can't see why people can't get on a bike. When I go riding I see lots of blokes older than me even. There are wonderful people out there, and I think to myself: 'How old is he? Ten years older than me? Well I hope I'm still going that well in 10 years.' It's quality not quantity in life — age will catch up with you one day, so keep mobile, and keep doing what you want as long as you possibly can.
"My advice, for anybody of any age is to just get out there. I think cycling is a great sport, I can't get enough of it — it's only work that stops me going out. I'll even go out in the rain. I want to be one of those guys that people see and say: 'Oh look it's that old boy, he's out again, he's on his bike, and it's pouring with rain! What's wrong with him? Is he trying to live to 100?"
Valerie Fuller, 56, started road cycling two years ago after recovering from breast cancer. Her local bike shop put her in touch with ladies' club, Kent Velo Girls, and now Valerie not only has a fun, healthy pastime, but she's also found a new network of friends.
"I've always loved cycling — I cycled lots as a child and as a schoolgirl — then when I had my children we used to go on cycling holidays. Two or three years ago my older son Charlie decided he wanted to buy himself a new mountain bike, so I went with him to the shop. The interesting thing was that they asked me if I was with 'the club'. Of course I said yes, hoping to get a discount, and then asked what club! They told me about the ladies' cycling club — Kent Velo Girls.
"I went online, saw the Kent Velo Girls' website and thought it looked impressive, but all over the website it said: 'Do not buy a bike'. I emailed the club, asking if I was too old or too unfit to join them, but they just said come along, with any bike, and once I had started everything would be easy.
"I took Charlie's bike with me that first time, although it was too big for me, and we cycled along the track. "Everybody was very friendly. The next week we decided to go on the roads and luckily the club had been given a Claud Butler road bike from Bikes, Bikes, Bikes in Sevenoaks, so I was able to use that for a couple of months.
"It's quite scary going from a mountain bike to a skinny-tyred bike, and learning about the gears. I fell off a couple of times because I'd try to cycle onto the pavement but approached it sideways rather than straight on. I got myself up and wasn't too badly injured because I learnt to relax when I fell off."
Loosening up
"As I started doing more mileage I noticed my wrists were hurting. I had been pumping my tyres up too high so I have them a bit softer now, and I used to have my arms straight but now I bend them and don't hang on quite so much. I also make sure I've got decent gloves on, rather than cheap ones. I'm cleated in, and my seat is perhaps not quite so high as it once was, so there are all sorts of little things you can do to make riding slightly easier.
"It was scary at first using clipless pedals. I saw a lot of other girls before me use them and I think you must have cycled quite a lot before you go onto clipless, but they are brilliant once you are used to them. The main thing was telling myself not to fall off, and to get my foot out quickly — I even asked the other girls to remind me. I did fall off a couple of times, but only into hedges, and I giggled so much that I never really hurt myself.
"I remember my fitness came along very quickly — in the space of two or three weeks doing three rides a week it became progressively easier. I don't know how long it takes to get really unfit, but I my had bunions operated on in June and was back on my bike seven weeks later in August and managed a 50-mile Kent Sportive and a 100-mile club ride in September. So cycling is definitely a great tool for getting people back on their feet after being unwell.
"I've also kept my weight the same, and stayed slim round the middle, which at this time of my life is good. That doesn't mean that everyone who cycles is skinny, but it does keep you fit. And you feel great. Psychologically I think cycling is also really good for you. A couple of my friends have had depression and I think it really helps to be outside in the sun, cycling with your friends. It gets your endorphins going, which really helps your mental health.
"I never thought I would get so involved in cycling. I think that has happened because there are so many lovely people in our club. I don't think I could have progressed so much on the bike on my own. Also, my doctor said cyclists are like birds: they are safer in flocks. But I just love being on my bike — it's all about the fun, the fresh air, and it's exhilarating. I think everybody should do it, but then I also think everybody should join a club."
This article first appeared in the November issue of Cycling Active magazine.
Thank you for reading 20 articles this month* Join now for unlimited access
Enjoy your first month for just £1 / $1 / €1
*Read 5 free articles per month without a subscription
Join now for unlimited access
Try first month for just £1 / $1 / €1