'I don't know where the aggression comes from' - Running coach turns to cycling and questions elitist culture
Size-inclusive running personality Kelly Roberts, a multi-time marathon finisher, is preparing for a new challenge: a half-ironman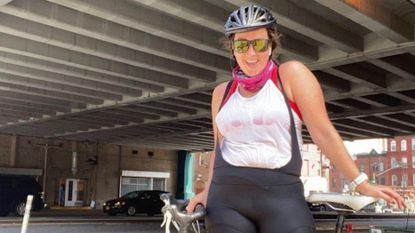 (Image credit: Kelly Roberts)
Get The Leadout Newsletter
The latest race content, interviews, features, reviews and expert buying guides, direct to your inbox!
Thank you for signing up to The Pick. You will receive a verification email shortly.
There was a problem. Please refresh the page and try again.
Brooklyn-based Kelly Roberts is well-versed in the world of running. She's finished countless 5K, 10K, half-marathon and marathon races, and coaches other women to find their version of run success through her training plans and online community titled Badass Lady Gang.
Suffice it to say, the 34-year-old knows the sport of running very well. Now, she's adding a new challenge to her future: completing a half-ironman in Jones Beach, New York in late September.
A half-ironman consists of a 1.2-mile swim in an open body of water, a 56-mile bike leg, and a 13.1-mile (or half-marathon-distance) run at the end. All three sections are done one right after another, on the same day. Most half-ironmans have a cutoff time of seven or eight hours to complete all three legs.
Roberts has moved out of her comfort zone of solely run training to explore swimming and biking, with biking proving to be the most difficult of the two - not least due to some of the elitist attitudes she's come across.
Why a Half-Ironman?
Training to run a half-marathon is hard enough, why tack on a long ocean swim and arduous bike ride beforehand? It's always been part of the goal, Roberts shares.
"I have always wanted to do a half-ironman," Roberts says. "I grew up in San Diego, which is the birthplace of triathlon, and my dad was a collegiate swimmer, so a lot of my childhood was surrounded by the three sports that make up a triathlon."
Roberts spent much of her childhood swimming in the Pacific Ocean under her father's guidance and riding cruiser bikes to friends' houses.
Roberts classifies herself as a "strong swimmer" from her years spent diving through the waves of the Pacific as a child, and her thousands of miles logged as a runner make her well-suited for the half-marathon portion of the half-ironman. Cycling, however, has remained the toughest of the three disciplines to master.
Getting a Handle on Biking
"Cycling is definitely the scariest of the three [triathlon disciplines]," Roberts says. "There is so much to know and learn."
Although Roberts has frequented indoor cycling classes in the past, it wasn't until the COVID-19 pandemic in 2020 that she started riding outside as New York City became a ghost town.
"I was lucky that a friend of mine gave me a bike they weren't using in 2020, and even though it was a size too small for me, I was so glad to have it," Roberts says. "Riding that bike in 2020 saved me. I would just get on and see how far I could go and there were so few cars or people - I loved it."
As life returned to normal so did the the city bustle, and Roberts knew she would both need an appropriately-sized bike and to learn to content with cars and pedestrians.
Recently, she purchased a Trek Domane AL 2 in what Roberts calls "midlife crisis red."
Roberts has been exploring all facets of her cycling such as braking, riding with others and navigating pedestrians, cars and other cyclists.
"Riding with other people is one of the scariest things for me," Roberts says. "You have to be confident in being in close proximity to other people on their bikes and I worry about getting left behind or how to brake in time or manage my personal space."
Roberts shares that she's fortunate to have a great group of female friends who have accompanied her on some of her longest rides (60 miles) and have given her tips about gearing, braking and hand signals along the way.
"Getting confident riding with others was one of those things where I told my fears to my friends and they were super supportive," Roberts says. "They were like, 'No worries, we're going to talk you through everything and everyone is out here to have a good time.'"
Despite her crew of friends, other cyclists haven't always been as welcoming.
"Dealing with especially elite male cyclists on their bikes has been really hard and scary," Roberts says. "I don't know where the aggression or audacity comes from, but it lives up to the stereotype."
Roberts shares that this has made it hard to feel fully welcomed into the cycling community as a new cyclist.
"Seeing attitudes of elitism makes me want to ask, 'Why are you the way that you are?'" Roberts says. "Instead of acting so standoffish, you could actually be courteous and welcoming - and I think this cold attitude towards new cyclists is a big barrier for a lot of people in the cycling community."
Roberts shares that another challenge of biking has been finding size-inclusive kits that she feels good in.
"I have a bit of size privilege in that I can usually fit into a 2XL cycling kit," Roberts says. "It's a little wild, though, how hard it is to find quality cycling clothes that fit, are made of good material, and won't break the bank."
Roberts says, "the demand is there," for cycling brands to accommodate people in larger bodies.
"When I go for a ride, I see lots of fat bodies out there kicking ass," Roberts says. "I think it's time for [cycling] brands to design their apparel for all bodies, not just one [smaller] body type."
Roberts plans on wearing a triathlon kit from WYN Republic for her half-ironman.
In between learning to navigate riding with others, Roberts has been practicing the on-the-go water bottle grabs she'll need to do at each half-ironman bike aid station, testing out different chamois thickness and nailing her nutrition.
She got to put these skills to the test in a recent sprint triathlon back home in San Diego.
"The sprint was so fun. It was chaos…in the best way," Roberts says. "I always tell my [coached athletes] that the best part of being a first-timer is you're so ignorant in a good way…It's so refreshing to not know things after all the pressure we put on ourselves in our areas of expertise."
The runner-turned-triathlete finished the sprint tri in one hour and 24 minutes, with a smile on her face.
Roberts shares that this attitude of having fun and not over-complicating things is similar to the vibes she tries to emulate in running.
Takeaways from Cycling
Although running requires much less equipment than cycling, Roberts has found a special place in her heart and mind for cycling.
"I've found for all three sports [swimming, biking, and running] there is a place where you can get to mentally, where you are almost daydreaming," Roberts says. "You can shut off your brain and be present with the activity instead of trying to coax yourself to get to the next tree or traffic light."
Roberts says that cycling especially helps her "zone out" and enjoy her surroundings, even more so than running.
"Cycling has shown me that a sport can feel so effortless when you're not doing a prescribed workout," Roberts says. "Your heart rate isn't super high, you can still cruise at a fast pace, and even when it's incredibly hot, it's still pleasant to ride…running isn't always like that."
Across all three sports, Roberts isn't looking to overcomplicate anything - she wants to complete her half-ironman from a place of joy.
"It's so easy to make running [and other sports] more complicated than they need to be," Roberts says. "I'm scared but also excited to own being new to triathlon and put myself in the arena at my first half-ironman in just a few weeks."
Thank you for reading 20 articles this month* Join now for unlimited access
Enjoy your first month for just £1 / $1 / €1
*Read 5 free articles per month without a subscription
Join now for unlimited access
Try first month for just £1 / $1 / €1
Get The Leadout Newsletter
The latest race content, interviews, features, reviews and expert buying guides, direct to your inbox!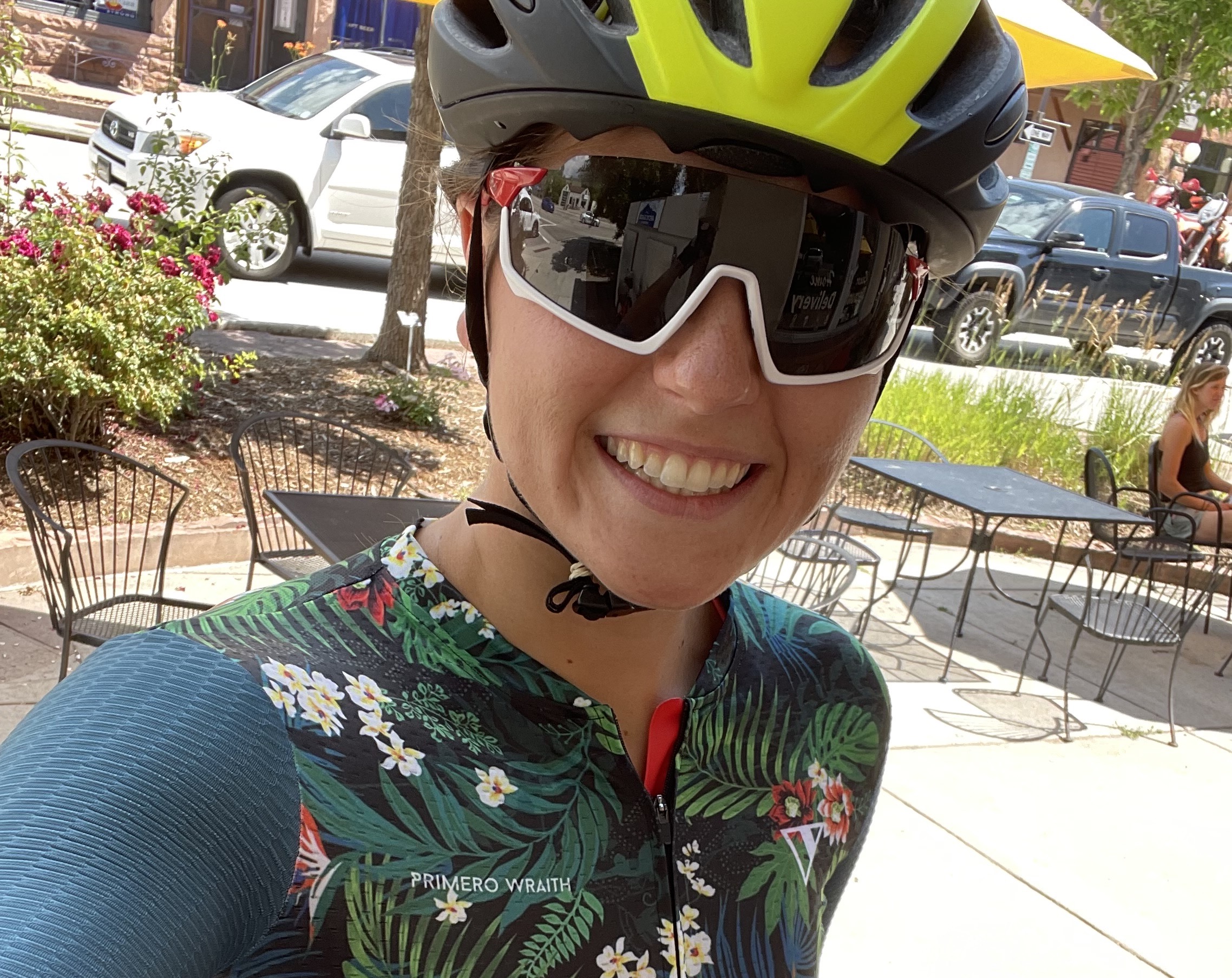 Kristin Jenny is an elite triathlete based near Boulder, Colorado. Although most of her time is spent in aerobars somewhere in the mountains, she finds time to enjoy eating decadent desserts, hiking with her husband and dog, and a good true crime podcast.