How many watts does it take to beat a pro cyclist?
What's your dream threshold? Four, five, maybe even six watts per kilo… At what point does the target number become impossible except for pros? Joe Laverick finds out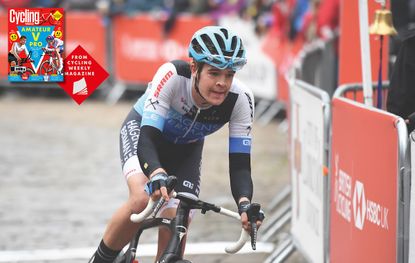 (Image credit: SWPix)
Is there, for amateur riders, an impossible number – a power figure so high that only pros can achieve it? Likewise, for pro riders, is there a figure that's literally beyond the limits of (clean) human performance?
We cyclists are preoccupied with questions like this – we are obsessed with data and comparing ourselves to the eye-popping outputs of WorldTour riders. So much data is available that you'd think it would be easy to predict who is going to be the best in the world. But it's not. Cycling performance is like an onion, it has many layers – and in this feature, we're going to find out why.
>>>>Subscribe to Cycling Weekly magazine for more great fitness features
Cast your mind back to spring 2020: the whole world was in lockdown and attention turned to online racing. WorldTour riders were on the start line of Zwift races rather than Monuments, many receiving the unpleasant surprise of getting thrashed by Joe Bloggs, a second-cat with a full-time job.
Some of these pros cried foul play – but their suspicions may not have been justified. It isn't uncommon to hear of amateurs who have raw power figures superior to those of some WorldTour riders. Why, you might ask, are these big-number-hitting amateurs not competing at the top level? Because, as we shall see, racing success is determined by a complex interplay of power, skills, tactics, experience, instinct and fatigue resistance – to name but a few of the factors involved.
To illustrate the above point in a hands-on way, CW's fitness editor suggested an experiment. "Why don't you, the full-time pro rider," he said, "go head-to-head in the CW Club 10 on Zwift against a rank amateur?" I agreed to the outlined plan – what did I have to lose, except my dignity? Naturally, there was a catch: the amateur rider would be carefully handpicked to ensure I wouldn't have an easy ride.
Will Lowden is an 18-year-old medical student who squeezes in around 10 hours per week of training around his studies. He is relatively new to competitive road cycling and has done only a handful of hill-climbs and TTs. As for me, I'm a 21-year-old full-time pro racer with team Hagens Berman Axeon, training over 20 hours a week and in my third year of competing on the Continental circuit. In 2018, while Will was still at school, I was busy achieving a top-10 performance in the junior TT world championships. On paper at least, we're in totally different leagues.
I'd checked out Will's previous performances on ZwiftPower, and it was clear he had potential, aided perhaps by genetic gifts – if you recognise his surname, that may be because he is the cousin of female world Hour record holder Joscelin Lowden. So how did it go? From the first kilometre, I knew I was in trouble. Though I felt good, sitting at just over 400 watts as planned, Will was pulling away. And he carried on pulling away over the two laps of Zwift's virtual Innsbruckring course, ultimately beating me by 24 seconds. His 359 watts for 20:18 was, kilo for kilo, considerably better than my 402 watts for 20:42 – he had achieved 6.3W/ kg compared to my 6.1W/kg.
It's my privilege as writer to get in my excuses: firstly, I raced Will off the back of a 33-hour training week, and had already been in the lab that morning for both a fat-max and a ramp test – I was far from fresh. Secondly, I'm not convinced that Zwift's algorithm is entirely realistic, as on flat courses like the one we raced, it seems to favour power-to-weight disproportionately. On the road, I'd have expected my 43-watt advantage to be enough to ride away from Will.
This is to take nothing away from Will, whose 6.3W/kg for 20 minutes is an extraordinary ride. I know for a fact that those raw power numbers are better than an awful lot of riders in the pro peloton. So why isn't Will racing alongside me week in, week out? This is where it starts to get complicated. For a pro roadie like me, average race duration is over four hours – the power I can produce over 20 minutes from a fresh, rested state is not the key indicator of race potential. Far more important is my fatigue resistance.
Mythical levels of power
There is a mythical figure in pro cycling: 6W/kg. It originates from the Armstrong era when it became an objective, albeit informal, benchmark of believability. Being able to do 6W/kg for 20 minutes is one thing; being able to hold that output for 40 minutes is quite another. The magic number that the infamous Dr Michele Ferrari used to gauge Lance Armstrong's Tour-winning form was reportedly 6.7W/kg, at threshold.
The problem with identifying an upper limit beyond which credibility falls apart is that performance evolves. In a 2013 interview, Tim Kerrison, the then head of performance of Team Sky (now Ineos Grenadiers) said: "It's a pretty short-sighted approach to think there's a limit to human performance. The human body is a machine that's around 20% efficient, so it only takes a small evolution of training practices, or a particularly efficient human specimen to go from 20% to 21%. It's only 1%, but results in a four or 5% increase in power output." Being able to do 6W/kg for 20 minutes means you're a very, very good cyclist, but the notion that it guarantees you a pro contract is absolute rubbish.
Stephen Gallagher is a director of Dig Deep Coaching and part of the team responsible for developing and analysing the Zwift Academy, a yearly competition that each year recruits a male and a female rider to the WorldTour. "In the real world, the person with the highest numbers generally doesn't win," he tells me. "It's the one who uses the numbers in the most efficient manner."
If not big numbers, then what? ''We look at performance as a whole, as the demands of WorldTour racing are extremely different to the demands of Zwift racing. The capacities of some amateur Zwifters are excellent, even better than many WorldTour pros, but it doesn't mean they can make it past the first 50km of a real-world race."
'It's fatigue resistance that makes the difference'
Sports physiologist James Spragg, a PhD candidate at the University of Cape Town, is investigating fatigue in professional cyclists
Recent research by a team of physiologists including Spragg found that the power output among GC, domestiques and all-rounders was similar while they were fresh and not yet fatigued. However, the respective power traces of these three groups diverge in the latter stages of a race as fatigue sets in. GC riders get better and better, relative to domestiques and allrounders, as the race goes on.
Spragg explains: "Power numbers are your entry ticket to the top. If you don't have the numbers, you can't do anything. You could be the best tactician in the world, but if you can't follow the wheels on a given climb, then you can't compete.
"From ProTeam [formerly Pro Conti] level and above, everyone is good and the differences become smaller and smaller, meaning tactics tend to become more and more important, depending on the race. In a mountain-top finish, the tactics are relatively simple and you just need to put out big numbers but in a sprint finish or in a Belgian Classic, tactics play a huge role.
"Amateurs are typically limited by how much volume they can do around work commitments. It looks like training volume is a big driver of improved fatigue resistance. Similarly, between a good U23 pro and a good ProTeam rider, there isn't much difference in the fresh numbers – the big differences are in the fatigued numbers, i.e. what they can do at the end of a race, when it counts."
Exactly how Zwift Academy winners are selected is a closely guarded secret. While the Zwift racing algorithm revolves around watts per kilogram, the Academy uses a whole host of metrics including recovery rate, fatigue between efforts and pacing. Most activities in the Zwift Academy are 90 minutes or less, so Gallagher and his team have to drill down into the details and consider each rider's background and past results. "If it was as simple as choosing the rider with the highest watts per kilogram, we'd just get everyone to do a capacity effort and take the best, which is obviously not the case."
Scientific research supports Gallagher's claims, and shows that fatigue resistance is a crucial prerequisite in professional cycling. A recent study showed that power profiles after bouts of effort, up to 3,000kJ of total work, could be used to evaluate the readiness of U23 cyclists to move into the professional ranks, implying that 'fresh state' power numbers are not as relevant. Pro races have different demands compared to amateur races, and that is mirrored in the training we have to do. In many ways, what we pros do – clocking up crazy hours most weeks – might not be very relevant to your own aims as an amateur. If you're targeting one-hour criteriums, for instance, there is no need to build a humongous base.
In certain ways, amateur races can be harder than pro races, or at least less predictable. Matthew Ellis is a multidiscipline UK-based rider who has raced at Continental level on the road and for GB on the mud. He offers a unique insight into the difference in both physical and tactical ability between amateur and prolevel races. "Amateur races often require you to make the race, to attack and to force moves, whereas Conti races are much more controlled." Chasing an impossible number is futile. The idea that you just need to have the highest FTP to win is plain wrong – a bike race has never been won on FTP alone. Focusing on becoming a rounded rider and being able to cope with blows from all sides is just as important, if not more so, than having astronomical 20-minute power. This means having a complete power profile across the board, from peak to threshold power, but also being able to descend, hold your own and be in the correct position when it matters.
"The biggest difference between training for amateur races versus training for pro races is the volume," adds Ellis. "The longer race durations and often having to race several days in a row means that you have to be able to cope with the load. At all levels, it is important to rest properly – you can't expect to train like crazy and improve without taking rest to allow the adaptations to occur."
There's more to it than raw power
Imagine there are two riders in a breakaway. Rider A does long and powerful pulls to drive the breakaway. Rider B does shorter turns and saves energy. Come the finish line, Rider B easily sprints past a fatigued Rider A to take the win. While Rider A is the more powerful, Rider B is the better racer. Who is the better cyclist?
It is important to be powerful, and one could argue that it is easier to become tactically astute than raise the physiological ceiling. So which approach should you choose? I believe the answer lies in the middle. To improve as a cyclist, it is important to continue to develop physically, while also working on skills and race-craft.
A certain Mr Pidcock is making it ever more popular to mix disciplines – he proves it is a formula that works. As Ellis puts it: "Cyclo-cross helps you find the limits of your bike – how late you can dive-bomb into a corner!" Racing in a different discipline – for example, off-road – forces you to look at different physical aspects of your training, as well as teaching you to race in different ways. Cyclo-cross, road, mtb and track all require you to race in completely different manners, and you'll learn translatable lessons in each.
Remember, no one said it was meant to be easy – and failure is constructive if you learn from it. I've lost count of how many silly decisions I've made in races where I've been the strongest physically but far from the most sensible tactically, for example towing a pure sprinter to the final run-in for a head-to-head I'm guaranteed to lose. Try everything and race in different styles. Go for the Hail Mary one race and wait for the sprint in another; embrace the growing pains. Too often, across all levels of racing, race-craft is overlooked. It is rarely the physically strongest rider who wins.
Focusing on numbers in a road race rarely pays off. A rider has to judge their effort according to the race circumstances at each given moment. Adam Blythe is the quintessential example – the former national champion knew exactly how to make up for relatively modest raw power through race-craft and efficiency. He didn't always make friends, but he was always in the right place at the right time.
My training is driven by data because that's how it has to be in modern cycling. Almost everything I do has a metric to it, and I complete regular power testing, both fresh and fatigued, to track progress. I work in watts on a daily basis, but even if I'm going well, I remind myself that I'm not in a race with the power meter. The real racing happens only when you've got a number on your back. People like to brag about their big numbers, but don't be intimidated. Mark Cavendish was notoriously bad at power testing, yet he's one of the most successful cyclists ever.
Is there a definite, identifiable impossible number? It's difficult to say. The best performances in every sport are outliers. Athletes are outliers, their performances inherently exceptional, and as such doping cannot be proved on the basis of one-off data points. There are countless examples in history of something apparently impossible becoming commonplace 20 years later. It is not impossible for an amateur to match the numbers produced in a Tour de France stage, but a one-off performance in a controlled environment won't get you a chance to race for the maillot jaune – you'll need the whole package. So while it's impossible to say whether there's an impossible number, if your threshold is coming out at 7W/ kg or above, it's safe to say you should recalibrate your equipment and re-test. If it's legitimate, give me a call and I'll become your agent – we're going to Le Tour!
This feature was originally published in the 24 February 2022 print edition of Cycling Weekly magazine. Subscribe online and get the magazine delivered to your door every week.
Thank you for reading 20 articles this month* Join now for unlimited access
Enjoy your first month for just £1 / $1 / €1
*Read 5 free articles per month without a subscription
Join now for unlimited access
Try first month for just £1 / $1 / €1