What do professional cyclists eat?
Learn from the pros to fuel your cycling performance, manage your weight and improve your health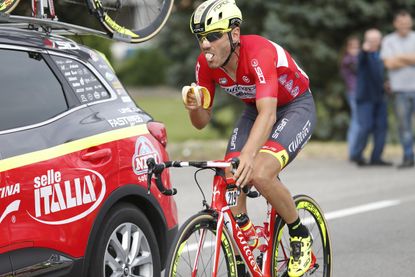 (Image credit: Yuzuru SUNADA)
Nutrition plays a huge role in cycling performance. It influences how much energy you have to perform on the bike and how you recover after your training.
Food is so important that pro cycling teams employ their own chefs and nutritionists to make sure that riders are getting exactly what they need for every meal and while they ride.
>>> How much weight do Tour de France riders lose?
Hannah Grant, author of The Grand Tour Cook Book (opens in new tab) and formerly chef to pro team Tinkoff-Saxo, explains, "When you burn off 4,000-6,000 calories in the course of a day, it is easy to indulge yourself by eating whatever you feel like.
"But professional cyclists must be professionals 24 hours a day. A body's performance capacity in the long run depends on whether its building blocks are made from McDonald's and Mars bars or vegetables, meat and superfoods."
Watch: How to fuel like Marcel Kittel
What to eat when
Before your ride
Breakfast kickstarts your day, and if you are cycling in the morning it provides fuel for your ride.
By the time morning comes it may have been 12 hours since your last meal, and overnight your body uses up fuel to repair your muscles and supply glucose to your brain. When it comes to weight loss, people who eat breakfast then go on to eat fewer calories during the day and are more likely to be a healthy weight.
The aim is to include slow-release carbohydrate, a protein source and at least one fruit or vegetable to increase your day's nutrient profile.
Even if you are in a rush there are plenty of quick breakfasts that can be eaten on the go, the simplest of which is a smoothie.
Three cycling breakfasts
Porridge made with milk or soya with fresh berries, banana and mixed seeds
Scrambled egg on whole-grain toast with grilled tomato
Smoothie made with banana, nut butter, milk and oats
>>> Five pre-ride breakfasts for cyclists
During your ride
If you are riding for more than an hour you will need to take on extra carbohydrate. The easiest way to do this is with sports drinks, bars and gels. However natural foods such as bananas and dried fruit are also high in carbohydrate.
Your aim is to take on 60g of carbohydrate for every hour of exercise. It is important to not eat more than you need, as your stomach will struggle to digest it whilst exercising and this will lead to nausea or stomach pain.
Three ways to eat 60g of carbs
1 x banana, 1 x 500ml energy drink, 1 x cereal bar
6 x dried dates, 1 x 500ml energy drink
6 x jelly babies, 2 x fig rolls
After your ride
When you finish riding your priority should be to replace the energy expended so that your stored muscle glycogen is re-stocked and providing adequate protein for muscle repair. Your meal needs to contain 20-40g of protein and around 60-80gram of carbohydrate.
It's a good idea to add lots of vegetables to your recovery meal, both to increase your carbohydrate intake and also to ensure you get a wide range of nutrients and sufficient fibre for gut health.
>>> Natural foods for top performance and recovery (video)
Three recovery meals
Baked potato with tuna and salad
Chicken breast, rice and vegetables
Smoothie with peanut butter, yoghurt, banana, chia seeds and fresh berries
Thank you for reading 5 articles this month* Join now for unlimited access
Enjoy your first month for just £1 / $1 / €1
*Read 5 free articles per month without a subscription
Join now for unlimited access
Try first month for just £1 / $1 / €1