Ask a cycling coach: 'What should I do if I miss a workout from my training plan?'
Here's why 'chase training' is something that should be avoided - and what to do instead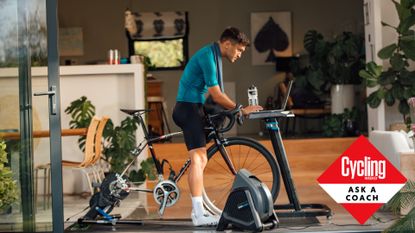 (Image credit: Future)
Get The Leadout Newsletter
The latest race content, interviews, features, reviews and expert buying guides, direct to your inbox!
Thank you for signing up to The Pick. You will receive a verification email shortly.
There was a problem. Please refresh the page and try again.
There are so many reasons as to why sometimes it's impossible to fit in the cycling workout you had all nicely laid out in your training plan. And if it's a training plan that you're following on Zwift - or another of the best indoor training platforms - it can be difficult to know how to best precede. Cycling coach James Spragg explains the next step you should take and why…
Sports scientist and coach James Spragg is one of the experts who will be answering your questions in Cycling Weekly's ASK A CYCLING COACH series which comes out every Wednesday. Working both in research and applied settings, he currently runs Intercept Performance Consultancy.
This is a great question as I feel it's one of the things that athletes really get wrong! Every once in a while, even the most dedicated athlete will miss a session in their cycling training plan - it happens, it's not the end of the world… that is so long as what you do next is along the right lines.
The common response
Most riders don't like missing training and will, understandably, want to find a way to get the missed training done. However, the way athletes go about this tends to cause a few problems.
Typically I see athletes do is what I call, 'chasing training', which is where they try and add in the missed training as quickly as possible - almost always they'll try to do this before the end of the week to keep their weekly total up. More often than not they will skip rest day or recovery ride to achieve this.
This is a terrible idea. First and foremost it's during the recovery period that the body adapts. Cut out the recovery and you aren't allowing your body any time to really get stronger.
Secondly, not only does this approach decrease the time to recover it also increases the stimulus as you are cramming more training into the same period of time.
So it's a double whammy and a recipe to ride yourself into what coaches call – non-functional overreaching. Training hard with no improvement in form.
What should you do?
Sometimes it's important to catch up on missed training and sometimes it's better to just forget about it and move on.
If the reason you missed the workout in the first place was due to an injury or fatigue then just move on. It's only one session, one session won't make or break your cycling goals this season. If you start chasing training you will only likely make yourself more tired/injured.
However, if there was another reason you missed the training session then it might be possible to catch up on that missed session. However, you should think long term and look to reschedule your training rather than just sticking in the session on top of what you had planned. Aim to catch it up over the course of the next two to three training cycle and NOT by the end of the week. After all, your body doesn't care if you do a session on a Sunday or a Tuesday. In this case, to fit in the missed training, you will probably need to reschedule quite a number of sessions to make sure you are just adding a missed session on top of what you already had planned. You then need to ask yourself the question – is it really worth rearranging everything to fit in this one session? If it's a recovery ride you missed then probably not, if it was a key session in this block then most certainly.
In summary
Yes, it's perfectly possible to catch up on missed training but don't just do it so that you don't have a red-flagged session on whichever training platform you use. Firstly, be honest with yourself as to why you missed the session. Then decide whether it's worth re-arranging two to three weeks of training to fit that session back in? If you decide that it is worth it then always reschedule and never chase training!
Do you ever find yourself with a burning question you'd like to directly ask a cycling coach? Well, now is your chance to ask away! In this series, we'll be putting your questions to expert coaches – send them in to Cycling Weekly's Fitness Features Editor at anna.abram@futurenet.com
Thank you for reading 20 articles this month* Join now for unlimited access
Enjoy your first month for just £1 / $1 / €1
*Read 5 free articles per month without a subscription
Join now for unlimited access
Try first month for just £1 / $1 / €1
Get The Leadout Newsletter
The latest race content, interviews, features, reviews and expert buying guides, direct to your inbox!
James Spragg is a sports scientist and coach, working both in research and applied settings. When not working with athletes James can be found skiing, climbing, cycling or drinking coffee!
Alongside Dan Lorang and Peter Leo, James runs Intercept Performance Consultancy. Over the last 8 years in various roles, as coaches, performance consultants, performance managers, and sports scientists, Dan, James and Peter have played a role in helping athletes achieve more than 10 World Championship titles, several Olympics medals (including a Gold and Silver Medal in Tokyo 2020) and several Top 5 results in some of the biggest sporting events on the planet (Tour de France, Olympics, World and European Championships). Our single focus is on improving performance in all settings.