Giant Defy road bike range explained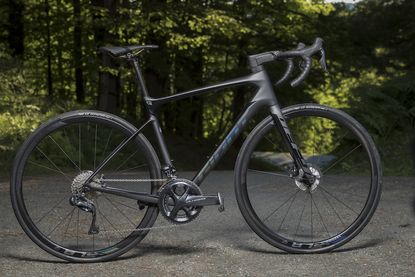 The Giant Defy range has always been created with endurance rides at front of mind, it's an all-day ride sort of bike that can cater for rough terrain and winter roads. However, it's certainly no slouch.
For 2019, the Defy received some major updates, focused on improving compliance and therefore comfort. The range is a two series affair with three bikes in each of the families:the Defy Advanced Pro and Defy Advanced.
The frame geometry has been adjusted, to optimise the bike forwider tyres, which can now be up to 32mm. This meant dropping the bottom bracket down by 5mm, when compared with outgoing models.
According to Nixon Huang, Giant's senior global road category manager, for the new Defy Advanced: "We focused on finding new ways to give it an even smoother, more refined ride quality to help minimize fatigue, but without compromising its efficiency and high-performance feel on the road."
Giantsays that its engineers tested ways to achieve this, and have adapted the brand's D-Fuse tech to the new Defy's bars.
>>> Giant Bikes 2018 road range: which model is right for you?
D-Fuse was introduced in 2014 as a design for the seatpost on Giant's TCXcyclocrossbikes. It uses a D-shaped cross-section, with a flattened rear surface, rather like that seen on the newSpecialized Tarmac. The Defy range incorporated this feature in 2015.
Giant's new D-Fuse bars come in a carbon Contact SLR and an alloy Contact SL version. Both have the D-shaped profile used in the seatpost. Giant says that its tests show a 10% increase in downward compliance along with a 30% increase in stiffness when pulled upwards, compared with a standard round-section bar. Giant says that this results in added comfort over rough terrain with the efficiency forhard climbingand sprints.
Giant has also redesigned the Defy Advanced Pro's stem, for betteraerodynamicsand a more streamlined look.
All the Defy models are disc braked, with thru-axles along with tubeless-ready wheels and tyres. On its top-end Defy Advanced Pro 0, Giant includes its new Power Pro dual sided crank-basedpower meter. It uses ANT+ to pair with Giant's NeosTrack head unit or otherGPSs.
Since it's likely riders will be battling the hills abroad a Defy, the models all come with 50/34 compact chainsets which should help keep the legs spinning on tougher climbs.
Read reviews:
Giant Defy's frame jargon explained
You can trust Cycling Weekly. Our team of experts put in hard miles testing cycling tech and will always share honest, unbiased advice to help you choose. Find out more about how we test.
Most bike manufacturers developing their own frames will give names to technologies they invent along the way, and Giant are no different. There are two such notable features that you'll find mentioned in the Giant Defy descriptions.
OverDrive Steerer
What it does:Makes the front end stiffer, improving handling
What it is: Across the Giant Defy range, you'll find their OverDrive steerer - which is set apart by the use of oversized headset bearings to provide 15% greater stiffness compared to a standard set up. The Advanced Pro and SL models use the OverDrive 2 which the brand claim is a further 30% stiffer.
Giant D-Fuse technology
What it does:helps dampen out road imperfections
What it is: All riders investing in a Defy will enjoy Giant D-Fuse technology at the seatpost and handlebars - which means the tubes are shaped to create a 'D' shape which dampens vibration to offer a smoother ride.
OverDrive steerer + D-Fuse = fun but comfortable ride
When we last tested theGiant Advanced Pro 2, the handling and agility stuck out to us as being particularly good (see: OverDrive). It was also noted that though the frame lent itself to endurance duties (see: D-Fuse), it was far from a complete armchair of ride.
All in, the Giant Defy is a healthy compromise between the two camps of 'race bike' and 'endurance bike'.
If you've decided that's what you're looking for,then we're here to help you differentiate between the seven standards in the range.
Giant Defy Advanced road bike
The Giant Defy Advanced range shares the same frame as those models higher up the ladder, in the Pro ranks. This means that ridersbuying the lower end bikes will enjoy a very similar overall experience to those splashing out, with the D-Fuse tech built into seatposts and handlebars across the range.
A notable differance is the use of the OverDrive steerer - the front end won't be quite as stiff as that of the Advanced Pro, with its OverDrive 2 steerer, but Giant is still confident it's an improvement upon standard set ups found elsewhere.
You can get the Giant Defy Advanced in three different builds. The models start at £1499 and increase to £1999. The key differences between them are in the groupsets - whilst Shimano Tiagra shifting will be perfectly adequate, Shimano Ultegra will be that little bit crisper and lighter - which is pretty much where the extra cash goes.
Here's what you get for your money at each level...
Giant Defy Advanced 3 2019 road bike - £1499
The Advanced 3 comes withShimano Tiagra shifting, and Giant's own Conduct Disc brakes as well as itsSR 2 Disc Wheel Set and 25mmGiant P-SL 1 tyres.
Giant Defy Advanced 2 2019 road bike - £1699
Available as pictured above, or with a bold orange paint job, the Advanced 2 swaps Tiagra for Shimano 105 across the majority of the groupset, with the same gear ratios. The wheels are one step up, withaGiant PR 2 Disc Set.
Giant Defy Advanced 1 2019 road bike - £1999
At this level, Shimano Ultegra appears, whilst the wheels and brakes remain at the same level.
Giant Defy Advanced Pro road bike
Moving into the Defy Advanced Pro range, all three models enjoy an OverDrive 2 full composite steerer. Across the range, you'll find Giant SLR 1 disc wheelsets, which are just that bit lighter than those speced on basic Advanced models. The tyres are tubeless readyGiant Gavia AC in 28mm and the bikes come with some tubeless sealant to keep you going - the idea of ditching clinchers means you'll be free from punctures.
All three models feature Giant's 'RideSense' - a new chainstay integrated wireless data transmitter that uses ANT+ to transmit wheel speed and cadence information to a cycling computer, saving you investing in a cadence sensor, and the top model comes with Giant's power meter built in.
Giant Defy Advanced Pro models start at £2799 and top out at £4499 - again the key differences between the three are in the groupsets, with the most expensive choice featuring electronic shifting.
Giant Defy Advanced Pro 2 2019 road bike - £2799
Kicking off the selection is the Giant Defy Pro 2, Shimano 105 shifting alongside matching hydraulic disc brakes featuring 140mm rotors. The wheels areGiant SLR 1 carbon rim disc wheels.
Giant Defy Advanced Pro 1 2018 road bike - £3199
The key change here is the use of Shimano Ultegra throughout. The wheels remain the same, but the handlebar at this price point and above is the SLR D-Fuse, with the key difference being the use of carbon over alloy.
Giant Defy Advanced Pro 0 2019 road bike - £4499
The biggest change represented by the price hike is the introduction of Shimano Ultegra Di2. Whilst all the frames are electronic shifting ready, at this level the bike comes with the system ready fitted. There's the Giant Power Pro Double Sided Power Meter, too, which hikes up the price but less so than buying an extra power meter after market.
Which model should you go for?
All of the Defy models will provide you with an enjoyable ride, if - albeit slightly more buzzy than most endurance bikes offer - comfortable ride quality is what you seek.
The more you favour a slightly more aggressive edge to your ride, the more likely it is you'll be happier moving up the models. The Advanced Pro's OverDrive 2 steerer will provide that little extra kick when you want to smash it out of a corner or red the red line on a descent.
For commutes, club runs and sportive duties, the basic Defy Advanced will probably tick your boxes - buy it might be worth upping the spend ifbeating your mates to the town signis the difference between a good weekend and a bad one.
Thank you for reading 20 articles this month* Join now for unlimited access
Enjoy your first month for just £1 / $1 / €1
*Read 5 free articles per month without a subscription
Join now for unlimited access
Try first month for just £1 / $1 / €1