10 million bicycle inner tubes end up in US landfills each year — Schwalbe aims to recycle these instead
Old tubes become new again with Schwalbe's Cradle-to-Cradle recycling program, launching June 1st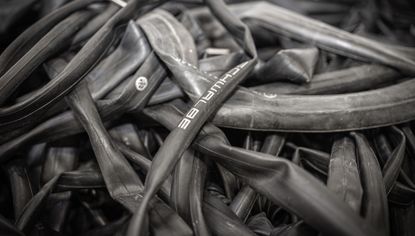 (Image credit: Schwalbe)
Schwalbe is giving old tubes a new life with its "Cradle-to-Cradle" bicycle inner tube recycling program — the first of its kind in the United States.
The Cradle-to-Cradle design philosophy is a sustainable approach to product design that aims to conserve resources and create a closed-loop system in which waste is eliminated because materials are reused, potentially indefinitely.
For Schwalbe, this means collecting used, old tubes and turning them into new, high-quality tubes. According to the German tire manufacturer, this process decreases energy consumption by over 80 percent, including transport, compared to utilizing the same amount of new material.
"The impact of discarded bicycle tubes on the environment is significant. Millions of tubes end up in landfills every year, where they can take hundreds of years to decompose. The production of new tubes also contributes to greenhouse gas emissions and consumes non-renewable resources," Schwalbe states.
Schwalbe's recycling program has been running in Europe for eight years already with great success. Schwalbe claims that they've recycled some 9 million tubes to date and that every Schwalbe standard bicycle tube already consists of 20 percent recycled content.
"It's estimated that nearly 10 million used inner tubes are discarded into landfills each year in the U.S.," states Sean Cochran, Schwalbe's North American Marketing Manager. "Rather than seeing old tubes as trash, we see them in as a valuable resource to produce new, high-quality tubes."
The recycling process starts by collecting used bicycle tubes from any brand or manufacturer from participating bike shops. Once 45 pounds of tubes are collected, Schwalbe will pay for the shipment to its collection centers and from there, the tubes go to the recycling plant in Indonesia.
Schwalbe's production partner, Hung A, has developed its own, proprietary, devulcanization process to recover butyl rubber from the used tubes and recycle the remaining materials. These materials are then used to create a range of new high-quality bicycle tubes.
"We understand that the success of our program depends on the cooperation of bike shops and enthusiasts. That is why we work closely with bike shops to collect as many used tubes as possible. We also encourage individuals to bring their used tubes to participating bike shops for recycling," Schwalbe states.
Starting June 1st, 2023, Schwalbe will begin a pilot program accepting used tubes from select dealers throughout the United States.
---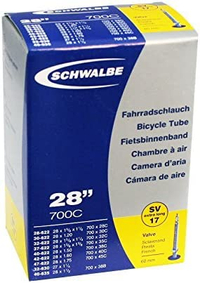 Schwalbe presta 700 x 28 tubes are currently on sale via the brand's Amazon store.
Was: $9.98, now: $7.10. That's 29% off!
Thank you for reading 20 articles this month* Join now for unlimited access
Enjoy your first month for just £1 / $1 / €1
*Read 5 free articles per month without a subscription
Join now for unlimited access
Try first month for just £1 / $1 / €1