25mph for 349 miles: coast to coast record smashed in blistering ride
Lee Williams sets new Pembroke-Great Yarmouth mark that could stand for some time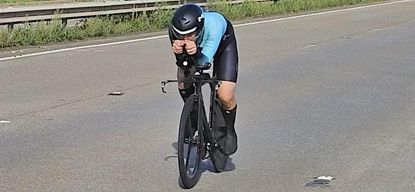 (Image credit: Christian Geldard)
The 349-mile (561km) 'Side to Side' record fell on Tuesday (3 October) after Lee Williams set a blistering new provisional best time of 14hr 00min 40sec for the Pembroke to Great Yarmouth ride.
It was a 1hr 39min beating of Nick Clarke's 2018 record for the Road Records Association (RRA) ride, which saw Williams average a shade under 25mph – considerably quicker than his own schedule, which saw him aiming to reach Great Yarmouth in "14 hours something", and achingly close to a sub-14-hour ride.
"With 75 miles to go I was thinking of that," said Williams, "so that was my new target, I wanted to get sub-14. I just couldn't do it in the end."
Williams, 38, had ridden a 50-mile time trial on Saturday and set a new 90-minute power PB, thinking the weather wouldn't be good enough for an attempt.
But fellow ultra-cyclist Christina Murray pointed out that Tuesday looked ideal, he said. After a flurry of phone calls he had amassed his support crew plus RRA timekeeper Doug Gale. All that remained to be seen was whether his legs would work properly after his efforts in the '50'.
"I'd definitely had a workout, and the attempt was quite soon after," says Williams. "Even on the day I wasn't sure if my legs were going to turn out. But my coach assured me it was going to be OK."
Williams, who is coached by Billy Oliver at FTP racing, had prepared for the attempt on a diet of 8-10 hours' riding a week – surprisingly little, perhaps, for such a long ride. But he also rode three 12-hour time trials, plus a '24' which he had to abandon due to illness.
He began the attempt at 0600, setting off in the dark without fanfare from the war memorial in the centre of Pembroke. He was riding the same Trek Speed Concept he used to break the Pembroke-London record last September, equipped with 56t single ring up front matched with 11-28 at the back.
He went through the first 100 miles in 4hr 07min and, having navigated the Brecon Beacons, cleared the Welsh border in five hours, nearly 25 minutes up on schedule.
On a constant diet of gels and drinks mixed in with some solid food, Williams maintained near-perfect pacing to reach Milton Keynes in just under nine hours, and smashed through the 250-mile mark in 10hr 08min.
He had also signed up for a tilt at Glenn Longland's 26-year-old RRA 12-hour record along the way, which stood at 309.5 miles, though with only 1hr 50 remaining to cover 59+ miles, Williams was a few short of the mark.
Across Cambridgeshire and into Norfolk the sky grew dark once again, but Williams was benefiting from a helpful westerly October wind – "The wind doesn't seem to blow this way till this time of year," he says.
A long, straight blat across the dark fens delivered Williams to the bright lights of Great Yarmouth sea front, where he stopped the clock at Britannia Pier at just after 8pm.
With everything having fallen into place on Williams's attempt, his mark could be one that stands for some ride.
Thank you for reading 20 articles this month* Join now for unlimited access
Enjoy your first month for just £1 / $1 / €1
*Read 5 free articles per month without a subscription
Join now for unlimited access
Try first month for just £1 / $1 / €1