A love letter to my Le Col long sleeve jersey
Pulling it on is like being hugged by a polar bear, I imagine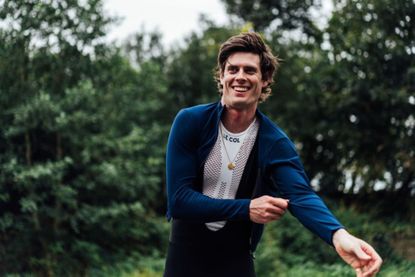 (Image credit: Le Col)
This article is part of a series called 'A love letter to…', where Cycling Weekly writers pour praise on their favourite cycling items and share the personal connection they have with them.
The below content is unfiltered, authentic and has not been paid for.
All of Hollywood's good love stories seem to share a few things in common.
Endless summers filled with hope and promise as the love struck couple enjoy long, hazy evenings in one another's company. Long walks along the beach hand in hand, sharing ice creams, splashing and swimming in azure blue water as time seems obsolete. At least that's how Don Henley went about portraying those same youthful love affairs.
Although let's get real, not all love affairs are scattered in ethereal rose petals. Mine certainly wasn't anyway.
Instead mine was scattered with road spray and soundtracked by the noise of various forms of motor vehicles tearing past. The location wasn't quite as sexy as a beach in California, either.
My dalliance first began on a rain lashed petrol station forecourt somewhere in the middle of the Cotswolds. Glamorous, I know.
I'd just finished my own personal UK equivalent of Girona's Hincapie loop on the border of deepest, darkest Gloucestershire, and was stopping off to buy a Twix before I rode home.
I should have been cold, my shoulders should have been aching after spending two hours in the wind and rain. But strangely those sensations I'd grown accustomed to evaded me
Instead, I stood there filled with warmth and contentment like a Cheshire cat sat by a wood burning stove, pint in hand in a remote country pub.
The reason being, I soon realised, was that I was wearing my shiny new Le Col Pro Aqua Zero long sleeve jersey that had arrived the day before. I was in heaven, a long sleeve jersey that is genuinely warm and waterproof and does exactly what the brand says it will. Who would have thought it, eh?
Before that fateful day I'd been through many winter cycling jerseys and base layer combos across the years in the hope of finding something I can rely on in wet, cold and generally crappy British winter weather. The list really is endless.
In fact it often seemed like 'the one' would remain completely out of reach. That's until Le Col built this beauty and oh how I'm grateful for the day it stumbled into my life.
As times moved on we've been through a lot together. We've taken on long, flat days in sleet and rain, we've taken on some of the nastiest climbs in the area in biting temperatures. All the while you've always been there, you've always had my back (literally), always fought my corner even when it felt like the odds were stacked against me.
I've never hugged a polar bear - nor do I want to - but on the darkest days of winter I can only imagine that the warmth you provide is a half decent equivalent.
In fact this jersey is so warm and cosy that during Storm Ciarán our five-month-old kittens regularly snuck upstairs and pulled it out of my kit drawer to use as a blanket on the sofa. Looks like I'll be battling them all winter if I want to pull it on before I step out into the rain and get amongst it on a weekend ride.
Thank you for reading 20 articles this month* Join now for unlimited access
Enjoy your first month for just £1 / $1 / €1
*Read 5 free articles per month without a subscription
Join now for unlimited access
Try first month for just £1 / $1 / €1