A year of getting Britain cycling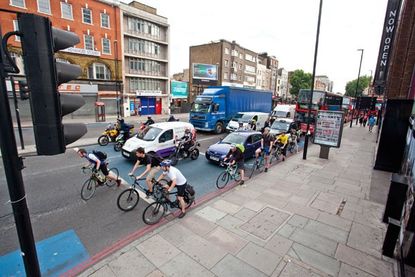 Get The Leadout Newsletter
The latest race content, interviews, features, reviews and expert buying guides, direct to your inbox!
Thank you for signing up to The Pick. You will receive a verification email shortly.
There was a problem. Please refresh the page and try again.
In many ways it's been a great year for utility cycling in the UK - it started with a Parliamentary enquiry and report on getting Britain cycling, and via UK and London funding pledges we got some ambitious cycling plans for cities across the UK, though London is still head and shoulders in front.
We had real debate on the place of lorries on our roads and some heated debate on the spread of sportives, although safety remains a major barrier to many who don't yet cycle. Cycling Weekly looks back on 2013, the highs and lows.
In January cycling went to Parliament. The six All Party Parliamentary evidence sessions into February saw expert witnesses from the Highways Agency - who admitted engineers don't "get" cycle provision - to the police - who admitted 20mph speed limits were not being enforced. Political will, we learned, is key.
In March Mayor of London Boris Johnson announced his highly ambitious £913 million cycling plan, with radical plans for an East-West "cycle crossrail" and a promise to broaden cycling's appeal to those not into Lycra. London also got its first cycling commissioner, Andrew Gilligan.
In July we joined 2,500 people on the London Cycling Campaign's Space for Cycling protest following two cyclist deaths in just over two weeks calling for action on London's roads, many of which present a hostile environment for anyone using them, be it in a car, on foot or on a bike.
In August the big news was the government's £94 million for cycling in eight English cities and four national parks, matched by local councils to total £148 million. This was still a drop in the ocean in real terms, however, and those outside the chosen areas received no extra funding.
We cycled Cycle Superhighway 2 before the results of a coroner's inquiry dubbed the route "an accident waiting to happen". Meanwhile TfL announced policing of motorists and cyclists at traffic lights, something CW welcomed as a step forward in road safety.
September saw lorry standards improvements promised, something some took personally. Cycling by now was firmly on the political agenda with both Labour and the Lib Dems pledging commitments to get Britain cycling.
In October Wales at least seemed to be taking concrete action on cycling, announcing a new network of cycle routes as part of its landmark cycling and walking bill. Meanwhile across the Severn, Bristol showed us it's leading the way in cycling too, thanks to its forward-thinking mayor, George Ferguson.
Although some of us were embracing the bike there were a few grumbles in the New Forest and Surrey about cyclists using what some see as their roads. We called for some goodwill, something we later got in human form.
On lorry safety - as one cycle detection system being trialled in York caused alarm, another in Ealing seemed quite promising.
Britain got a new cycling minister, Robert Goodwill, whose appointment has met with approval so far - he even said he'd think about appointing a national cycling champion. Thanks to British Cycling, meanwhile, the Highways Agency finally agreed to include cyclists in their road designs.
In London this was already happening with the opening of a new segregated section of CS2. Hailed as "the start of something really good" by the London Cycling Campaign, the route from Stratford to Bow will be the first of many higher quality and segregated routes across London. The announcement came the same day as we heard the awful bit of CS2 will be segregated. Tragically this was also the start of a spate of cyclist deaths in the capital, a death on CS2 itself.
November was a dark month for London cycling. Six fatalities in thirteen days triggered tens of thousands of people to sign petitions calling for action, with thousands of impassioned words penned on cycle safety, culminating in a "die-in" protest outside Transport for London's headquarters.
Meanwhile police started cracking down on law breakers on London's road, ramping up to a thousands of bobbies on the streets, which continued into December and highlighted the sheer volume of dangerous lorries on our streets. We went to see what they were telling cyclists.
At a Parliamentary transport inquiry triggered by the deaths, Robert Goodwill pledged to close dangerous lorry loopholes to help improve cyclist safety.
December heralded the announcement of the Central London Grid, a 60 mile network of continuous cycle routes along quiet streets and, on busier roads, segregated, hoping to entice new cyclists. The proposals were welcomed, though there are still glitches to iron out. The Grid is in draft form; you can comment via individual boroughs or via TfL at grid@tfl.gov.uk by February 14th 2014.
That's 2013 in a nutshell, may 2014 bring us more real progress nationwide to get more people on bikes and make Britain a healthier, happier, greener and more pleasant nation for everyone.
Thank you for reading 20 articles this month* Join now for unlimited access
Enjoy your first month for just £1 / $1 / €1
*Read 5 free articles per month without a subscription
Join now for unlimited access
Try first month for just £1 / $1 / €1
Get The Leadout Newsletter
The latest race content, interviews, features, reviews and expert buying guides, direct to your inbox!