Am I too fat to be a cyclist?
The pressure to be thin and look good on a bike makes me want to cycle less, not more, actually. It's an issue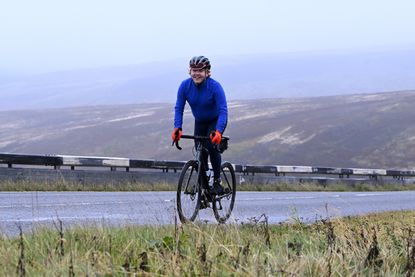 (Image credit: Future/Andy Jones)
At the end of last month, I had the privilege of going on a bike ride around the Peak District for an upcoming feature in Cycling Weekly. It was a tough day out, with 1,700-ish metres of climbing in about 90km, but one that I managed ably, despite the miserable autumnal conditions.
My job is very weird, admittedly, because as well as cycling the route so I can write about it, I was also photographed for the magazine. That was my day, cycling on my own through the grim weather and beautiful scenery, and being photographed often on the way.
However, while the ride and shoot was fun, and it should make for an entertaining feature, when I got home and saw the photos of me riding in the Peak District, my heart sank. I feel fat, horrible, not worth looking at.
I am not a model, not by a long shot, but I have no objection to being photographed for the magazine; I am an ordinary cyclist, the kind we speak to and for at Cycling Weekly, so the sort that should be represented in its pages.
We've discussed how cycling has a body image problem before, but it is coming home to me at the moment, and has made me realise how big a problem this must be for many cyclists. There is a pressure to be thin. Thin is thought to equate fit, fast, and good.
It is a sport where disordered eating can lurk just round the corner because of the obsession with weight. This should not be an issue for anyone on two wheels, and for ordinary people riding their bikes, appearance should not be a concern, it should just be about having fun.
In my mind, I look at photos of myself on a bike and I think I look fat. I see the clear bulge I have around my stomach and feel that I look disgusting.
Rather than encouraging me to get out on my bike more, and perhaps feel more comfortable in my body, the idea of how I look on the bike makes me want to go out less. It gives me pause for thought, it dictates what clothing I choose, and it scares me to think of what other people say when they see me, whether in public, on social media, or in print.
This is not an issue unique to me. At the weekend, the ultra-distance rider Chris Hall posted about people making critical comments about his weight on social media, something which shows how it is a wider problem. While the person who left the mean comment later apologised, the fact that he felt emboldened to comment on someone's appearance and weight out of the blue shows the distance we have to travel to make cycling inclusive.
On a personal level, it terrifies me to think what people are thinking of me when I pull on lycra, if they can say something about Chris Hall, an ultra-cyclist who has raced Grinduro and Badlands, and completed seven Everests in seven days, or a crit winner in the US, as we saw the other week. It feels like it's everywhere. Cycling needs to be more welcoming of all people, of all sizes.
Some brands are doing this well. Retail giant Wiggle's clothing brand dhb is using models of differing shapes, sizes and ethnicities. It's easier to feel like a cyclist when you see people that look like you clipping in and riding out. Marley Bronsky's All Bodies on Bikes movement is pushing inclusion more than ever before.
The irony is I'm not overweight by any reasonable definition. I'm not skeletal like some pros, but maybe I'm not as slim as I would like to be. I could probably eat healthier and drink less, but I'm hardly a paragon of bad health. And yet, I feel it when I look at these photos.
Obviously, I don't have to put myself in the public domain if I don't want to, but I like the idea that I'm showing that you don't have to be ultra-skinny to enjoy cycling, or be OK at it either. I haven't gone out of my way to look for criticism of how I look, but there probably is some out there, given I've appeared in skin-tight clothing in print and online. I can't imagine how much worse this pressure is and the comments are if you are not a man, or if you are a bigger person.
Cycling is such a great activity, one that so many of us are evangelical about, that we should not provide any barrier to taking part, whether that's through things like body image, or equipment, or how to wear your kit properly. We should be encouraging people to take up the sport for health, and not knock people down when they do.
It shouldn't matter what you look like when you ride your bike, nor should you worry what other people - particularly other cyclists - think when you're on two wheels. All that should matter is that you're on your bike and enjoying it, having fun. I wish that I could make my brain think that way.
I'm not too fat to be a cyclist, no one is, that's the truth. Now let's keep working to make sure everyone feels that way.
Thank you for reading 20 articles this month* Join now for unlimited access
Enjoy your first month for just £1 / $1 / €1
*Read 5 free articles per month without a subscription
Join now for unlimited access
Try first month for just £1 / $1 / €1