The great sock debate: do socks go over or under leg warmers?
Opinion is divided among cyclists as to whether to wear your socks over or under your leg warmers. Here's what our staff thinks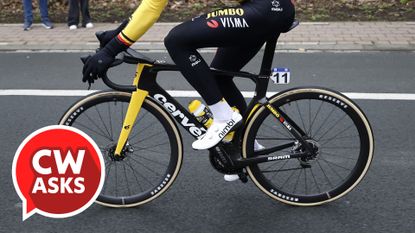 (Image credit: Getty Images)
"CW asks" is a feature series where our seasoned staff answers a range of questions. The series isn't just about delivering knowledge; it's a chance for us to share a bit of our personality and our passion with you. As we dive into some questions, please feel free to send in some questions of your own to anne.rook@futurenet.com.
Previous Questions:
---
Question 8: Socks go over legwarmers, yes or no?
Disclaimer: We tackle this question in jest. It's silly and we do not condone the snobbery that's made it such a debated topic. At Cycling Weekly, it's our unwavering belief that cycling is an activity and sport to be enjoyed by everyone, no matter what you wear or how you wear it.
Vern Pitt, News and Features Editor
I know Simon Richardson, our magazine editor, has some strong opinions on this and he's wrong. Like many things in life this is not the binary choice it appears to be (no, I don't mean one leg should be different form the other, I'm not crazy).
In summary: socks should be worn under leg warmers, but over tights. Why? Because leg warmers you may well want to take off once the autumnal sunshine has burnt the misty morning away, while if you're taking off your tights mid-ride something altogether more disastrous has happened.
Let's face it, wearing socks over your tights is what the cool young kids do and so if you want to be trendy - and tragically for a man in his 40s, I kinda do - then you gotta do it. There's also a legitimate reason to want bright clothing (especially hi-vis), like socks on the bottom of your legs as studies have found the movement and the colour helps to attract the attention of drivers and maybe keep you a bit safe. Black tight (tights should always be black) don't have the same benefit. But if I'm honest, I think that's secondary to being one of the cool kids.
Hannah Bussey, Technical Writer
It's such a controversial subject, and one that I'm going to get in trouble for saying it's a no from me: socks go under.
Rebecca Cholton is a strong advocate for socks over, but I just can't deal with the sight or feel of a leg warmer against my ankle, especially if it has a zip closure or a silicone hem.
When overshoes come into play, then they go over, although arguably it would make sense to go under and have any water run off, rather than down your leg warmer.
I know the argument for going over is a strong one, but I'll have to plough my own furrow on this one.
Anna Abram, Fitness Features Editor
I've actually changed my mind on this one! Up until a few years ago, I would always wear my socks over my leg warmers - why let the winter get in the way of expressing yourself through your extremities??
But I've now given way to boring practicalities. The first step was questioning my application of overshoes. They don't reach as high as my socks - and so those always peaked out over the top. So far, so fun. But when you splash through larger puddles, those sock tops get wet and, through a combination of gravity and capillary action, eventually so too do your feet - somewhat defeating the point of the overshoes.
So I started pulling my leg warmers on over my socks when wearing overshoes. But once I'd given away that ground, my principles started to crumble. Why not keep the leg warmers over my socks even when I'm not using overshoes? It would keep my socks cleaner and the leg warmers do a much better job at shrugging off splashes…
And so I succumbed. Now my socks stay (largely) tucked out of sight through the grimmest months of the year!
Joe Baker, Tech Writer
Believe it or not, I used to sit firmly in the camp of socks over leg warmers - but no more! Now, I find socks over leg warmers a little too much of a statement, especially if we are talking white socks.
Long-sleeved stylistic perfection is comprised of a leg warmer that sits just above the ankle bone, allowing for a small amount of sock on show. Putting the style to one side, socks under leg warmers is also a more comfortable way to go. A sock is almost certainly more comfortable than the lycra hem of your leg warmers too.
Tom Davidson
For me, this one really depends on what socks I'm wearing. I have pairs of old white (now grey) socks with chainring stamps that I'll definitely put under leg warmers. If I've got jazzier socks on, though, I'll want to show them off.
Generally, I go socks over, I think. But I don't just limit that to on the bike. In winter, I'll often tuck my jeans into my socks, both to keep the warmth in, and because I genuinely think it looks quite cool. Let that fact guide you on whether you should take my fashion advice on this one.
---
Got questions -- silly or serious-- you'd like for us to tackle? Please send your questions to anne.rook@futurenet.com.
Thank you for reading 20 articles this month* Join now for unlimited access
Enjoy your first month for just £1 / $1 / €1
*Read 5 free articles per month without a subscription
Join now for unlimited access
Try first month for just £1 / $1 / €1