Ride indoors or brave the elements outdoors: how will you tackle the winter season?
Zwift racing, snowy adventures, soggy rides, running and gym time — our staff's approach to winter runs the gamut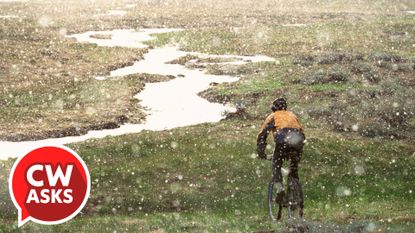 (Image credit: Getty Images)
"CW asks" is a feature series where our seasoned staff answers a range of questions. The series isn't just about delivering knowledge; it's a chance for us to share a bit of our personality and our passion with you. As we dive into some questions, please feel free to send in some questions of your own to anne.rook@futurenet.com.
Previous Questions:
---
Question 7: Ride indoors or brave the elements outdoors: how will you tackle the winter season?
Michelle Arthurs-Brennan, Digital Editor
I'd love to say I get out in the driving rain and high winds, but the reality is that I don't anymore, mostly because I just don't need to. There was a time, when I was racing, that it made sense to embrace the weather - afterall, how can you perform in the wet on race day, if you hide indoors the moment the sky clouds over? I also owe some of my fondest 'type two fun' memories to rides in horrendous weather: the Sa Calobra (Mallorca) ride where we all resisted the urge to just get in the van, the Valley of the Tears (Girona) ride which was made bearable only by a newspaper-down-the-jersey barrier, one of my first-ever road races, where I cinched a top-10 finish mostly by merit of being one of a small number of riders still on the bike.
However, now, I'm not racing, and Zwift is awfully entertaining. So, I'll leave the hideous weather rides to the young guns, who are still building up their type two fun memory banks. To be honest, the working mum juggle is type two enough for me, I'd rather keep my riding just pure fun.
Anne-Marije Rook, North American Editor
Having lived in the Pacific NorthWET for the past 14 years, I am no stranger to riding in the rain. When I was racing, every weekend day was spent in the pouring rain for six or seven hours on end, or getting muddy on the cyclocross course. With some full-length fenders, a Gore Shakedry jacket and -most importantly- good company, it was just how we weathered the winter season. But I haven't raced in years and I no longer have to spend my weekends being somewhat miserable. I also don't miss the constant cleaning and bike maintenance.
I now get to choose my time spent in the mud, snow or rain. I do love playing in the snow on bikes, and I will opt for a wet adventure over a trainer ride any day. But I won't be spending my all precious free time in the wet weekend after weekend, either.
I'm currently recovering from a pretty serious bike-car collision and so this winter I'll be doing a fair bit of physical therapy, strength training and conditioning in the gym. I'll also be spending most of my weekday riding on a Wattbike, just to get my fitness back. I've never found much joy in indoor riding so rather than Zwifting, I do some quick and efficient intervals on Wahoo Systm. My limit for riding on a trainer sits around an hour or so, which means I'll still venture outside on the weekends to get some mileage in, and hope to make the most of any remotely dry day that comes our way.
Sam Gupta, Video Manager
When the clocks go back an hour here in the UK, it marks the start of my winter training regime for the next 6 months. I pack my gym bag and head to my local big gym franchise.
As you can imagine, bikes are pretty much all I hear, see and talk about for the majority of my waking hours, and while I do love that, I also need a break. So, on arrival at the gym, I'll fire up the Stairmaster or treadmill for some cardio or head over to the floor exercise area and focus on my strength and conditioning. S+C is too often overlooked by cyclists in unlocking performance gains, and dark evenings paired with grim weather creates the perfect environment to build that base up again.
This isn't to say I don't venture out on the bike at all, I'll just wait for those crisp, sunny winter days so I can fully enjoy my time on the bike. One thing you won't catch me doing is indoor training, I hate it and I'll never do it out of choice.
Stefan Abram, Tech Features Editor
I go through phases on this one. Going back quite a few years, I'd spend the winter season riding around (very) muddy woodland trails on a fully-rigid mountain bike. Great fun, although it cost quite a bit in both time and braking/drivetrain parts!
I then got into Zwift racing, which really transformed indoor riding for me. With the suspense and tension of direct competition, I found it so much easier to put in really deep efforts and sustain them - at least compared to tapping out a similarly intense interval session inside and on my own!
But although that was great fun in the moment, the combination of working at a desk indoors and then training indoors at a desk meant that I wasn't getting much daylight during the week - which didn't end up feeling great over time.
So now I've come back around and am now doing all of my training outdoors again! Although this time with a twist: I've swapped in two sessions a week running. The advice on including weight bearing exercise in your training mix is pretty clear, so I'm paying heed to that.
Also, for those times when you end up somewhere without a bike for whatever reason, it's nice having that running base and being able to ramp that up and keep the cardio volume more consistent. If you haven't already prepared that base, trying to run when you don't have a bike is a fast-track to picking up an injury!
Adam Becket, Senior News and Features Writer
I tried the turbo trainer lifestyle last year, and while I recognise its many merits, from the accurate training thanks to the in-built power meter, to the fact you aren't suffering outside, it just wasn't for me. Part of that is because I live in a shared house, and I don't want to test my housemate's patience too much. Not only is a turbo trainer loud, but it means a very sweaty person - i.e. me - is doing his workout in a living space, requiring the windows open to provide a bit of a breeze.
This is one of my biggest problems with indoor riding: the sweat of it all. While fans and towels can provide some help with that, it still isn't enough, and it's yet another level of expense in the way of riding. I just like the wind in my face, and I'm ready to go out in some mixed conditions in order to achieve that.
Also, as entertaining as the likes of Zwift are, it doesn't feel real. Watopia feels weird, and while I am obviously working out, it doesn't give me the same sense of satisfaction or accomplishment as riding outside. One of the main reasons I enjoy cycling is to help me empty my mind, and completely distract myself, and riding indoors does not provide the same outlet as going outdoors.
Plus, it's never too bad outside. Sure, there might be rainy or extra cold days where you don't fancy it, but then there will be a clear day when you can get out, and you have to make the most of them, with the appropriate clothing, of course. I'm about to have mudguards/fenders put on my bike in order to have a better time on the road this winter, and not have to go back to the dreaded turbo.
Tom Thewlis, News and Features Writer
I have never been someone that particularly enjoys riding indoors but on particularly bad days I might stay in and just use my rollers for a while. I don't own a turbo trainer and have never really been keen on investing in one.

I think for me you can't beat getting out the road, rain or shine, and getting amongst it. So many brands make some fantastic kit nowadays that is pretty much guaranteed to keep you warm and dry and is 100% worth investing in.

There's something particularly rewarding and invigorating about getting out and completing 100km in the deepest, darkest depths of winter and then drying off and warming up in a cafe somewhere.
Thank you for reading 20 articles this month* Join now for unlimited access
Enjoy your first month for just £1 / $1 / €1
*Read 5 free articles per month without a subscription
Join now for unlimited access
Try first month for just £1 / $1 / €1