Who is the greatest cyclist of all time?
Eddy Merckx, Marianne Vos, Major Taylor, Beryl Burton, Tadej Pogačar, or? Our editors weigh in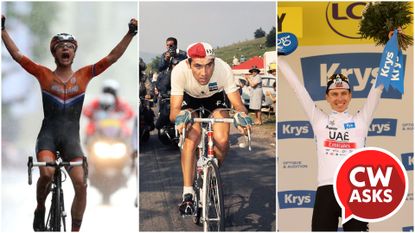 (Image credit: Getty Images)
"CW asks" is a feature series where our seasoned staff answers a range of questions. The series isn't just about delivering knowledge; it's a chance for us to share a bit of our personality and our passion with you. As we dive into some questions, please feel free to send in some questions of your own to anne.rook@futurenet.com.
Previous Questions:
---
Question 6: Who, in your opinion, is the greatest cyclist of all time?
Vern Pitt, News and Features Editor
It always strikes me as stark how our sport, unlike many others, has such a rock solid consensus on this question but the breadth and variety of achievements of Eddy Merckx are tough to argue against -- as much as my inner contrarian wants to do so.
The only person I think comes close is Marianne Vos, but she's not retired yet so it's difficult to assess.
Hannah Bussey, Technical Writer
I'm really struggling to narrow it down, as great can take on many definitions in cycling.
Clearly no topic of greatest cyclists could miss the names of Kitty Knox or Marshall Walter "Major" Taylor. Both rode and competed in the similar era of the late 1800's/ early 1900s, and both of whom faced open discrimination. It's hard to imagine having to confront and overcome such unjust barriers in order to access cycling. We can often forget this when considering 'great cyclists' when only considering a white male narrative.
My first inspiration came from the great Alfonsina Strada. Her story stuck with me when I was first starting to take riding seriously. I was often the only female training and racing with my team. When I was told about Alfosina Strada racing the men at the Giro d'italia and Tour of Lombardy back in the 1920's I was so inspired. It's probably what made me want to carry on with my dream of becoming a professional rider, despite often finishing towards the back of male-dominated races. I never made it as a fulltime pro, but I've travelled the world in trying to do so and get to work in cycling because of it, which is a pretty close second.
My GOAT, however, is Marianne Vos. She's been an Olympic champion on the road and track, as well as world and national champion in multiple cycling disciplines. Vos has won races not just due to her incredible strength, but because she's a master of the cycling craft, both skillfully and tactically. She also really, really wants to win. On the start line she never doubts her ability or questions her right to be there. Vos is her own biggest cheerleader, and we need more of that self-confidence for women in sport.
Anna Abram, Fitness Features Editor
For me, it's got to be Marianne Vos. Her dominance across multiple disciplines in the last two decades has been truly incredible. Two Olympic gold medals in road and track racing, three times World Road Race Champion and eight times World Cyclo-Cross champion — she's more than certainly got the palmares to secure her place in the pantheon of all-time greats.

But more than that, I love the way that she races. So explosive, so animating — and even in the times when she pulls out an unassailable lead and has the race all but tied up, you're still right there with her, willing her on!

For me, the race that sticks in my mind beyond any other is the 2012 London Olympic Road Race, fought out in the pouring rain and finishing on The Mall. Although I was cheering for Lizzie Armistead (now Lizzie Deignan) of Great Britain, who was ultimately beaten into second, Vos' victory was as classy as ever.
Joe Baker, Tech Writer
Tadej Pogačar. This is undoubtedly my young age showing through here, but for me, there is nobody with a better attitude to racing than the Slovenian superstar.
Every time he lines up, no matter what race, he wants to win — and a worryingly high proportion of the time he does. Gracious in defeat and respectful in success, he is an inhuman blend of strength, endurance, and mental resilience. And best of all he does it with a smile on his face.
Thank you for reading 20 articles this month* Join now for unlimited access
Enjoy your first month for just £1 / $1 / €1
*Read 5 free articles per month without a subscription
Join now for unlimited access
Try first month for just £1 / $1 / €1