Ride of a lifetime: If you had just one ride left in you where would it be and with whom?
Our editors have the privilege of riding bikes around the globe, if pressed, where would they return?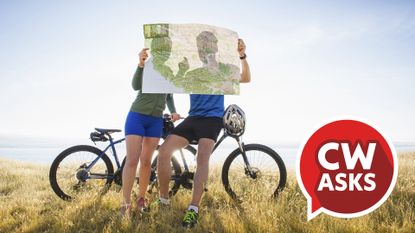 (Image credit: Getty Images)
"CW asks" is a feature series where our seasoned staff answers a range of questions. The series isn't just about delivering knowledge; it's a chance for us to share a bit of our personality and our passion with you. As we dive into some questions, please feel free to send in some questions of your own to anne.rook@futurenet.com.
Previous questions:
---
Question 5: If you had just one ride left in you (for some non-morbid reason), where would it be and with whom?
One of the perks of our job as cycling journalists is that we get to travel all over the globe, often with a chance to go on some truly extraordinary bike rides. When given the cyclist's version of "Your Last Meal" — what would be your last ride, where would you go? Would you revisit a memorable route of the past or explore some place new? Would you hop on a plane or roll from your house? And who would join you on this endeavour?
Our editors' reactions below:
Michelle Arthurs-Brennan, Digital Editor
I began searching for an answer to this question by ransacking my internal cache of epic ride memories: Valley of the Tears (Gran Canaria), Stelvio/Gavia double day, the col bagging route of the Dolomites Bike Day, countless Majorcan/Denia training camp adventures, the hidden gems of Morzine and our escapades in the Pyrenees. Sunbathed recollections of days in the mountains; they were all excellent, but none of them stand out as being 'last ride ever' fodder.
So, if I had just one ride left, I'd start in Winchester and set my destination as Eastbourne, along the South Downs Way. There are no mountains but there are some significant chalky lumps, and it's home. I'd ride with my husband — but we'd have to agree to an absolute ban on bickering, which probably means I agree not to half-wheel, and he agrees to at least three (or five) panini and iced latte stops at Cadence Cycle Club cafes along the way.
Anne-Marije Rook, North American Editor
Ahead of the 2017 UCI Road World Championships in Norway, I got invited to do a little supported bike tour with some Australian friends headed to the event in Bergen.
We flew into Oslo and tackled a circuitous multi-day route to the university town. We rode across the wild Storseisundet Bridge, up the stunning Trollstigen road (pictured) and under waterfalls. Fjords, sheep on the road, incredible scenery, lots of ferries and fantastic company — this trip had it all except for decent weather. Till this day, the rain we experienced day in, day out was some of the worst weather I have ever experienced on a bike adventure.
For my last ride, I'd love to return here. The original crew would, of course, be invited but I'd add my wife as well — with the promise I wouldn't half-wheel or drop her.
Sam Gupta, Video Manager
I find the answers to this type of question often elicit similar responses from people. Usually, they'll pick a famous person they have always wanted to meet and an exotic place in the hope that it would be the perfect blow out — the perfect way to say goodbye to something they love. However, in that scenario, you are just not guaranteed to enjoy the company or the road you're riding.
I derive so much pleasure from riding roads I know like the back of my hand because I know exactly how late to brake, the perfect lines to take, how best to navigate junctions, how to pace my efforts and also how drivers tend to behave in certain areas.
In terms of the company, I can think of no-one else than riding with my best mate, someone who I've ridden with for years. I guarantee myself endless belly laughs, constant town sign sprints and the ability to fully immerse myself in the moment of pure joy.
As for the where, it would be the loop we rode very regularly when I lived back in my hometown of Winchester. A 25 mile loop out into the country and back into town. A fast paced hour of through and offs as we set the world to rights.
Stefan Abram, Tech Features Editor
If I had just one ride left, I would make that be an around-the-world tour. I'd love to see the mountains of Kyrgyzstan and the silk road cities of Uzbekistan in central Asia. Being in South Korea and Japan for the cherry blossom in May would be incredible, too. Then there are the spectacular buddhist temples and statues of South East Asia and monumental palaces and fortifications in India - and that's just to scratch the surface, I could go on and on and on!
There was a period in 2017 when the circumnavigation record attempts of Mark Beaumont and Ed Pratt overlapped — the former with a full support crew, spending 16 hours a day hunched over on his aero bars and the latter stoically riding a 36-inch unicycle. And just a few months before, John Whybrow and George Agate rode into Canterbury, England - where I was studied at university - and broke the record for the fastest circumnavigation by tandem. My fascination with long distance cycle touring really stemmed from then.
And of course the ride would be with my most amazing wife, Anna. We've ridden together in Morocco, Slovakia, Hungary, Greece, the Czech Republic, Denmark, Spain, Belgium, and Austria - to name the places which immediately spring to mind. Expanding that out to the rest of the world would really be a dream come true.
Adam Becket, Senior News and Features Writer
I did the Tour of Flanders sportive earlier this year and it was some of the most fun I've ever had on a bike, along with quite a bit of suffering. It might not be the prettiest arena for cycling in the world, but every single road is so evocative and means so much to me, as a fan of pro cycling and Flanders. It probably wouldn't quite be the whole course, but maybe if I could do a 100km plus loop in nice weather from Oudenaarde, that would be perfect.
As for with whom, I think it would have to be someone that I quite like that also likes Flanders. Maybe a pro so I could see how they really tackle the cobbles — someone like Lotte Kopecky so I could pick their brains about what the race means to Belgium and to her. That would be fun. The scheduling might be a bit tricky, though.
Thank you for reading 20 articles this month* Join now for unlimited access
Enjoy your first month for just £1 / $1 / €1
*Read 5 free articles per month without a subscription
Join now for unlimited access
Try first month for just £1 / $1 / €1