Mark Beaumont's amazing around-the-world cycling record on Strava
Strava map shows Mark Beaumont's record-breaking route around the world, and his amazing ride statistics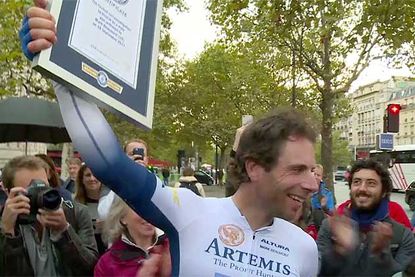 Scottish long-distance cyclist and adventurer Mark Beaumont set a new world record on Monday evening for the fastest circumnavigation of the world by bicycle.
He smashed the previous record of 123 days by achieving the feat in just 78 days, 14 hrs and 40 mins – also beating his original target of 80 days. In addition, along the way Beaumont set a new world record for the longest distance cycled in a month.
Beaumont uploaded each of his daily rides to Strava, allowing everyone to study his amazing feat in some detail.
Beaumont rode an average or 240 miles (386km) per day, and spent around 16 hours in the saddle each day – only sleeping for five hours.
Strava shows us that his daily average speeds were impressive for such a huge distance, clocking around 15mph (24kmh) for each ride.
On some of the days he exceeded this average speed. For example, on the eighth day of his ride he travelled through Russia, from Mostovskoye to New Annino and averaged 17.3mph (27.8kmh).
Some days he also climbed over 10,000 feet (3048 metres) of elevation, such as on day 43 from Moree to Ashley in Australia.
>>> Mark Beaumont smashes two world records after cycling around world in under 80 days
Beaumont's heart-rate remains remarkably steady throughout the entire ride, averaging around 95-100bpm each day.
He even managed to grab a few KOMs along the way, and attracted 217,000 kudos from other Strava users.
It wasn't all plain sailing, as Beaumont crashed on day nine in Russia and broke a tooth – requiring medical attention from his team.
When Beaumont finished his ride on the Champs Élysées in Paris on Monday evening, he said "I've taken myself beyond anything I've ever done physically and mentally, and I doubt I'll ever do anything like that again."
Thank you for reading 20 articles this month* Join now for unlimited access
Enjoy your first month for just £1 / $1 / €1
*Read 5 free articles per month without a subscription
Join now for unlimited access
Try first month for just £1 / $1 / €1