Mark Beaumont smashes two world records after cycling around world in under 80 days
Scottish long-distance cyclist and adventurer Mark Beaumont completes his circumnavigation of the globe by bike in 78 days, 14 hours and 40 minutes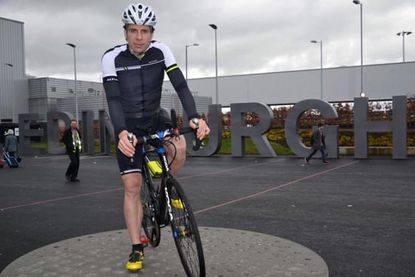 (Image credit: Visit Scotland)
https://www.facebook.com/MarkBeaumontAdventures/videos/1734665946545783/
Mark Beaumont has successfully cycled around the world in 78 days, 14 hours and 40 minutes, beating the previous world record for a circumnavigation of the Earth by bike by 44 days.
The 34-year-old arrived on the Champs Élysées in Paris on Monday evening to a welcoming party, where he was presented with two Guinness World Record plaques: one for the fastest time to cycle around the world and the other for the most miles cycled in a month.
The latter record Beaumont broke in his opening month on the trip, from Paris to Perth, Australia, covering 7,031 miles (11,315km).
>>> Mark Beaumont set to complete 80-day around-the-world trip one day ahead of schedule
Beaumont has cycled an average of 240 miles a day for 16 hours a day, smashing the previous record of 123 days. He described it as "the longest two and a half months of my life".
"The dream was to get around the world in 80 days," said Beaumont just after he finished and had been reunited with his family.
"To get back here in 78 days and change is an absolute dream come true. When I left here, I felt like a lot of people were excited by the idea but that it was impossible.
"I felt a world of expectation... as the weeks and months went by I started to settle down, when the pressure was off. This plan is workable I can carry on with 240 miles a day."
Beaumont thanked his back-up team for helping him achieve his target.
"I've had the most incredible team. Ten years ago I finished here doing an unsupported race around the world and this time to go with a full support team is a completely different mindset.
"I've taken myself beyond anything I've ever done physically and mentally, and I doubt I'll ever do anything like that again."
The trip took Beaumont through Europe, Russia, China, Australia, New Zealand, North America, then through Portugal, Spain and France. The feat was inspired by Jules Verne's classic novel, Around the World in Eighty Days.
Thank you for reading 20 articles this month* Join now for unlimited access
Enjoy your first month for just £1 / $1 / €1
*Read 5 free articles per month without a subscription
Join now for unlimited access
Try first month for just £1 / $1 / €1