Does e-bike racing have a place at the most competitive end of our sport?
Our editors reflect on the future of road cycling and the use of electric bikes in competition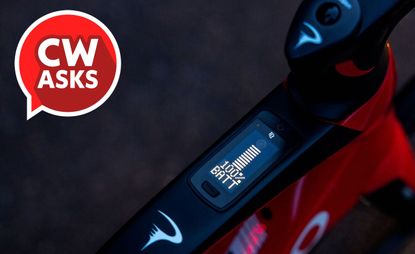 (Image credit: Pinarello)
"CW asks" is a feature series where our seasoned staff answers a range of questions. The series isn't just about delivering knowledge; it's a chance for us to share a bit of our personality and our passion with you. As we dive into some questions, please feel free to send in some questions of your own to anne.rook@futurenet.com.
Question 2: Should electric road bike racing become a UCI-recognized sport?
For a while, e-bike racing was all just fun and games. Some e-mountain bike fun held alongside downhill and enduro race events at places like the Sea Otter Classic. But then the international sports governing body —the UCI— and the pros got involved.
The UCI officially sanctioned e-mountain bike racing on January 1, 2019, and subsequently, a string of Olympic gold medalists, Tour de France stage winners and other pros —the likes of Tom Pidcock, Peter Sagan and Julien Absalon— jumped at the opportunity to vie for the rainbow jersey, motor and all.
E-road bike racing appears to be next with a series of road races on the 'world's most advanced e-bikes' being planned in Dubai — though, admittedly, news on this supposed 2023 event has stalled.
This begs the question, should e-road bike racing be the next UCI venture?
Vern Pitt, News and Features Editor says "No!"
No. Spoiler alert: 90% of the time the strongest rider in the bike race is the one that wins the bike race. Ours is a sport heavily dependent on physical performance, lessen that and you get something else.
The UCI governs BMX freestyle which isn't the same at all but no-one would ever mistake a BMX freestyle event for a road bike race. E-cycling blurs the line much more.
Also, the UCI is frequently criticised for not doing enough on many and various issues I don't think asking it to govern yet another sub-category is doing the rest of the existing sport or the UCI itself any favours.
Hannah Bussey, Technical Writer, says: "Yes"
Yes. I hate the snobbery around e-bikes. Some bemoan a moral dilemma whether or not it can be classified as a sport but according to the Oxford dictionary's definition, "sport is an activity involving physical exertion and skill in which an individual or team competes against another or others for entertainment." Thus, I think classifies as one.
If you don't like it, then just move along and look elsewhere. Glossing over the price of e-bikes, they're probably one of the most innovative inventions to make cycling accessible for a lot of riders.
If it makes more people happy to ride bikes then that's all that matters. I'm not overly keen on the UCI in general, so perhaps this newish discipline could jump ship to a new affiliation but I realise that's ideological.
My only other two pennies' worth should probably be a comment on motor speed restrictions and top end riders' abilities to ride faster, but riding an e-bike without power is an even harder sport, I can vouch for that personally
Anna Abram, Fitness Features Editor, says "I don't know"
The way that I think of things is that there's a spectrum of sports: athletics and weightlifting being pretty far at one end, F1 right at the other - 'acoustic' cycling, my favorite term for non-electric bikes, is somewhere in between. For me, I see motor-assisted bike racing simply as another point on that spectrum, and so I wouldn't say that I have a fundamental or principled objection to it as a category.

Whether I would actually be interested in watching and following motor-assisted road racing, though, is a different question. But although the answer to that one is a simple: no, it's hard for me to put my finger on exactly what it is about motor-assisted racing which just doesn't interest me much.

It might be how it detracts from the pure, physical performance of the pros - just who is the strongest on the day…? But when I think about it more, that argument doesn't make much sense. For starters, one of the things I like best about cycling is also how it's not always the strongest who wins.

Racecraft, knowing when to save energy and - crucially - when to attack, is a huge part of what makes cycling more interesting than sports in which pure strength plays a greater role. Then there's the elements of skill, the cornering, being able to descend and navigate a technical course.
Both of those elements would still be present in motor-assisted road racing, so why my lack of interest? I don't think it's because of the role that advancements in tech plays - how someone who is weaker and has more limited skills can be given an advantage purely through the equipment they're using. That's already the case in road racing as it is!

Quite honestly, I simply don't have the answer. I just don't know why I'm not excited at the idea of motor-assisted road racing - but maybe I'll be won over if I see an actual electric road cycling race, I'd certainly be happy to tune in if it does become a 'thing'.
Joe Baker, Tech Writer, says "cycling should stay a wholly human-powered sport"
As much as I am excited for the future of e-bikes, and the whole host of good they bring to the cycling world — accessibility and fun to name a couple, I am of the firm belief that cycling should stay a wholly man-powered sport.
The one caveat here though, is that if an e-bike series was designed with separate ruling, and kept away from the likes of road and mountain bike racing then I would be happy to see the inevitable arms race commence between brands - and happier still when all that tech trickles down to the consumer!
Thank you for reading 20 articles this month* Join now for unlimited access
Enjoy your first month for just £1 / $1 / €1
*Read 5 free articles per month without a subscription
Join now for unlimited access
Try first month for just £1 / $1 / €1