Personality test: If you could keep just one of your bikes, which bike would it be?
Faced with the tough challenge of picking a favorite, our CW editors choices are telling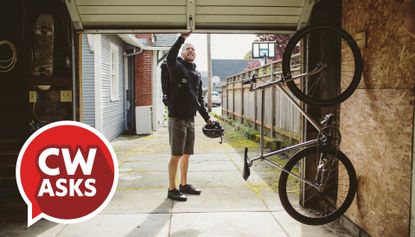 (Image credit: Getty Images)
"CW asks" is a feature series where our seasoned staff answers a range of questions. The series isn't just about delivering knowledge; it's a chance for us to share a bit of our personality and our passion with you. As we dive into some questions, please feel free to send in some questions of your own to anne.rook@futurenet.com.
Previous Questions:
---
Question 4: If you had to wheedle down your bike stable to just one bike, which would it be and why?
What if for some reason you could keep just one bike from your stable, which would you choose?
Vern Pitt, News and Features Editor
I don't have very many bikes so this is fairly easy. I have a gravel bike from work that I haven't ridden in a year, so it won't be that one.
The other three are all road bikes. There's a Cannondale Supersix from 2011 and a Cannondale Supersix from 2021. Perhaps unsurprisingly, the newer bike is quite a bit better and has much flashier wheels and disc brakes, which I'm entirely converted to.
The only thing challenging that machine is a Canyon Ultimate. That's my luxury winter bike, which I bought because it made no sense having discs on my summer bike and rim brakes on my winter bike.
There's honestly not much to choose between that and Supersix. I think the Canyon is a slightly smoother ride but it has a Shimano 105 groupset and not Ultegra. Probably the biggest difference is that I dropped a multi-tool on the top tube on its second-ever outing and chipped the paint — that still annoys me. So I'd have to go with the 2021 Supersix in its unchipped and frankly ravishing purple paint. Yes, I am more interested in posing than going fast.
Hannah Bussey, Technical Writer
My Scott Spark mountain bike. It's 11 years old, but it was my first proper mountain bike once I quit road racing. Finding mountain bike riding when I was pretty fed up with racing bikes —and getting injured— reminded me why I loved life on two wheels.
The bike has won races, was my go-to bike when pregnant, towed a trailer and child, then carried my daughter up front on her Mac Ride on so many adventures. My daughter now mountain bikes, too, and the Spark means we head off to trail centres together. It's far from top-end, and the bottom bracket never stops creaking no matter how much I fiddle or change it, but I wouldn't swap it for the world.
Anna Abram, Fitness Features Editor
It'd be my Sonder Camino gravel bike. It's the first bike I've ever built up entirely from just the frameset —plus it's been there for so many great adventures! From riding to the lighthouse at the tip of Cape Wrath (the very north-western-most point of Scotland) to exploring the sandstone canyons of the Sudetenland in the Czech Republic as well as all the fire roads and forest trails closer to home in Wales.

I love the versatility of having clearance for tires up to 50mm wide on 700c rims (and still have ample room for shedding mud and other debris). It means the Camino has me fully covered for the rockier trails near where I live, without having to resort to the increased weight and complexity of a suspension fork.

But most of the time I tend to run 700x45c tires with a file tread, which I find to be something of a sweet spot for keeping the range of trails I can happily ride as broad as possible, whilst also not being (too) slow on the tarmac.

It's certainly not a race-oriented gravel bike; the 'robust' frame weight of a little under two kilos. But, on the other hand, that makes it a really dependable bike. I never have any worries about the terrain I plough it through or any scuffs and scraps it might pick up. My times up the hills might be a little slower on the Camino, but a watt is a watt is as watt, and I'm perfectly happy training heavy.

But for what it lacks at the pointy end of performance, I have no problem adventuring far and wide on my Camino. To go from an average speed of 25 kph to 24 kph would probably count as a 'macro loss' in the face of all the hunting for 'marginal gains' - but that just means that to do 100km would take four hours and 10 minutes, rather than just four hours. When I'm exploring a new long-distance mixed-terrain route, I really don't mind if I end up spending another 10 minutes on the trail!

It's also a bike that's comfortable to ride into Cardiff city center. With the frame costing just £299, I don't feel too nervous about leaving it locked up in the city for a few hours. If I were to just have one bike, it is really important to me that I could use it for utility cycling as well as just for fun. Not only am I trying to reduce car use where I can, most of the time I find traveling by bike to be simply more practical too!
Joe Baker, Tech Writer
Firstly, as a bike nerd and one with far too many trusty steeds, this is no easy question. When it's all said and done, however, I would have to say a gravel bike. And specifically, a Cannondale Topstone.
As a rider who enjoys exploring on and off the asphalt, it has to be the obvious choice. A gravel bike facilitates the freedom to bike go bike packing, whilst keeping the ability to shift personality with the addition of a road wheel set.
Thank you for reading 20 articles this month* Join now for unlimited access
Enjoy your first month for just £1 / $1 / €1
*Read 5 free articles per month without a subscription
Join now for unlimited access
Try first month for just £1 / $1 / €1